Design from Scandinavia, No. 7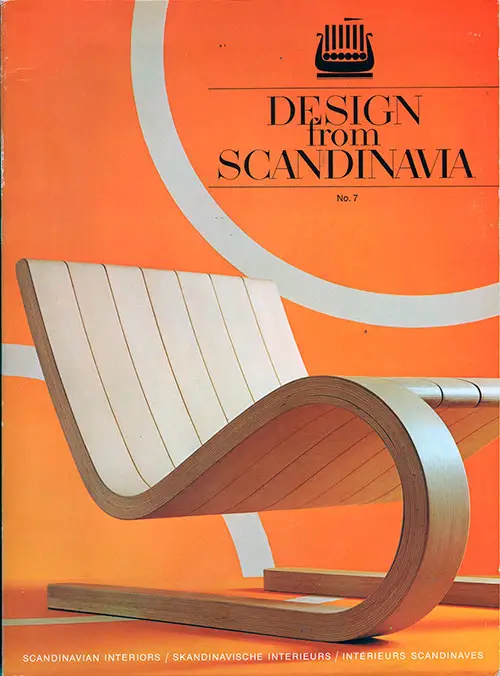 Bjerregaard, Kirsten, Ed., Design from Scandinavia, No. 7,  © 1978 World Pictures, Frederiksberg, Denmark, Soft cover, 128 Pages, 87-87541-04-1.
Each Year, Design from Scandinavia unfolds an exhibition in pictures of the best and latest products and shows the interplay of these objects in a setting and a lifestyle. This issue includes all Nordic countries - Iceland, Norway, Finland, Sweden, and Denmark.
Design from Scandinavia
This publication is periodically issued when it is felt justified by introducing sufficiently high-quality material, but never more than once yearly. An effective network of distributors (listed on Page 127) makes it possible to obtain copies through most international bookshops the world over. It can be ordered direct from the publisher, World Pictures, who will also inform you of the publication of new editions.
As in our past editions of Design from Scandinavia, we present the best and latest in Scandinavian furniture, furnishing textiles, and handicrafts. The objects are shown in their natural surroundings as a part of everyday life in Scandinavia. We have, however, noticed a growing international interest for a presentation of how the domestic setting and its informal atmosphere influence the furnishing of our public institutions - and vice versa.
To widen knowledge of typically Scandinavian trends towards integrating these different furniture functions, we first show some examples from the public sector and then a presentation of various interiors within the private sector. Detailed information about products and makers is found in the comprehensive index, which includes information on how to order Design from Scandinavia. Moreover, you are always welcome to write directly to the editor.
How it started
In Scandinavia, the home and its decoration have always held a central position in the pattern of culture. This is reflected in that unique Scandinavian concept, "hygge," which expresses the feeling of warmth and mutual contact, which is characteristic of the home as a meeting place. This built-in understanding of the importance of the setting for connection and activity has inevitably influenced the furnishing of public institutions, which have resulted from wide-reaching social reforms in recent decades.
It has also been felt in the expansion of more significant business concerns. The wish has developed to add a "human touch" to the administrative, representative, and recreational areas, rather than the dullness or pretentious dignity of the grey times of the past. A typical result of this trend has been that to an increasing degree, Scandinavian furniture and applied art have supplied both sectors - public and private—a change which will be evident from the many examples on the following pages.