Since the East wanted so many CAL boats, we shipped them … an entire Jensen Marine plant (1968)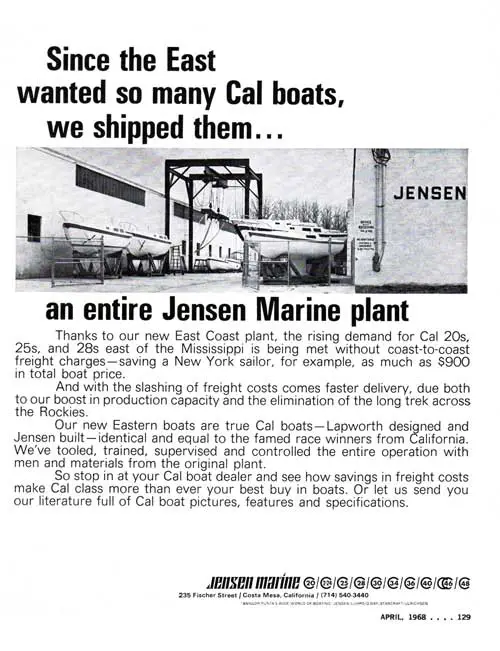 Thanks to our new East Coast plant, the rising demand for CAL 20s, 25s, and 28s east of the Mississippi is being met without coast-to-coast freight charges -- saving a New York sailor, for example, as much as $900 in total boat price.
And with the slashing of freight costs comes faster delivery, due both to our boost in production capacity and the elimination of the long trek across the Rockies.
Our new Eastern boats are true CAL boats -- Lapworth designed and Jensen built -- identical and equal to the famed race winners from California.
We've tooled, trained, supervised and controlled the entire operation with men and materials from the original plant.
So stop in at your CAL boat dealer and see how savings in freight costs make CAL class more than ever your best buy in boats. Or let us send you our literature full of CAL boat pictures, features, and specifications.
CAL 20 | 2-24 | 25 | 28 | 30 | 34 | 36 | 40 | 2-46 | 48
CAL BOATS BY JENSEN MARINE
Costa Mesa, California
BANGOR PUNTA'S WIDE WORLD OF BOATING
JENSEN | LUHRS | O'DAY | STARCRAFT | ULRICHSEN
A Bangor Punta Company
GG Archives REF: BPCJM-006-1968-BW-AD