Cal 2-46 - The Most Completely Comfortable World Cruising Yacht In Production Today (1972)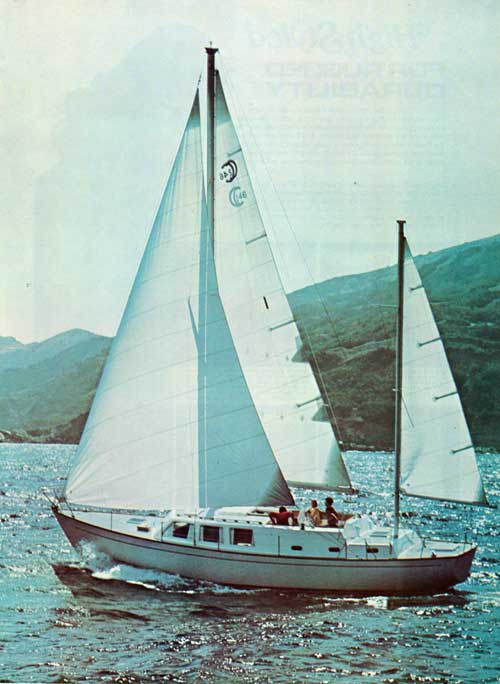 THE NEW CAL 2-46 Yacht
Never in recent history has a production yacht been conceived, designed and built from the keel up for the specific purpose of comfortable worldwide cruising.
There are plenty of boats on the market, both power and sail, which are adequate for short trips in limited comfort. And there are plenty of motorsailer conversions based on racing hulls. But few people want to cruise the world in a boat built for short trips.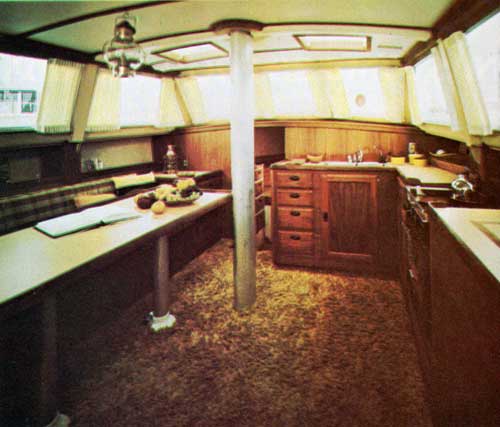 You can't feel secure in mid-Pacific if you're totally dependent on mechanical engines. And you're not going to be comfortable in a blow riding a hull designed for minimum wetted surface instead of maximum seakindliness.
Now look at the new Cal 2-46. Notice the traditional long shoal-draft keel of the 2-46 -- the same basic hull design that has provided fast and easy passages for more than a century. We could think of only one improvement -- the addition of a big modern spade rudder for easier steering control.
The Cal 2-46 is extremely stable and sea-kindly. She is easily driven -- her big 85 horsepower Perkins diesel provides a steady 8.5 knots with a cruising range of 1200 miles. And she has excellent sailing characteristics -- a breeze provides an easy 8.5 knots.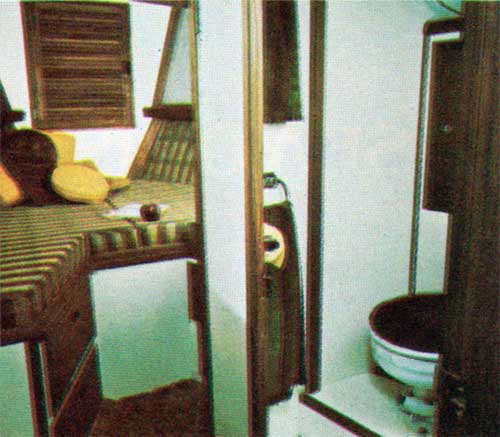 The cockpit and deck of the 2-46 are laid out for easy handling and large areas of liveable space. The midship steering station is well protected from weather and features a pedestal wheel with all controls. The rig, either sloop or ketch, is designed to be handled easily by two people.
The large 3-cabin interior of the Cal 2-46 is as liveable as a house. There's a large cabin forward. The completely equipped main salon offers optional layouts and magnificent visibility. The owner's stateroom is aft and is completely accessible from below decks.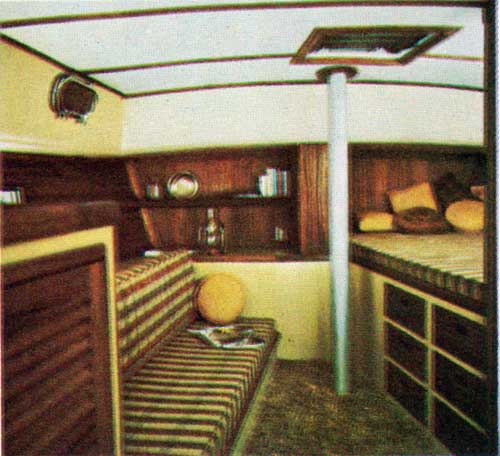 There are two enclosed heads. And a walk-in engine room. Hot and cold pressure water is standard. As is the shower. And the Burmese teak interior. And a lot of other things that are extra on most boats. Construction is hand laid-up fiberglass.
The new Cal 2-46 was conceived, designed and built from the keel up for the specific purpose of comfortable worldwide cruising. And it is priced to make that kind of cruising possible for more people than ever before.
We invite you to compare the Cal 2-46 with any other cruising boat, power or sail, on the market today. And we suggest you start by writing for our complete brochure.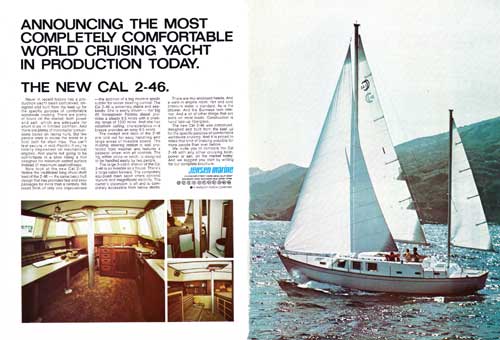 CAL Boats by Jensen Marine
COSTA MESA. CALIF. 92627 | MARLBORO. NEW JERSEY 07746
Cal 20 / Cal 21 / Cal T/4 / Cal 25 / Cal 27 / Cal T/2 / Cal 28 / Cal 33 / Cal 39 / Cal 40 / Cal 2-46
A Bangor Punta Company
GG Archives REF: BPCJM-053-1972-C-AD-2