CAL 34: Big, Fast, Powerful. (And Only $15,950) (1968)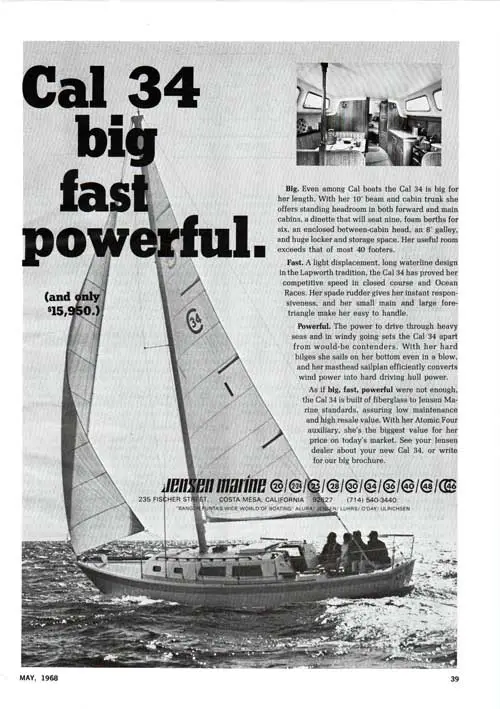 Big. Even among CAL boats the CAL 34 is big for her length.
With her 10' beam and cabin trunk, she offers standing headroom in both forward and main cabins, a dinette that will seat nine, foam berths for six, and an enclosed between-cabin head.
The Cal 34 also features an 8' galley, huge locker, and storage space. Her useful room exceeds that of most 40 footers.
Fast. A light displacement, long waterline design in the Lapworth tradition, the CAL 34 yacht has proved her competitive speed in closed course and Ocean Races.
Her spade rudder gives her instant responsiveness, and her small main and large foretriangle make her easy to handle.
Powerful. The power to drive through heavy seas and in windy going sets the CAL 34 yacht apart from would-be contenders.
With her hard bilges, she sails on her bottom even in a blow, and her masthead sail plan efficiently converts wind power into hard driving hull power.
As if big, fast, powerful were not enough, the CAL 34 yacht is built of fiberglass to Jensen Marine standards, assuring low maintenance and high resale value.
With her Atomic Four auxiliary, she's the biggest value for her price on today's market. See your Jensen dealer about your new CAL 34, or write for our big brochure.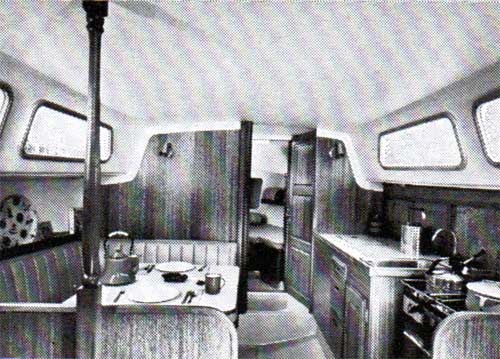 CAL BOATS BY JENSEN MARINE 20 | 2-24 | 25 | 28 | 30 | 34 | 36 | 40 | 48 | 2-46
COSTA MESA, CALIFORNIA 92627
"BANGOR PUNTA'S WIDE WORLD OF BOATING"
ALURA | JENSEN | LUHRS | O'DAY | ULRICHSEN
A Bangor Punta Company
GG Archives REF: BPCJM-007-1968-BW-AD