CAL 25 Second Generation Compact Cruiser (1977)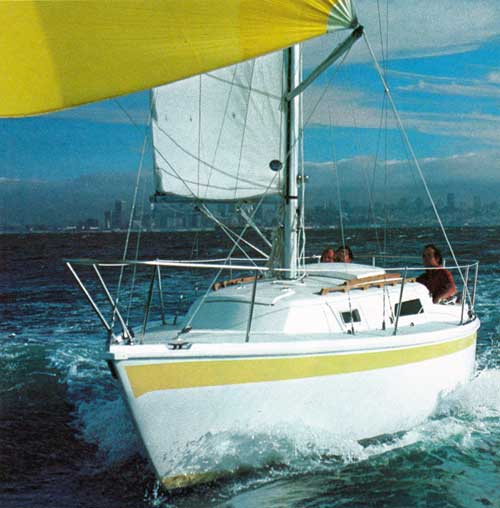 For 12 years we built the best small cruiser on the market: the original CAL 25. She was a smart little sloop with lots of speed and a highly practical cabin.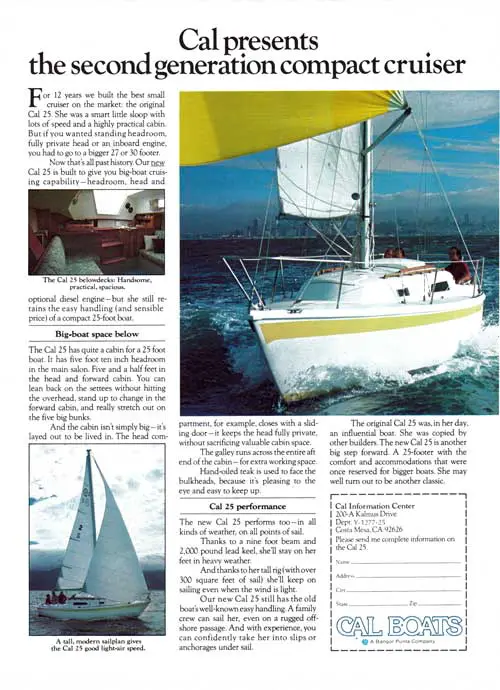 But if you wanted standing headroom, fully private head or an inboard engine, you had to go to a bigger 27 or 30 footer.
Now that's all past history.
Our new CAL 25 is built to give you big-boat cruising capability -- headroom, head and optional diesel engine -- but she still retains the easy handling (and sensible price) of a compact 25-foot boat.
Big-Boat Space Below
The CAL 25 has quite a cabin for a 25 foot boat. It has five foot ten inch headroom in the main salon. Five and a half feet in the head and forward cabin.
You can lean back on the settees without hitting the overhead, stand up to change in the forward cabin, and really stretch out on the five big bunks.
And the cabin isn't simply big -- it's layed out to be lived in. The head compartment, for example, closes with a sliding door -- it keeps the head fully private, without sacrificing valuable cabin space.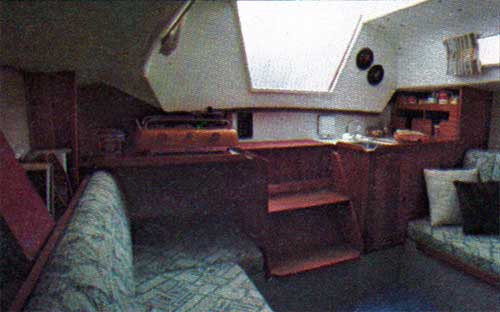 The Cal 25 Belowdecks: Handsome, Practical, Spacious.
The galley runs across the entire aft end of the cabin -- for extra working space.
Hand-oiled teak is used to face the bulkheads, because it's pleasing to the eye and easy to keep up.
CAL 25 Performance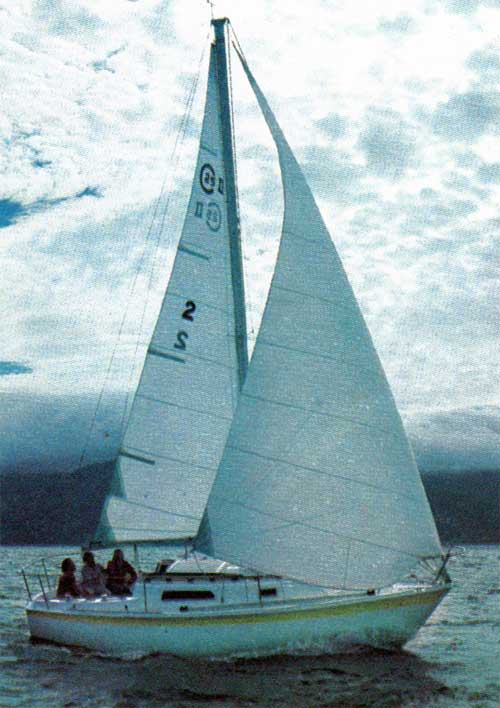 Tall, Modern Sail Plan Gives the Cal 25 Good Light-Air Speed.
The new CAL 25 performs too -- in all kinds of weather, on all points of sail.
Thanks to a nine-foot beam and 2,000-pound lead keel, she'll stay on her feet in heavy weather.
And thanks to her tall rig (with over 300 square feet of sail) she'll keep on sailing even when the wind is light.
Our new CAL 25 still has the old boat's well-known easy handling.
A family crew can sail her, even on a rugged offshore passage. And with experience, you can confidently take her into slips or anchorages under sail.
The original CAL 25 was, in her day, an influential boat. She was copied by other builders. The new CAL 25 is another big step forward.
A 25-footer with the comfort and accommodations that were once reserved for bigger boats. She may well turn out to be another classic.
CAL Information Center
Costa Mesa, CA 92626
CAL Boats
A Bangor Punta Company
GG Archives REF: BPCJM-036-1977-C-AD