Introducing the Fast New CAL 43 Designed by Bill Lapworth (1970)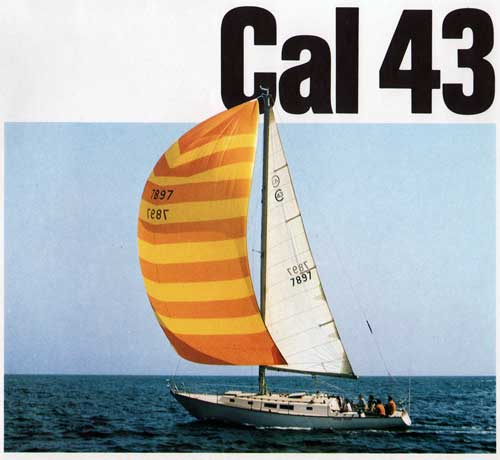 Introducing the fast new Jensen Marine's luxurious, new CAL 43 is in her first season of racing. And 1st's is about all she's getting on Long Island Sound. 1st in the Stratford Shoals, 2nd in the Spring Off Soundings, and 1st in the Watch Hill Race.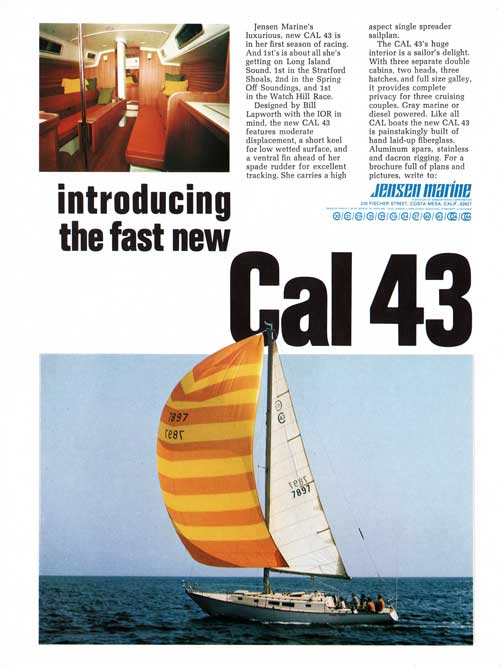 Designed by Bill Lapworth with the IOR in mind, the new CAL 43 features moderate displacement, a short keel for low wetted surface, and a ventral fin ahead of her spade rudder for excellent tracking.
She carries a high aspect single spreader sail plan.
The CAL 43's huge interior is a sailor's delight. With three separate double cabins, two heads, three hatches, and full size galley, it provides complete privacy for three cruising couples. Gray marine or diesel powered.
Like all CAL boats the new CAL 43 is painstakingly built of hand laid-up fiberglass, Aluminum spars, stainless and dacron rigging.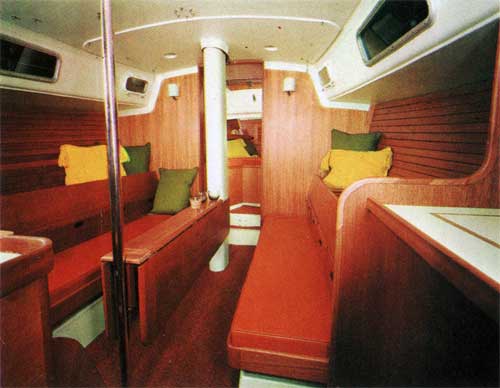 For a brochure full of plans and pictures, write to:
CAL BOATS BY JENSEN MARINE
235 FISCHER STREET, COSTA MESA, CALIFORNIA 92627
BANGOR PUNTA'S WIDE WORLD OF BOATING:
DUO / JENSEN / LUHRS / O'DAY / SEAGOING / STARCRAFT / ULRICHSEN
A Bangor Punta Company
GG Archives REF: BPCJM-018-1970-C-AD