CAL 29 Yacht: Fast Enough to Win, Big Enough to Enjoy, Small Enough to Afford (1973)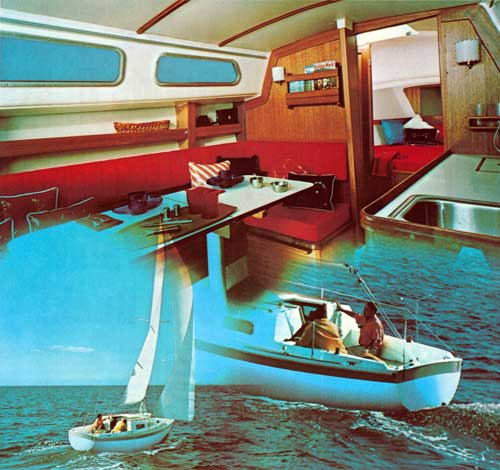 What more could you possibly want? The CAL 29 Yacht approaches the highest ideal of the perfect racer/ cruiser under 30-feet in length. She's a milestone in the long and successful career of designer Bill Lapworth.
The CAL 29 Yacht is big. She offers complete accommodations for six, with full standing headroom in both main and forward cabins.
Her layout features a unique expanding seating arrangement — the cushioned settee extends to pageWrapper around the full width of the cabin for an amazing 14 feet of sitting room!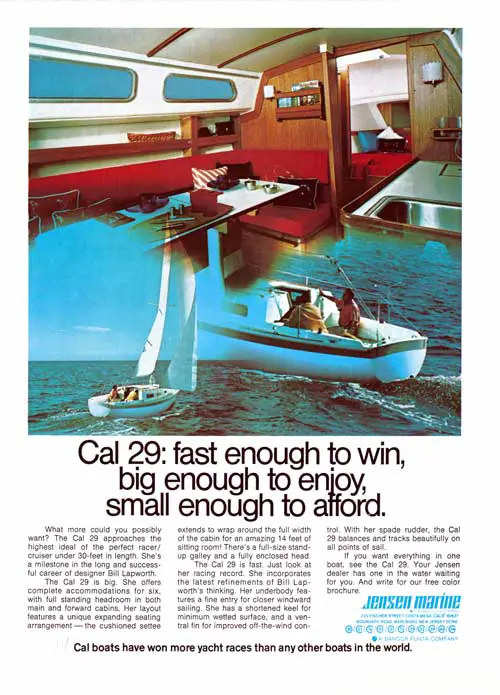 There's a full-size stand-up galley and a fully enclosed head.
The CAL 29 Yacht is fast. Just look at her racing record. She incorporates the latest refinements of Bill Lapworth's thinking. Her underbody features a fine entry for closer windward sailing.
She has a shortened keel for a minimum wetted surface, and a ventral fin for improved off-the-wind control. With her spade rudder, the CAL 29 yacht balances and tracks beautifully on all points of sail.
If you want everything in one boat, see the CAL 29 yacht. Your Jensen dealer has one in the water waiting for you. And write for our free color brochure.
CAL Boats by Jensen Marine
COSTA MESA. CALIFORNIA 92627 MARLBORO, NEW JERSEY 07706
CAL 20 | 21 | T/4 | 25 | 27 | T/2 | 29 | 33 | 39 | 40 | 2-46
CAL boats have won more yacht races than any other boats in the world.
A Bangor Punta Company
GG Archives REF: BPCJM-023-1973-C-AD