When It Comes To Winning Speed, Nothing Comes Close To The CAL 39 (1971)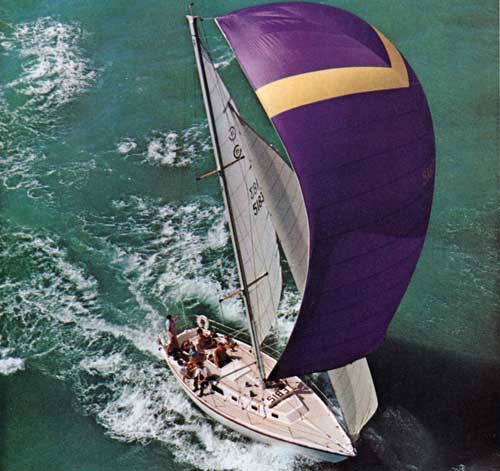 Big wins at SORC. The Southern Ocean Racing Conference is one of the toughest bluewater racing series in the world. This year was the toughest.
After five hard ocean races with some very expensive competition, the boat that beat them all in Class C was a brand new stock CAL 39, Otseketa, skippered by Howard Boston. It was her first time out.
The only other production boat that won an SORC class victory was the CAL 39's predecessor, the CAL 40 Caliente, sailed by Chuck Underwood to first in Class D.
Big wins at the Whitney. Meanwhile, back on the West Coast: George Griffith's CAL 39 Tabasco, fresh from her Class C victory in the Mazatlan, won first overall in the first race of the 1971 Whitney Series. Second went to Milt Smith's CAL 39 Mame.
It looks like the design genius of Bill Lapworth and the painstaking construction methods of Jensen Marine are paying off again.
The CAL 39 features a totally new underwater profile. Her short raked keel and ventral fin terminate in a good size skeg which fairs into the rudder. She carries a high aspect sail plan with an enormous foretriangle balanced by an 11'8" beam and high ballast-todisplacement ratio.
If you want winning speed, write for a full color brochure on the spectacular new CAL 39. We'll get it to you very fast.
CAL Boats by Jensen Marine
COSTA MESA,CALIFORNIA 92627
CAL 20 | 21 | 2-24 | 25 | 27 | 29 | 2-30 | 34 | 37 | 39 | 40 | 43 | CAL C-36 | CAL C-46
A Bangor Punta Company
GG Archives REF: BPCJM-019-1971-C-AD