CAL 2-46: Because An Offshore Cruiser Doesn't Have To Sail Like An Antique (1976)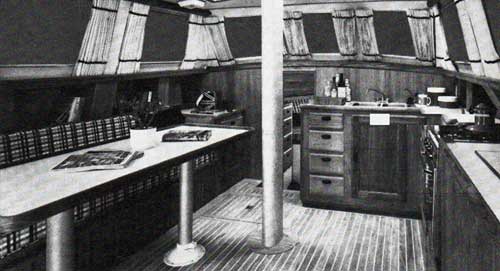 Rich teak paneling and handcrafted cabinetwork add warmth to the roomy main cabin.
Too many of today's deep-water cruisers look -- and handle -- like boats designed in the 1870's.
Heavy displacement double-enders. Deep keeled sloops and ketches with low and massive rigs. Boats that disregard almost everything that yacht designers have learned from modern ocean racing.
But now there's an offshore cruising sailboat that takes advantage of a century of design: A light-displacement passagemaker. The CAL 2-46.
The Safety of Light Displacement
The CAL 2-46 yacht weighs 15 tons. Hefty for a coastwise cruiser, but light for an offshore boat, so she rises over massive ocean rollers like a modern ocean racer, instead of wallowing in the troughs. Rides with a breaking storm wave, instead of stopping dead in its path.
Hand layed-up fiber-glass construction, generous structural bulkheads make her sinewy and tough. And Bill Lapworth's seakindly design makes her fast enough to run before a storm.
The keel is extraordinarily long to help her track. And it only draws five feet, which is unusual for a 46-footer. A balanced spade rudder helps her answer surely to her helm.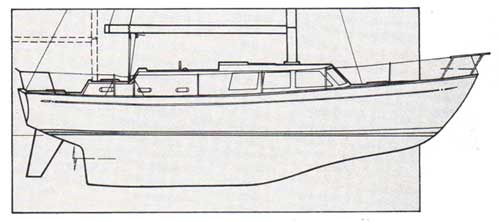 Bill Lapworth gave the 2-46 a 37 1/2-foot waterline and a long shallow keel for exceptional speed and an easy motion at sea.
Two Easy To Handle Rigs
The sail plans were designed for a couple to manage at sea. The sloop rig is tall for a blue water cruiser. But massively stayed for strength. With a big foretriangle and tall main for drive to weather.
She also comes as a ketch. For easy balance with any combination of sails. In any wind. And everything is inboard, too. So sails don't have to be handled from a pitching bowsprit.
A Livaboard Cruiser
Her beamy hull and substantial deckhouse give the CAL 2-46 yacht remarkable room below. Even for a 46-footer. Not just room for guests (though she comfortably sleeps seven, in three private cabins), but space for an engine room you can walk around in; an enormous lazarette.
Space for a chart table, two heads with showers, and a workbench. Space to stow the gear, supplies, and tools that make a cruiser into a self-sufficient passagemaker.
Practical Luxury
The only thing old-fashioned about the CAL 2-46 yacht is the standard of her finish and her joinery. But most of her woodwork is kept sensibly below. Protected from the elements. She's not festooned with bogus wooden railings and scroll boards. And she doesn't need a professional crew to keep her up.
Ocean Crossing Potential
The CAL 2-46 yacht was built for distance. An 85hp Perkins diesel and tanks for 135 gallons of fuel provide a steady 8-knot cruising speed. A cruising range of 1,200 miles under power alone.
The CAL 2-46 will also cruise at an honest 8 knots under sail. In fact, the Class Association tells us five 2-46's are already on their way around the world.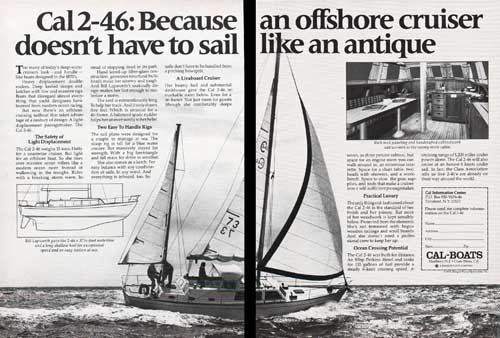 CAL Information Center
Please send me complete informamation on the CAL 2-46 cruising yacht.
CAL-BOATS
Marlboro, N.J. | Costa Mesa, Cal.
©1976, Bangor Punta Operations, Inc.
A Bangor Punta Company
GG Archives REF: BPCJM-034-1976-BW-AD-2