Incredible CAL 40 Yacht Wins Ensenada Race (1967)
CAL 25 Second Overall
CAL 40 Wins Class B
CAL 36 Wins Class C
CAL 25 Wins Class E
CAL 25's Sweep MORF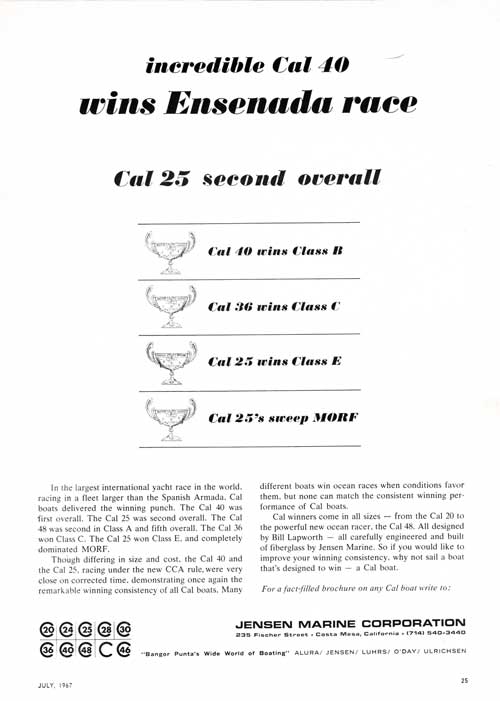 In the largest international yacht race in the world, racing in a fleet larger than the Spanish Armada, CAL boats delivered the winning punch.
The CAL 40 was first overall. The CAL 25 was second overall.
The CAL 48 was second in Class A and fifth overall.
The CAL 36 won Class C.
The CAL 25 won Class E, and completely dominated MORF.
Though differing in size and cost, the CAL 40 and the CAL 25, racing under the new CCA rule, were very close on corrected time, demonstrating once again the remarkable winning consistency of all CAL boats.
Many different boats win ocean races when conditions favor them, but none can match the consistent winning performance of CAL boats.
CAL winners come in all sizes -- from the CAL 20 to the powerful new ocean racer, the CAL 48.
All designed by Bill Lapworth -- all carefully engineered and built of fiberglass by Jensen Marine.
So if you would like to improve your winning consistency, why not sail a boat that's designed to win -- a CAL boat.
For a fact-filled brochure on any CAL boat write to:
CAL BOATS BY JENSEN MARINE CORPORATION
Costa Mesa, California
CAL Yachts 20 | 24 | 25 | 28 | 30 | 36 | 40 | 48 | 2-46
"Bangor Punta's Wide World of Boating"
ALURA / JENSEN / LUHRS / O'DAY / ULRICHSEN
A Bangor Punta Company
GG Archives REF: BPCJM-003-1967-BW-AD