New Half Ton CAL T/2 Yacht: Already A Proven Winner. (1973)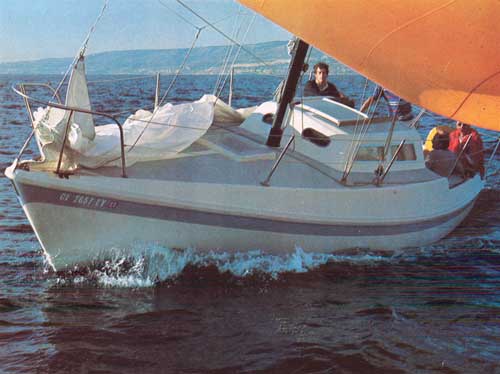 Bill Lapworth knew what he was doing when he sat down to design a new boat to bring home the silverware from International Half Ton races.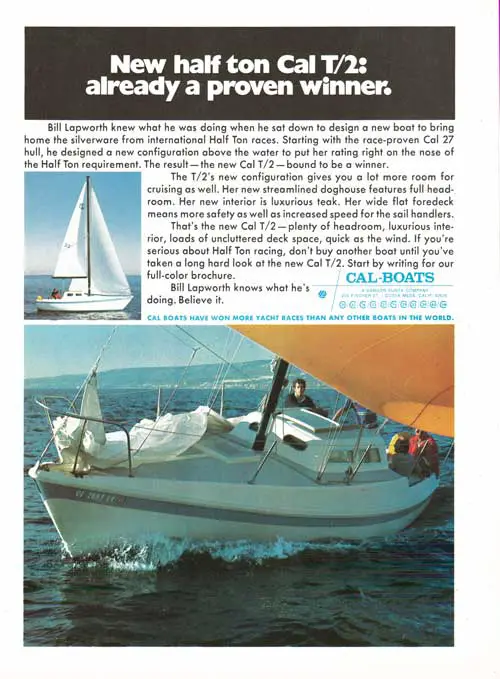 Starting with the race-proven CAL 27 hull, he designed a new configuration above the water to put her rating right on the nose of the Half Ton requirement.
The result—the new CAL T/2 Racing Yacht -- bound to be a winner.
The T/2's new configuration gives you a lot more room for cruising as well.
Her new streamlined doghouse features full head room.
Her new interior is luxurious teak. Her wide flat foredeck means more safety as well as increased speed for the sail handlers.
That's the new CAL T/2 Yacht -- plenty of headroom, luxurious interior, loads of uncluttered deck space, quick as the wind.
If you're serious about Half Ton racing, don't buy another boat until you've taken a long hard look at the new CAL T/2. Start by writing for our full-color brochure.
Bill Lapworth knows what he's doing. Believe it.
CAL T/2 Specifications
LOA: 27.42'
LWL: 22.33'
Beam: 9'
Displacement: 5,400 Pounds
Designer: C. William Lapworth
Years in Production: 1972-1974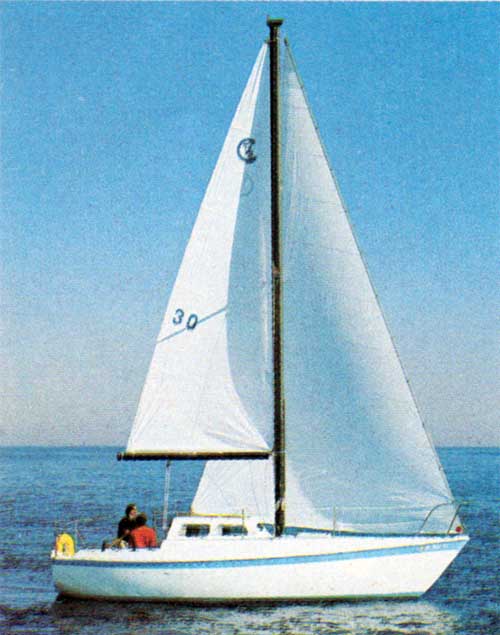 CAL-BOATS
COSTA MESA, CALIF. 92626
CAL 20 | 21 | T/4 | 25 | 27 | T/2 | 29 | 33 | 39 | 40 | 2-46
CAL BOATS HAVE WON MORE YACHT RACES THAN ANY OTHER BOATS IN THE WORLD.
A Bangor Punta Company
GG Archives REF: BPCJM-025-1973-C-AD