New Quarter Ton CAL T/4. She Moves (1972)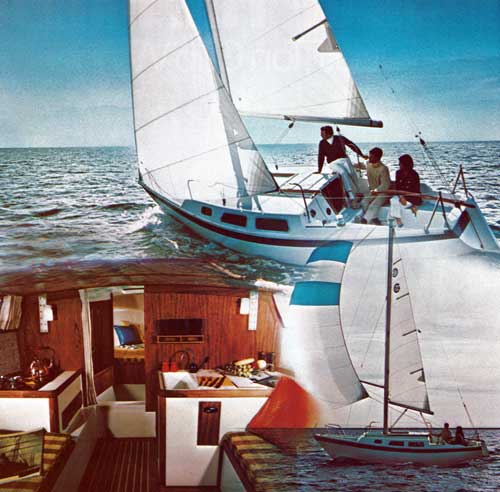 Bill Lapworth shows the way to the world's hot young naval architects with his radically new, radically fast CAL T/4 Yacht. This strikingly beautiful new 24-footer promises to be the hottest contender in international Quarter Ton racing.
Her underbody is totally new and unique. She has a moderate displacement hull with a soft double chine and a long flat kicker leading to the powerful counter-balanced outboard rudder.
This new configuration is designed to extend her waterline for higher speed, increase stability for greater drive, and offer instantly responsive steering control.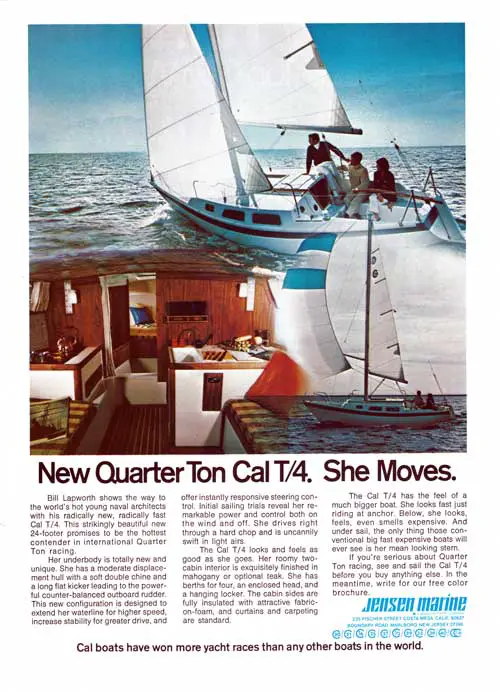 Initial sailing trials reveal her remarkable power and control both on the wind and off. She drives right through a hard chop and is uncannily swift in light airs.
The CAL T/4 looks and feels as good as she goes. Her roomy two-cabin interior is exquisitely finished in mahogany or optional teak.
She has berths for four, an enclosed head, and a hanging locker. The cabin sides are fully insulated with attractive fabric-on-foam, and curtains and carpeting are standard.
The CAL T/4 has the feel of a much bigger boat. She looks fast just riding at anchor. Below, she looks, feels, even smells expensive. And under sail, the only thing those conventional big, fast, expensive boats will ever see is her mean looking stern.
CAL T/4 Specifications
LOA: 24.17'
LWL: 21'
Beam: 8'
Displacement: 4,000 Pounds
Designer: C. William Lapworth
Years in Production: 1971-1972
If you're serious about Quarter Ton racing, see and sail the CAL T/4 before you buy anything else. In the meantime, write for our free color brochure.
CAL BOATS BY JENSEN MARINE
COSTA MESA.CALIF. 92627 MARLBORO. NEW JERSEY 07746
20 / 21 / T/4 / 25 / 27 / T/2 / 29 / 33 / 39 / 40 / 2-46
CAL boats have won more yacht races than any other boats in the world.
A Bangor Punta Company
GG Archives REF: BPCJM-021-1972-C-AD