The New CAL 21 Sailboat: Perfect for Racing or Cruising (1970)
Loaf along at 50 knots. Or cruise at 5.
Loaf along at 50 knots to your most successful racing/cruising favorite cruising grounds.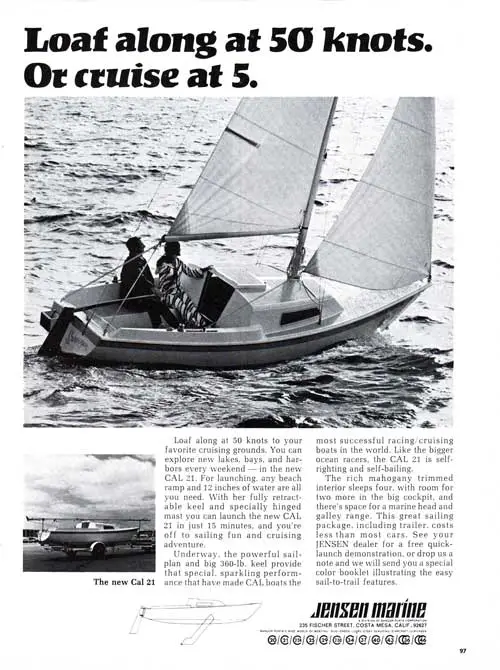 You can explore new lakes, bays, and harbors every weekend -- in the new CAL 21.
For launching, any beach ramp and 12 inches of water are all you need.
With her fully retractable keel and specially hinged mast you can launch the new CAL 21 in just 15 minutes, and you're off to sailing fun and cruising adventure.
Underway, the powerful sail-plan and big 360-lb. keel provide that special, sparkling performance that have made CAL boats the most successful racing / cruising boats in the world. Like the bigger ocean racers, the CAL 21 is self-righting and self-bailing.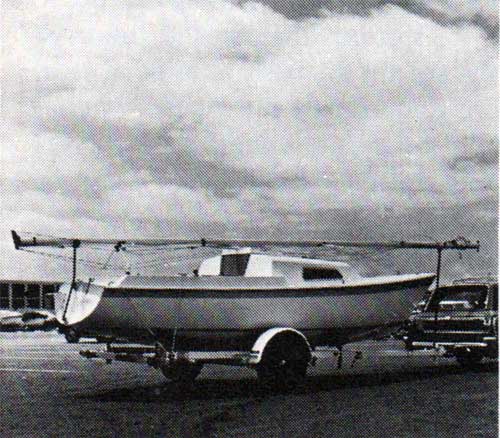 The rich mahogany trimmed interior sleeps four, with room for two more in the big cockpit, and there's space for a marine head and galley range. This great sailing package, including trailer, costs less than most cars.
See your JENSEN dealer for a free quick-launch demonstration, or drop us a note and we will send you a special color booklet illustrating the easy sail-to-trail features.

The new CAL 21
Jensen Marine
A DIVISION OF BANGOR PUNTA CORPORATION
COSTA MESA, CALIF., 92627
BANGOR PUNTA'S WIDE WORLD OF BOATING
DUO /JENSEN / LUHRS / O'DAY / SEAGOING / STARCRAFT / ULRICHSEN
CAL 20 | CAL 21 | CAL 2-24 | CAL 25 | CAL 29 | CAL 2-30 | CAL 34 | Cal37 | CAL 40 | CAL 43 | CAL C-36 | CAL C-46
A Bangor Punta Company
GG Archives REF: BPCJM-014-1970-BW-AD