The New CAL Meter Edition 9.2 Yacht (1981)
Hat with wine sauce: Reserve liberal quantity of wine. Boil hat in seasoned saltwater until clean. Remove hat from broth. Discard hat. Discard broth. Commence drinking wine and reading about a fantastic new boat.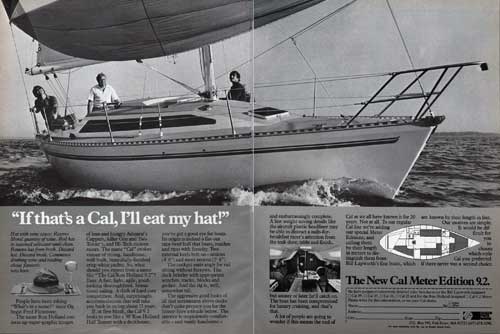 People have been asking "What's in a name?" since Og begat Fred Flintstone.
The name Ron Holland conjures up super-graphic images of lean and hungry Admiral's Cuppers, killer One and Two Tonners, and Hi-Tech custom racers.
The name "Cal" evokes visions of strong, handsome, well-built, beautifully-finished crisp white yachts. So, what should you expect from a name like "The Cal/Ron Holland 9.2"?
Easy. A fast, light, agile, good-looking thoroughbred. Sensational sailing. A dash of hardcore competition. And, surprisingly, accommodations that will take you back in racing about 15 years.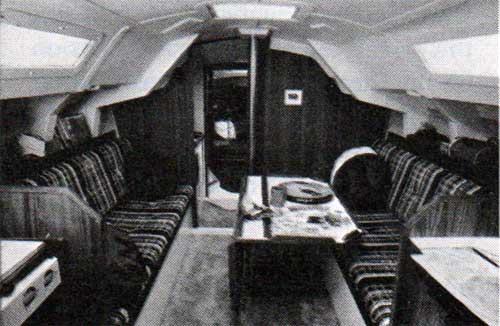 If at first blush, the CAL 9.2 looks to you like a 30' Ron Holland Half Tonner with a deckhouse, you've got a good eye for boats. Its origin is indeed a flat-out race-bred hull that beats, reaches, and runs with ferocity. Two external keels bolt on serious (4' 6") and more serious (5' 6").
The cockpit seats angle for rail sitting without furrows. The deck bristles with appropriate winches, tracks, blocks, and go-fast. And the rig is, well, somewhat tall.
CAL Meter 9.2 Specifications
LOA: 29' 11,5"
LWL: 25' 5"
Beam: 5' 7" | 4' 7"
Displacement: 7,000 Pounds
Designer: Ron Holland
Dates of Manufacture: 1981-1984
The aggressive good looks of all that seriousness above decks don't quite prepare you for the laissez-faire attitude below. The interior is suspiciously comfortable– and vainly handsome and embarrassingly complete.
A few weight-saving details like the aircraft plastic headliner may be able to distract a nails-for-breakfast racer's attention from the teak door, table and finish, but sooner or later he'll catch on. The boat has been compromised for luxury cruising, and that's that.
A lot of people are going to wonder if this means the end of CAL as we all have known it for 20 years. Not at all. To our regular CAL line we're adding our special Meter Editions, and calling them by their length in meters to distinguish them from Bill Lapworth's line are known by their length in feet.
Our motives are simple. It would be difficult for you to choose which style CAL you preferred if there never was a second choice.
We have prepared extensively detailed color brochures on the Bill Lapworth designed CAL 39, CAL 35, CAL 31, CAL 25 and for the Ron Holland designed ❑ CAL 9.2 Meter. Please write for this information, or see your CAL dealer.
CAL Boats
P.O. Box 991, Fall River, MA 02722
A Bangor Punta Company
GG Archives REF: BPCJM-049-1980-C-AD-2