CAL 44 Yacht Aft Cockpit for Good Reasons (1983)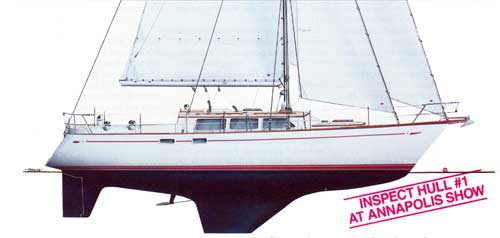 Experience eschews a midship cockpit on a yacht this size.
The designers of the new CAL 44, C. Raymond Hunt Associates of Boston, proposed an aft cockpit for several good reasons.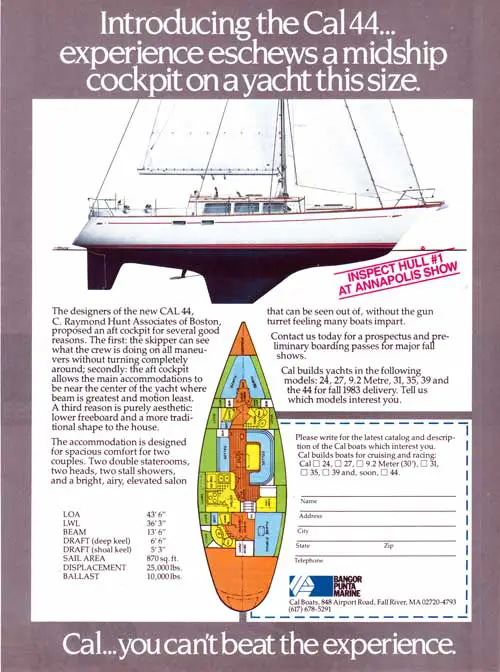 The first: the skipper can see what the crew is doing on all maneuvers without turning completely around.
Secondly: the aft cockpit allows the main accommodations to be near the center of the yacht where beam is greatest and motion least.
A third reason is purely aesthetic: lower freeboard and a more traditional shape to the house.
The accommodation is designed for spacious comfort for two couples. Two double staterooms, two heads, two stall showers, and a bright, airy, elevated salon that can be seen out of, without the gun turret feeling many boats impart.
Specifications
LOA: 43' 6"
LWL: 36' 3"
BEAM: 13' 6"
DRAFT (deep keel): 6' 6"
DRAFT (shoal keel): 5' 3"
SAIL AREA: 870 sq. ft.
DISPLACEMENT: 25,000 lbs.
BALLAST: 10,000 lbs.
Contact us today for a prospectus and preliminary boarding passes for major fall shows.
CAL builds yachts in the following models: 24, 27, 9.2 Metre, 31, 35, 39 and the 44 for fall 1983 delivery. Tell us which models interest you.

Please write for the latest catalog and description of the CAL boats which interest you. CAL builds boats for cruising and racing: CAL 24, 27, 9.2 Meter (30'), 31, 35, 39 and, soon, 44.
CAL Boats
Fall River, MA 02720-4793
CAL … you can't beat the experience.
A Bangor Punta Company
GG Archives REF: BPCJM-051-1983-C-AD