The Accomplished CAL 34 Cruising Boat (1979)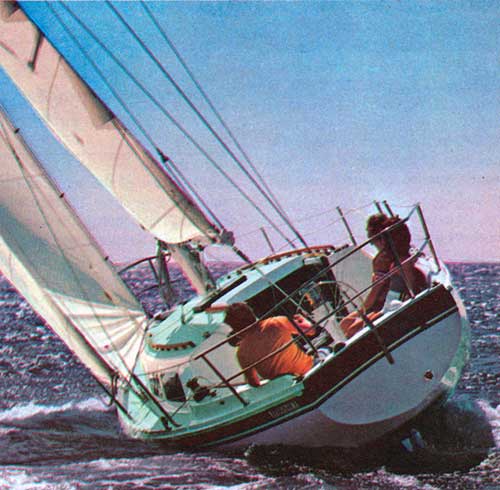 As a versatile week-ender, she'll win your heart.
As a long-range cruiser, she'll win your respect.
It takes time for a cruising boat to build a reputation. Earn respect. And prove herself a blue-water boat under any and all conditions.
But the CAL 34 has done it all. And done it all well. From Hawaii to Tahiti. From the Great Lakes to the Gulf Coast.
She's fulfilled the dreams of weekend sailors and world-wanderers alike. All with surprising ease.
An entertaining use of space.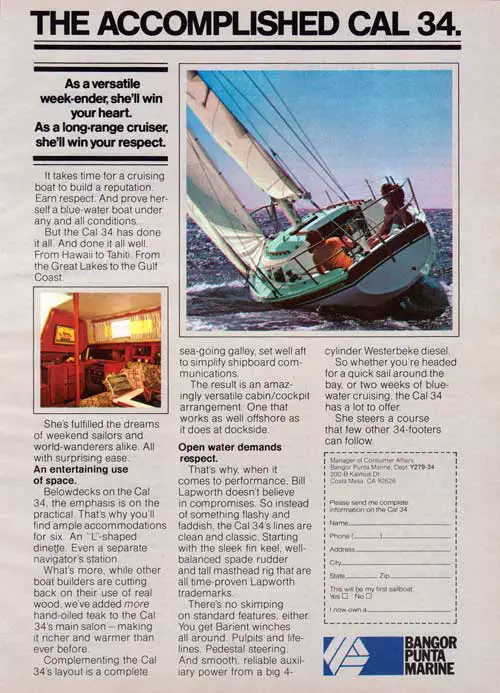 Below decks on the CAL 34. the emphasis is on the practical. That's why you'll find ample accommodations for six. An L-shaped dinette. Even a separate navigator's station.
What's more, while other boat builders are cutting back on their use of real wood, we've added more hand-oiled teak to the CAL 34's main salon — making it richer and warmer than ever before.
Complementing the CAL 34's layout is a complete sea-going galley, set well aft to simplify shipboard communications. The result is an amazingly versatile cabin/cockpit arrangement. One that works as well offshore as it does at dockside.
Open water demands respect.
That's why. when it comes to performance. Bill Lapworth doesn't believe in compromises. So instead of something flashy and faddish, the CAL 34's lines are clean and classic, starting with the sleek fin keel, well-balanced spade rudder and tall masthead rig that are all time-proven Lapworth trademarks.
There's no skimping on standard features, either. You get Barient winches all around. Pulpits and lifelines. Pedestal steering. And smooth, reliable auxiliary power from a big 4-cylinder Westerbeke diesel.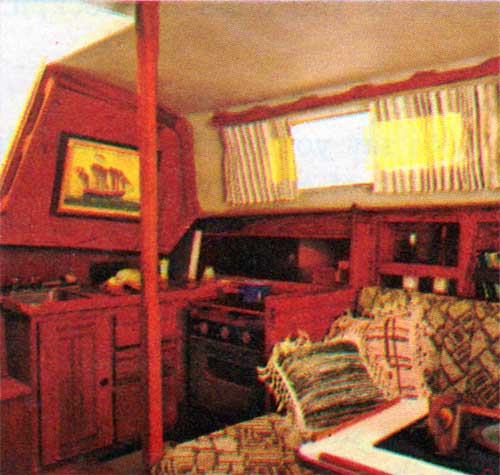 So whether you're headed for a quick sail around the bay, or two weeks of blue-water cruising, the CAL 34 has a lot to offer.
She steers a course that few other 34-footers can follow.
CAL Boats by Jensen Marine
A Bangor Punta Company
GG Archives REF: BPCJM-046-1979-C-AD