CAL 35: Sleek Island Hopper (1974)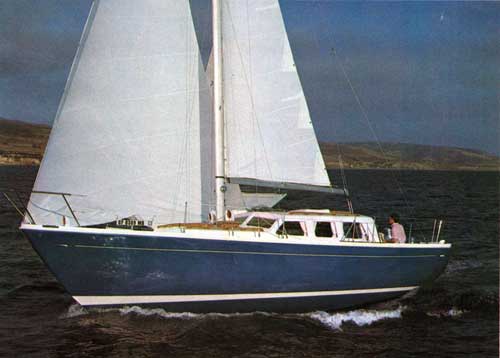 Because in every racing sailor there's a lazy island hopper, too.
Just as there's a little bit of the racing sailor in everyone who buys a boat for cruising. Only Lapworth could come up with a boat that gives you both. The thrill of sailing combined with the practical needs of cruising.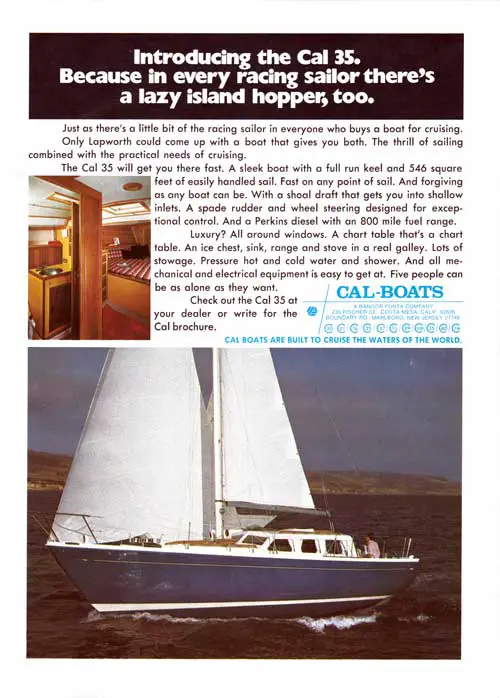 The CAL 35 Yacht will get you there fast. A sleek boat with a full run keel and 546 square feet of easily handled sail. Fast on any point of sail.
And forgiving as any boat can be. With a shoal draft that gets you into shallow inlets.
A spade rudder and wheel steering designed for exceptional control. And a Perkins diesel with an 800 mile fuel range.
Luxury? All around windows. A chart table that's a chart table. An ice chest, sink, range and stove in a real galley. Lots of stowage.
Pressure hot and cold water and shower. And all mechanical and electrical equipment is easy to get at. Five people can be as alone as they want.
Check out the CAL 35 at your dealer or write for the CAL brochure.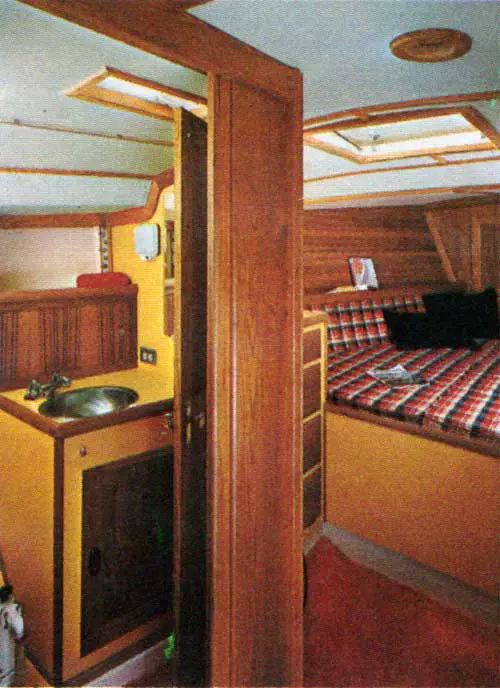 CAL-BOATS
COSTA MESA, CALIF. 92626
MARLBORO. NEW JERSEY 07746
CAL 20 | 21 | T/4 | 25 | 27 | T/2 | 29 | 3-30 | 35 | 40 | 2-46
CAL BOATS ARE BUILT TO CRUISE THE WATERS OF THE WORLD.
A Bangor Punta Company
GG Archives REF: BPCJM-031-1974-C-AD