The Cal 34's Plush Interior, Built for Speed (1970)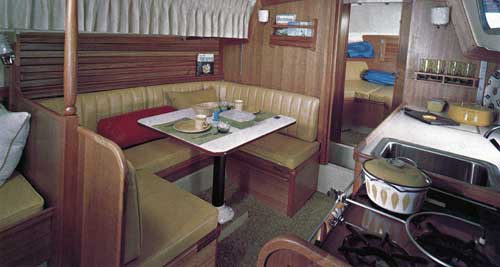 Don't let the plush interior fool you. The Cal 34's built for speed.
Speed that's there from the beginning. Speed built right into the race-proven Bill Lap-worth design. With all of the same features of the fabulous Cal 40.
The same long waterline and light displacement hull, the same hard bilges and spade rudder for absolute control.
Roomy Interior Accommodates Six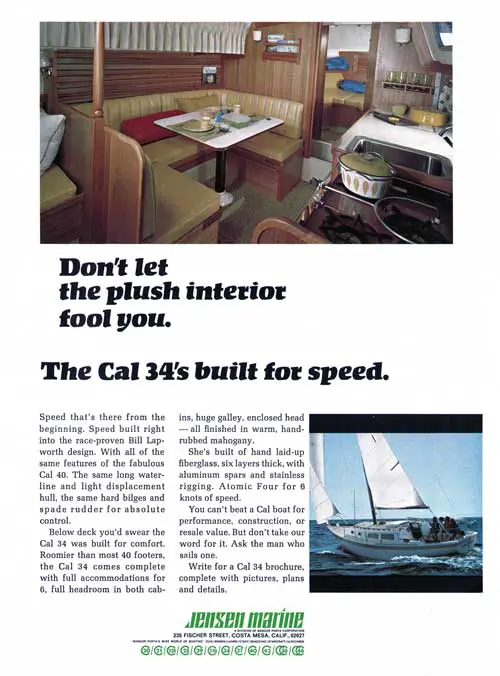 Below deck you'd swear the Cal 34 was built for comfort.
Roomier than most 40 footers, the Cal 34 comes complete with full accommodations for 6, full headroom in both cab ins, huge galley, enclosed head — all finished in warm, hand-rubbed mahogany.
She's built of hand laid-up fiberglass, six layers thick, with aluminum spars and stainless rigging. Atomic Four for 6 knots of speed.
You can't beat a Cal boat for performance, construction, or resale value. But don't take our word for it. Ask the man who sails one.
Write for a Cal 34 brochure, complete with pictures, plans and details.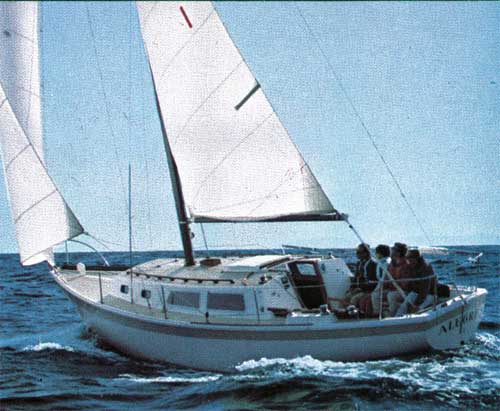 CAL BOATS BY JENSEN MARINE
235 FISCHER STREET, COSTA MESA, CALIF., 92627
"BANGOR PUNTA'S WIDE WORLD OF BOATING" DUO / JENSEN MOTORS / O'DAY / SEAGOING/ STARCRAFT / ULRICHSEN
C20 | C21 | C2-24 | C25 | C29 | C2-30 | C34 | C37 | C40 | C43 | CC36 | CC46
A Bangor Punta Company
GG Archives REF: BPCJM-017-1970-C-AD