CAL 40 Wins Los Angeles to Honolulu Transpac Race … Again! (1967)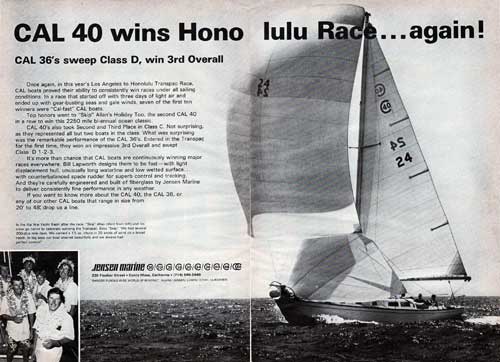 CAL 36's sweep Class D, win 3rd Overall
In the Ala Wai Yacht Basin after the race, "Skip" Allan (third from left in photo insert above and photo below) and his crew go native to celebrate winning the Transpac.
Says "Skip,' "We had several 200-plus mile days. We carried a 11/2 oz. chute in 25 knots of wind on a broad reach. In big seas, our boat steered beautifully, and we always had perfect control."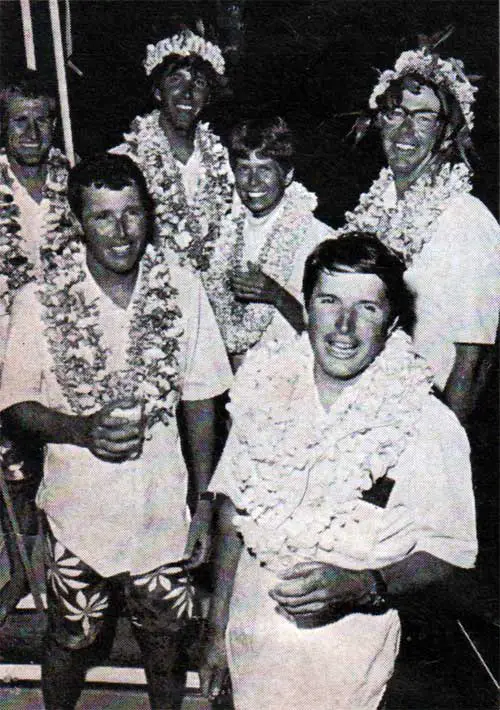 Once again, in this year's Los Angeles to Honolulu Transpac Race, CAL boats proved their ability to win races under all sailing conditions consistently.
In a race that started off with three days of light air and ended up with gear-busting seas and gale winds, seven of the first ten winners were "Cal-fast" CAL boats.
Top honors went to "Skip" Allan's Holiday Too, the second CAL 40 in a row to win this 2250 mile bi-annual ocean classic.
CAL 40's also took Second and Third Place in Class C. Not surprising, as they represented all but two boats in the class. What was surprising was the remarkable performance of the CAL 36's. Entered in the Transpac for the first time, they won an impressive 3rd Overall and swept Class D 1-2-3.
It's more than chance that CAL boats are continuously winning major races everywhere. Bill Lapworth designs them to be fast -- with light displacement hull, unusually long waterline and low wetted surface… with counterbalanced spade rudder for superb control and tracking.
And they're carefully engineered and built of fiberglass by Jensen Marine to deliver consistently fine performance in any weather.
If you want to know more about the CAL 40, the CAL 36, or any of our other CAL boats that range in size from 20' to 48', drop us a line.
CAL BOATS BY JENSEN MARINE
CAL 20 / 2-24 / 25 / 28 / 30 / 34 / 36 / 40 / 48 / 2-46
Costa Mesa, California
"BANGOR PUNTA'S WIDE WORLD OF BOATING"
ALURA / JENSEN / LUHRS / O'DAY / ULRICHSEN
A Bangor Punta Company
GG Archives REF: BPCJM-052-1967-BW-AD-2