The New CAL 39 Yacht - A Cruiser Built For Speed (1978)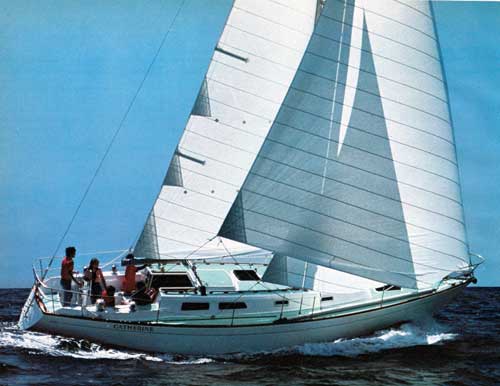 A Cruiser Built For Speed, Not Rating Points
Too Many Boats Today are "rule-beaters:' Boats that give up comfort, safety, even speed for lower ratings under handicapping rules like 10R.
Bill Lapworth, our designer, does not think that way. His famous CAL 40 was built for speed. Pure and simple. And she wasn't short on cruising comfort either.
Now Lapworth's done it again. His new CAL 39 is a superbly equipped —and fast—modern cruiser. Like the CAL 40, built to beat the competition—not the rule.
Fast on Any Point of Sail — in Any Weather
Thanks to a low drag keel and generous sail plan, the CAL 39 yacht doesn't have to use her engine every time the wind goes light. While 7,000 pounds of ballast let her hold full sail when less stable boats must reef.
The efficiency of her high-aspect rig gives the CAL 39 yacht exceptional speed to windward. The towering mast lets her carry truly massive jibs and spinnakers on a reach.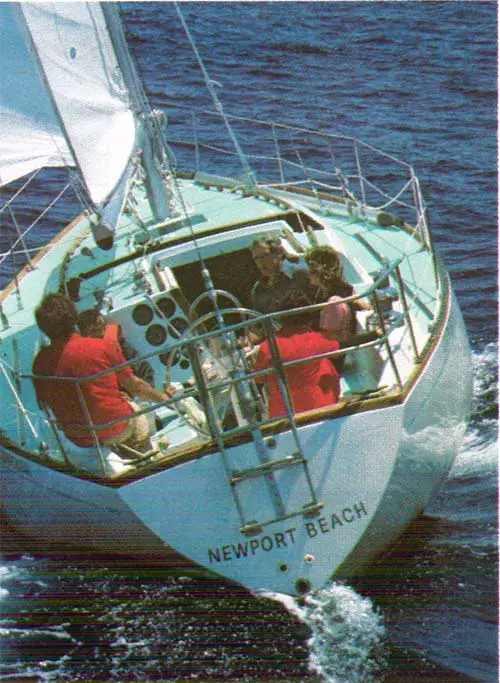 Driving to windward, the CAL 39 shows sleek, powerful, hull-lines.
Docile When She Should Be
But flat out speed isn't all there is to great performance—especially in a cruising boat.
That's why we gave the CAL 39 a balanced rig to help her track and a big spade rudder for quick, responsive steering. Why we insisted on a boat an experienced couple could sail.
One that wouldn't be a brute to handle in a blow. Or a menace in a crowded anchorage. A boat that makes maneuvering at the gas-dock a pleasure instead of a trial.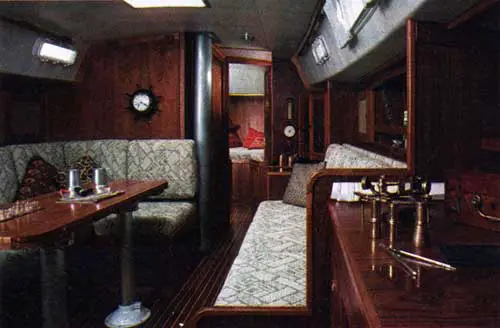 Teak paneling. Teak and holly cabin sole. The kind of storage space a serious cruising boat must carry.
A Live-Aboard Cruiser
A lot of boats this size have elegant appointments. But the CAL 39 yacht is one of the few designed for living on board. At anchor or at sea. For weeks or even months on end.
We gave the CAL 39 the storage space to hold the tools, supplies, emergency gear and sails an offshore boat should carry. We built in roomy but, truly separate cabins that protect your privacy.
And we fitted the boat with tanks for 50 gallons of diesel fuel—for covering distances under power. And 90 gallons of fresh water. So you can use water freely without compromising your cruising range.
A Cabin Tailored to Your Needs
Most cruisers give you a choice of cabin colors. The new CAL 39 gives you a choice of cabins.
The standard layout gives you maximum space and comfort for two couples or a family. The extra spacious forward cabin has its own chest of drawers and hanging locker. And for extra guests there are three double berths in the main salon.
The optional plan gives you three entirely separate living areas. Two cabins and a head up forward of the galley, and another stateroom aft—complete with dressing area, double berth and a private, fully enclosed head.
Either way there's up to 6 1/2 foot headroom. Dining space for eight. A navigator's table set up so you can spread your charts out. And a sea-going galley with twin sinks, an 8 cu. ft. icebox, and a gimbled stove with oven.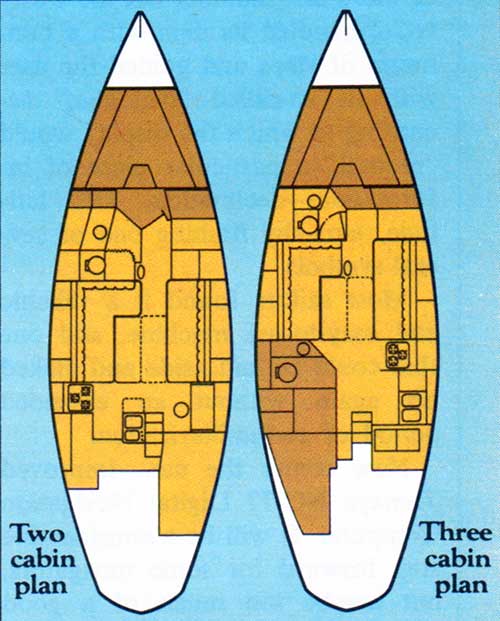 CAL 39: Choose between standard two-cabin layout or optional three-cabin plan.
A Choice of Hulls
The CAL 39 yacht lets you fit your hull configuration to your cruising grounds. The full keel model gives you extra stiffness if your home waters are deep. The shoal draft (5'6") lets you cruise up rivers, sail close in-shore, and anchor in secluded harbors.
Practical Elegance
Teak strips line the cabin sides, the cabin sole is teak and holly. Drawers and lockers are numerous and expertly finished. And they're not just there for decoration.
The teak was chosen for its easy maintenance. Fine carpentry was used for strength as well as looks. Because we build the CAL 39 so you won't need professionals to keep her up.
No Corner Cutting on Construction
There are no compromises in the way the CAL 39 is put together.
The hull is molded by hand, so we can be sure it's evenly layed up. The lead ballast is encapsulated in fiberglass—for extra strength.
The fittings and gear are the best on the market—Barient winches, Schaefer blocks, a Perkins diesel—because you should be able to depend on them at sea.
Thousands in Extras Built In
A boat this size should not be sold half-finished. Which is why we give you gear that other builders charge extra for. Not just liftlines and pulpits, nonskid decks and opening ports. But costly items like pedestal steering, five Barient winches, and a Perkins diesel engine.
Nice little things, too: A lightning ground, a liquor cabinet, twin galley sinks, and a handy foredeck anchor well.
Suggested base retail price for the two cabin version of the CAL 39 yacht is about $62,000. That's not inexpensive. But over the years CAL boats have proved their worth. Production CAL cruisers have sailed around the world. Won the Trans-Pac and the SORC. And held their resale values.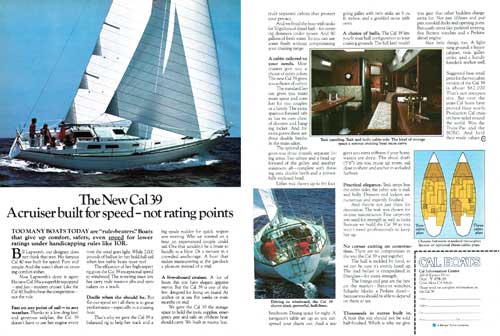 CAL Information Center
Costa Mesa, CA 92626
A Bangor Punta Company
GG Archives REF: BPCJM-042-1978-C-AD-2