CAL Boats - The Total Performance Fleet (1970)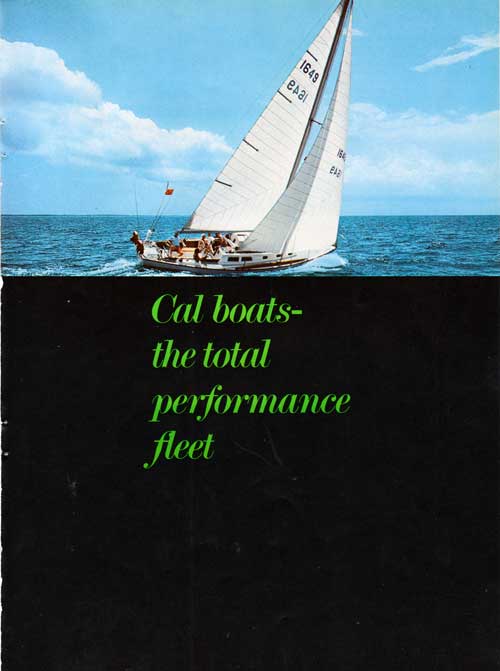 Total performance means - winning races, luxurious cruising, and carefree ownership of a boat that retains its value, year after year.
Racing Performance
The "CAL" fleet is the most successful line of racing boats ever produced. Year after year, "CAL" boats dominate the competition.
It's due to Bill Lapworth's oft copied but never duplicated formula of long waterline, light displacement, and spade rudder. Today, to beat a "CAL" boat, you have to own one.
Featured Sailboats and Yachts
(In order of appearance in brochure)
CAL 40 Ocean Racer / Cruiser
CAL 20 Midget Ocean Racer
CAL 21 Cruising Boat
CAL 2-24 Top Racing Performer
CAL 25 Outstanding Ocean Racer
CAL 29 Ocean Racer / Cruiser
CAL 2-30 Racer / Cruiser
CAL 34 Fast Performer - Luxurious Cruiser
CAL 34 Special Cruising Yacht
CAL Cruising 46 Yacht - Extended Voyage Cruiser
CAL Cruising 36 Yacht - For Combined Speed and Comfort
CRUISING PERFORMANCE
Today's sailing families require a lot of cruising comfort. And Bill Lapworth designs "CAL" boats around people. That's why you'll find large, well-arranged cockpits, full-length berths, big, well-equipped galleys and bright, roomy cabins.
SUPERBLY ENGINEERED PERFORMANCE
The remarkable durability of "CAL" boats in major ocean racing competition is an elegant testimony to the engineering know-how of Jack Jensen. "CAL" boats require less maintenance and repair—it's solid design, engineering, and construction that make the difference.
RESALE PERFORMANCE
The characteristics that make "CAL" boats total performers afloat also make them solid investments.
A comparison of prices on the used boat market consistently demonstrates the economic value of owning a "CAL" boat...they're worth more used because "CAL" boats are better designed and better built to exacting standards by Jensen Marine for safety, durability, comfort and long life.
CAL 40 Ocean Racer / Cruiser by Jensen Marine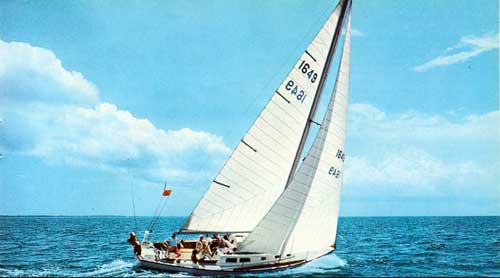 CAL 40 Cruising on the Open Seas
Without a doubt the most successful Ocean Racer/Cruiser ever built. Since her introduction, the CAL 40 has won more major races than other designs do in a lifetime. Her immense popularity is due not only to her phenomenal performance but also to her new deluxe interior which now comes as standard equipment on all new CAL 40's.
CAL 20 Midget Ocean Racer by Jensen Marine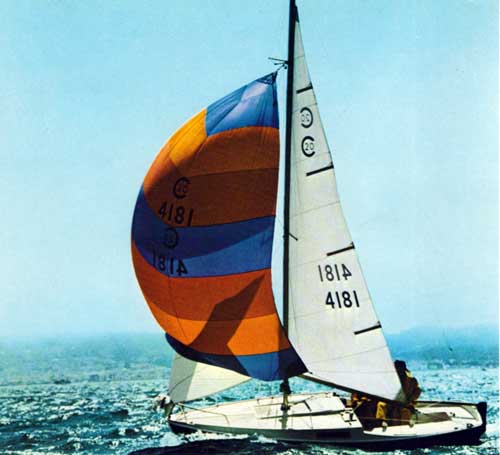 CAL 20 Sailboat displaying the full sails while cruising
One of the most successful midget ocean racers ever built features an 8 ft., self-bailing cockpit; outboard well; two-compartment cabin; four berths; 1500 class boat organization; hinged mast step for trailering.
CAL 21 Cruising Boat by Jensen Marine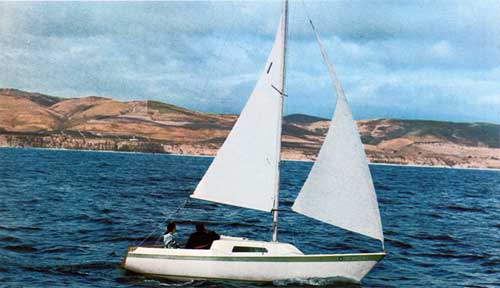 CAL 21 Sailboat shown near the shoreline on a cruise
The CAL 21 is a comfortable cruising boat that features a new, fully retractable keel. This makes launching possible in as little as 12 inches of water. A hinged mast provides quick and easy rigging. The entire rigging and launching procedure takes less than fifteen minutes. A CAL 21 Sailboat costs less than the average family car, yet provides cruising accommodations for 4.
The CAL 2-24 Sailboat - A Top Racing Performer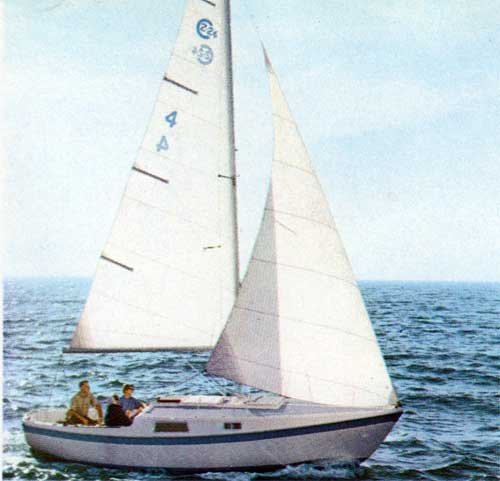 CAL 2-24 Sailboat is cruising on the open waters.
A top racing performer with a new fin keel, spade rudder, and 15/16 sail plan. For cruising, a two-compartment cabin, four bunks, enclosed head, self-bailing cockpit, and outboard transom.
CAL 25 Yacht - An Outstanding Ocean Racer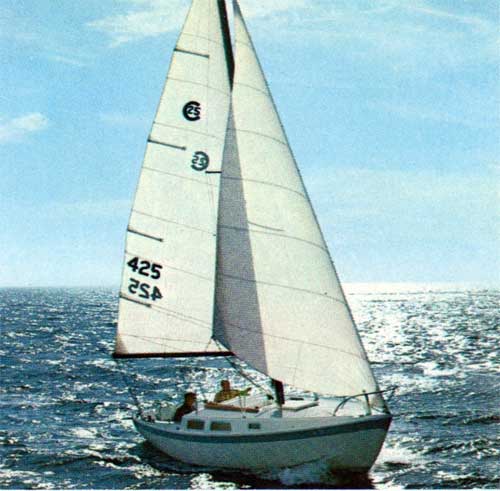 CAL 25 Sailboat sailing in open waters
In addition to its excellent ocean racing record, the CAL 25 features unusually spacious cruising accommodations, with a unique convertible main hatch cover that provides full headroom in the galley.
There's a newly designed dinette and galley, forward cabin, enclosed head and big cockpit with outboard transom.
CAL 29 Yacht - Ocean Racer and Cruiser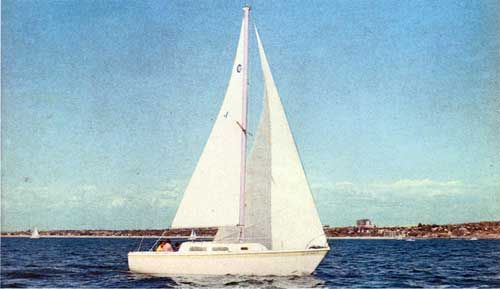 Jensen Marine offers a smooth sailing Ocean Racer / Cruising sailboat in the new CAL 29 Yacht.
The newest ocean racer/ cruiser from the famous Jensen-Lapworth team incorporates Bill Lapworth's latest design ideas. The CAL 29 Yacht underbody features a new shortened keel and a ventral fin for minimum wetted surface and maximum steering control. And the unique interior layout provides 14 ft. of seating room around the big "J" shaped dinette. Full-size galley and six berths make her a great cruising boat.
CAL 2-30 Yacht - 30 Foot Racer / Cruiser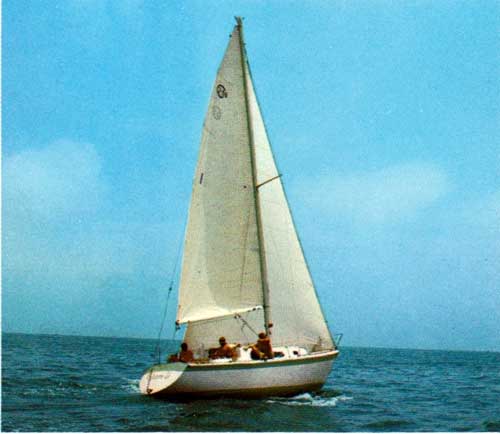 CAL 2-30 Yacht looks and performs great cruising or racing
The most exciting 30-footer ever built. The CAL 2-30 Yacht by Jensen Marine has been dominating competition ever since her launching. She cruises six with deluxe interior appointments and is the ideal boat for the particular yachtsman who races and cruises with his family.
CAL 34 Yacht - Fast Performer - Luxurious Cruiser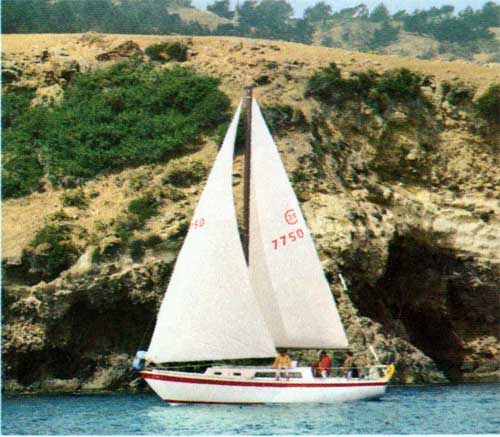 CAL 34 Yacht on a relaxing cruise near the shoreline
Of all the CAL boats by Jensen Marine, this is perhaps the best combination of CAL-Fast performance and luxurious cruising accommodations.
Her consistent race winning performance is matched by a lovely, roomy interior with full headroom in both the main and forward cabin, huge, fully equipped galley, and abundant stowage space for extended cruising.
CAL 34 Special Cruising Yacht - Luxurious Cruiser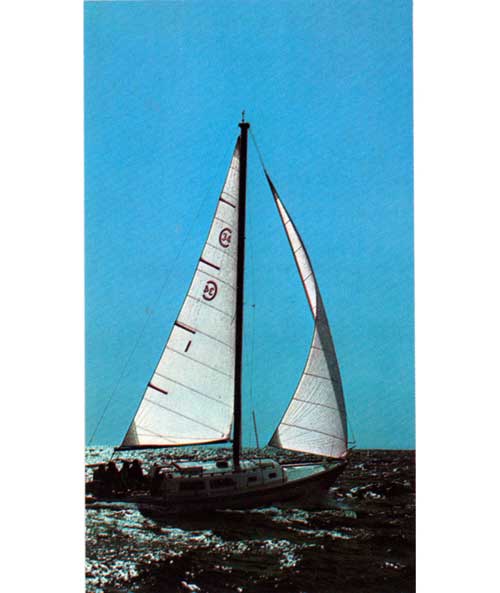 SPECIAL CRUISING CAL 34 Yacht by Jensen Marine
Here's a roomy CAL 34 Yacht with all the extras you need for luxurious cruising. Worked out for us by one of the most experienced Caribbean charter captains:
A shallower keel with extra laminations, just in case you bump bottom
A special anchoring bowsprit with roller
Two large additional hatches for better ventilation
A huge icebox with mechanical refrigeration -- and
A shower.
Go ahead. Get your dreamboat today and start cruising in style and luxury.
CAL Cruising 46 Yacht - Extended Voyage Cruiser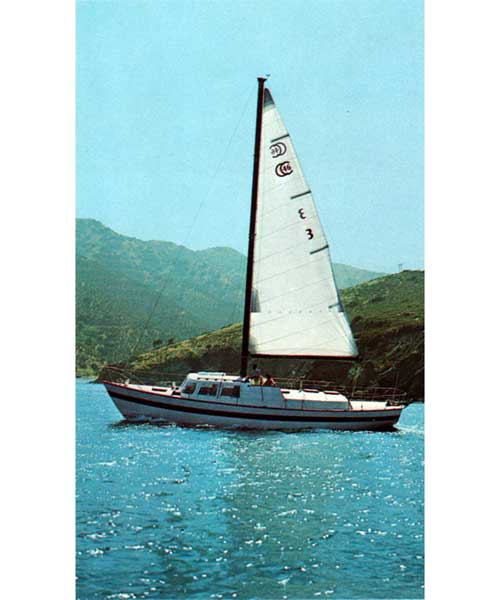 CAL CRUISING 46 Yacht cruising along the shoreline.
An all-out cruising boat designed for extended cruising in total comfort. The CC46 Yacht sails exceptionally well yet is capable of cruising under the power of the big Perkins 4-236 diesel at speeds over 8 knots.
An enclosed pilothouse, optional two-station steering, and a shallow 5 ft. draft will take you anywhere in the world in safety and comfort.
A full 500 sq. ft. of living space with full standing headroom throughout provides all the comforts of your home afloat.
CAL Cruising 36 Yacht - For Combined Speed and Comfort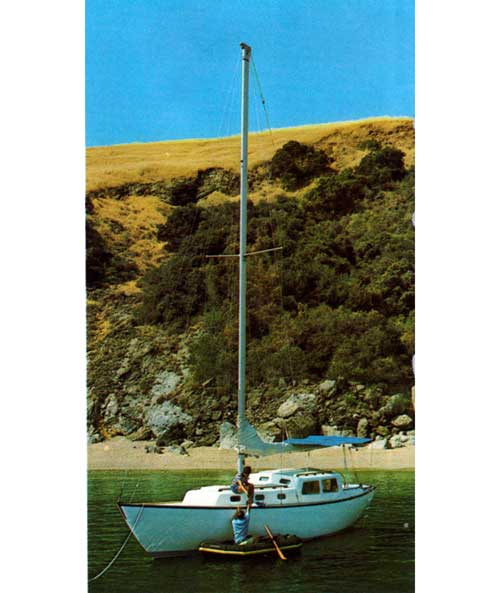 CAL CRUISING 36 anchored off shore enjoying a morning full of exploration.
A yacht that combines the race-proven speed of the CAL 36 hull with a great new accommodation plan designed especially for maximum cruising comfort and safety.
The result is a new breed of cruising boat with appointments that could be found before only in large power boats.
She's outfitted to accommodate seven for extended cruising and can be easily handled by a couple.
Her big diesel power plant provides a 650-mile range on one tank of fuel.
For a color brochure on any boat, contact
CAL Boats by Jensen Marine
COSTA MESA, CALIFORNIA 92627
BANGOR'S WIDE WORLD OF BOATING.
DUO / JENSEN / LUHRS / O'DAY / SEGOING / ULRICHSEN
CAL 20 | CAL 21 | CAL 2-24 | CAL 2-30 | CAL 25 | CAL 29 | CAL 34 | CAL 36 | CAL 37 | CAL 40 | CAL 43 | CAL 48 | CAL Cruising 36 | CAL Cruising 46
A Bangor Punta Company
GG Archives REF: BPCJM-016-1970-C-AD-4