The New Cal Cruising 46 Yacht - A Real Home Afloat (1967)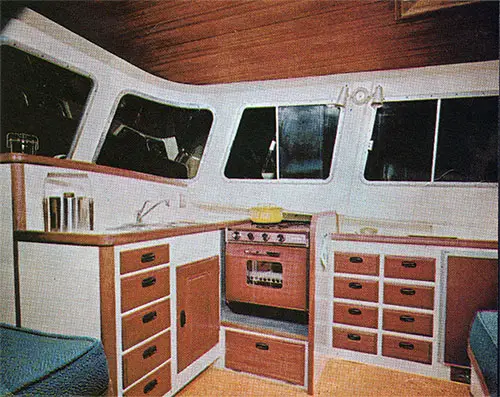 View of the Galley on the Cal Cruising 46 Yacht.
Take a weekend … a week … or forever … in the new Cal Cruising 46 and let the Cal Cruising 46 take you to your favorite cruising grounds —anywhere in the world!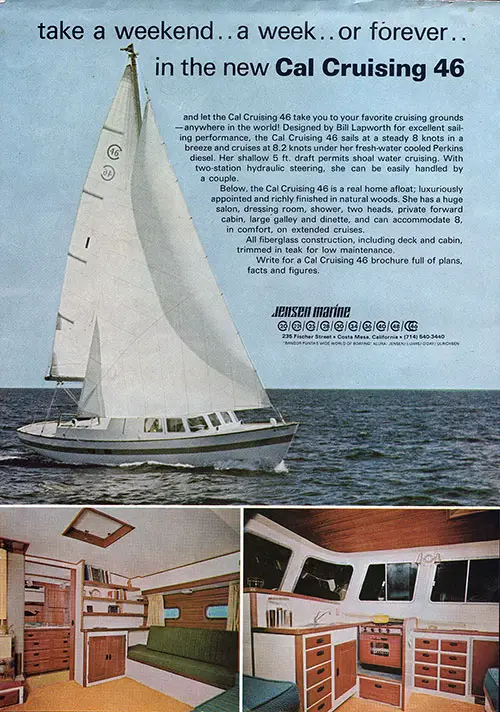 Designed by Bill Lapworth for excellent sailing performance, the Cal Cruising 46 sails at a steady 8 knots in a breeze and cruises at 8.2 knots under her fresh-water cooled Perkins diesel.
Her shallow five-foot draft permits shoal water cruising. With two-station hydraulic steering, she can be easily handled by a couple.
Below, the Cal Cruising 46 is a real home afloat; luxuriously appointed and richly finished in natural woods. She has a huge salon, dressing room, shower, two heads, private forward cabin, large galley and dinette, and can accommodate 8, in comfort, on extended cruises.
All fiberglass construction, including deck and cabin, trimmed in teak for low maintenance.
Write for a Cal Cruising 46 brochure full of plans, facts, and figures.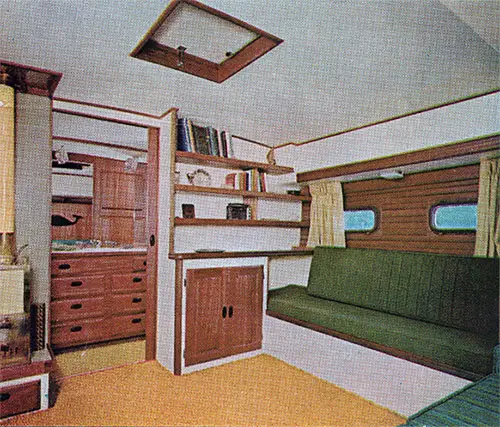 Above: View of the Main Salon and Dressing Area;
CAL Boats by Jensen Marine Cal 25 / Cal 2-24 / Cal 25 / Cal 28 / Cal 30 / Cal 34 / Cal 36 / Cal 40 / Cal 48 / Cal Cruising 46
Costa Mesa, California
BANGOR PUNTA'S WIDE WORLD OF BOATING
ALURA / JENSEN / LUHRS / O'DAY / ULRICHSEN
A Bangor Punta Company
GG Archives REF: BPCJM-004-1967-C-AD