CAL 2-30: Hot New Ocean Racer (1969)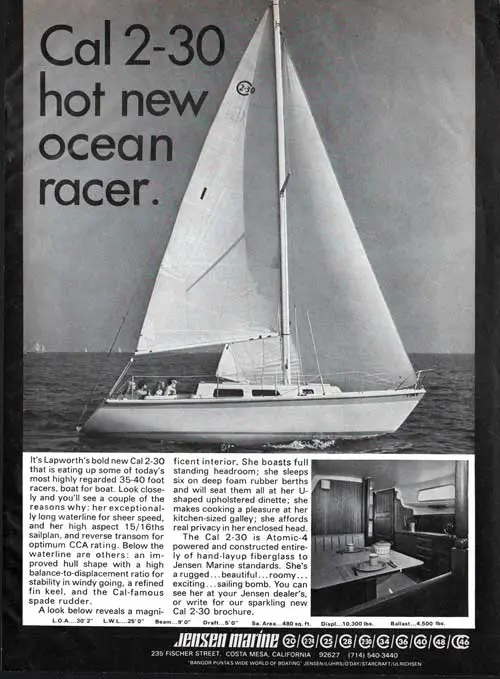 It's Lapworth's bold new Cal 2-30 that is eating up some of today's most highly regarded 35-40 foot racers, boat for boat.
Look closely and you'll see a couple of the reasons why: her exceptionally long waterline for sheer speed, and her high aspect 15/16ths sail plan, and reverse transom for optimum CCA rating.
Below the waterline are others: an improved hull shape with a high balance-to-displacement ratio for stability in windy going, a refined fin keel, and the Cal-famous spade rudder.
A look below reveals a magni ficent interior. She boasts full standing headroom; she sleeps six on deep foam rubber berths and will seat them all at her U-shaped upholstered dinette; she makes cooking a pleasure at her kitchen-sized galley; she affords real privacy in her enclosed head.
The Cal 2-30 is Atomic-4 powered and constructed entirely of hand-layup fiberglass to Jensen Marine standards.
She's a rugged ... roomy... exciting ... sailing bomb.
You can see her at your Jensen dealer's, or write for our sparkling new Cal 2-30 brochure.
L.O.A.: 30' 2"
L.W.L.: 25' 0"
Beam: 9' 0"
Draft: 5' 0" Sa.
Area: 480 sq. ft.
Displacement: 10,300 lbs.
Ballast: 4,500 lbs.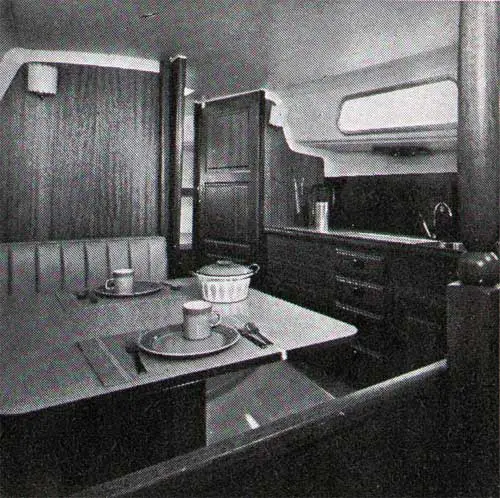 CAL BOATS BY JENSEN MARINE
C20/C2-24/C25/C28/C29/C34/C36/C40/C48/CC46
COSTA MESA, CALIFORNIA 92627
BANGOR PUNTA'S WIDE WORLD OF BOATING
JENSEN | LUHRS | O'DAY | STARCRAFT | ULRICHSEN
A Bangor Punta Company
GG Archives REF: BPCJM-008-1969-BW-AD