CAL 31 Most Comfortable Interior Afloat (1978)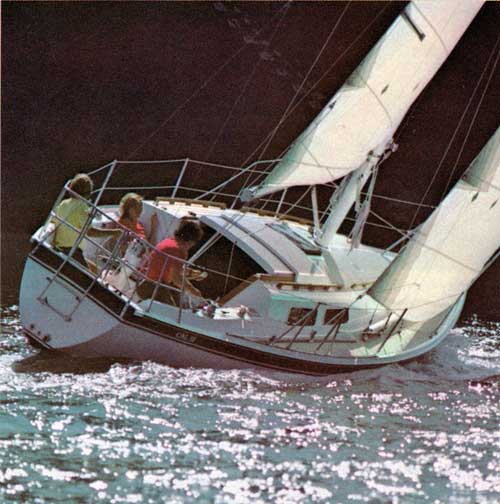 In an offshore shipping lane -- or even a crowded marina -- the new CAL 31 is a well-behaved beauty.
Introducing the 31-foot boat with a 40-foot interior. The New CAL 31 Yacht by Jensen Marine.
You don't really go below on the new CAL 31. You get "swallowed' By one of the roomiest, most comfortable CAL interiors afloat.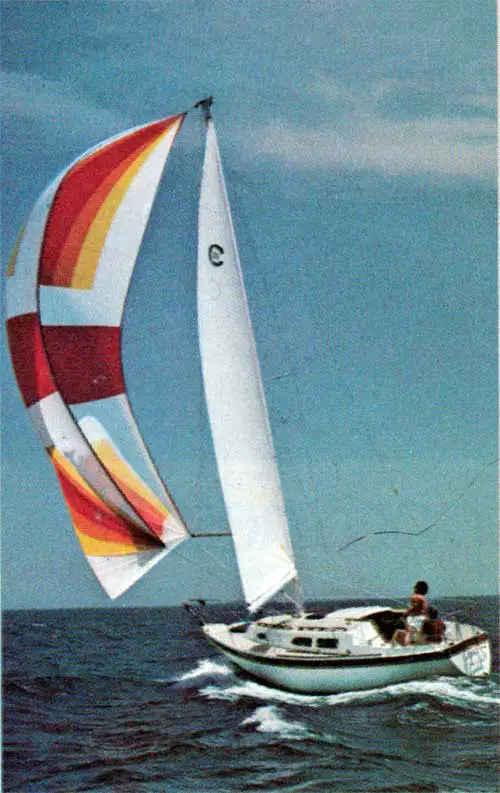 The new CAL 31: A Lapworth cruiser/racer that can run with the very best.
Bill Lapworth, her designer, gave the new CAL 31 a generous 25'8" waterline.
That's almost 2 feet longer than some boats in her class.
And a good 4 inches longer than our own CAL 34.
What's more, he gave her a modern, pageWrapper-around galley that delivers the same big 7 cu. ft. icebox found in the CAL 39.
And, amazingly, even more counter space.
Then, he pageWrapperped it all up in an efficient, live-aboard layout with ample accommodations for six.
Is Bill Lapworth going soft?
Not a chance.
He wouldn't be caught dead trading even half a knot of speed for a whole cabin full of creature comforts.
That's why all the time-tested ingredients of a no-nonsense, performance-oriented cruiser/racer are also right here. And working hard.
A tall masthead rig with 490 sq. ft. of sail for plenty of drive. A sleek fin keel for enhanced speed and stability. A well-balanced spade rudder for positive control. And first-rate hardware—like Barient winches—all around.
Plus the kind of sea-going manners that let a couple handle her with ease.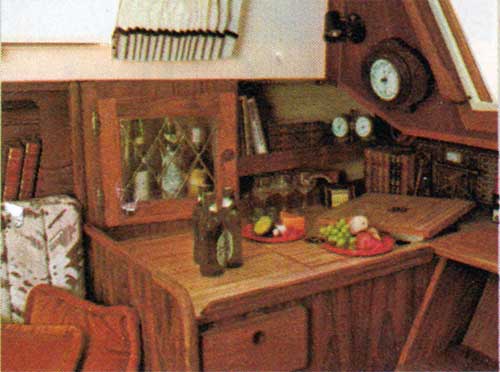 An elegant leaded glass door reveals the CAL 31's built-in liquor locker
We made her "posh," yet practical.
Take the galley, for example. To port, there's a gimbaled stove with oven. a handy stowage bin/pass-thru module and an extra-deep sink that'll hold water even when you're underway.
To starboard, there's a hardworking counter-top that serves as a navigation station and provides easy access to the oversized icebox. Alongside, there's extra drawer space. And to top it all off, there's an elegant liquor locker— complete with leaded glass door— like on the CAL 39.
The CAL 31's main salon is strikingly warm and rich, thanks to an abundance of teak and the handsome fabrics that cover opposing settees. Dining space is created in seconds by a bulkhead-mounted table or an optional doubledropleaf centerline model.
The head is big, bright and private. And it's opposite another practical touch: two separate hanging lockers—one for each cabin.

Going forward, the traditional V-berth boasts a unique two-position center insert that quickly converts to a dressing seat, a teak-faced stowage compartment overhead and, underneath it all, a molded-in, gel-coated bin to make sail stowage more convenient.
There's not a safer buy on any sea.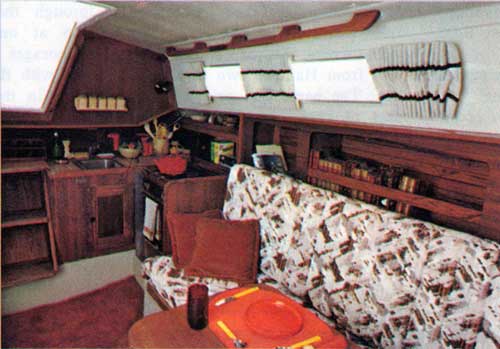 Below decks on the CAL 31: All the comforts of a sea-going home And then some.
No matter how you measure a cruising boat, the new CAL 31 has a lot going for it.
She's a Bill Lapworth design. And that means superior performance on any point of the sail.
She's a CAL Boat, too. And that means only the finest of materials, a one-piece hull that's layed-up entirely by hand and, of course, exceptional resale value.
Better yet, like all Jensen Marine sail boats built after August 1, 1978, the new CAL 31 is backed by the most comprehensive new-boat warranty in the business.
So stop by your local CAL dealer and explore our big, new, 31-foot beauty. If history means anything, she'll be winning races— and the hearts of cruising folks—for years.
Manager of Consumer Affairs Jensen Marine, Costa Mesa, CA 92626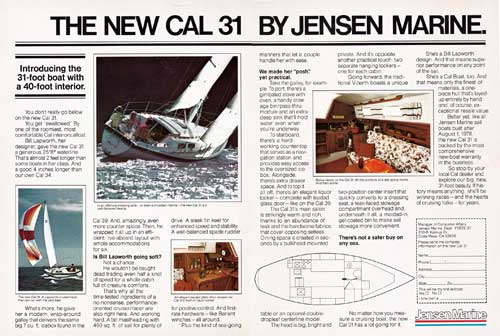 CAL Boats by Jensen Marine
A Bangor Punta Company
GG Archives REF: BPCJM-045-1978-C-AD-2