The CAL 25 Affordable First Cruiser (1979)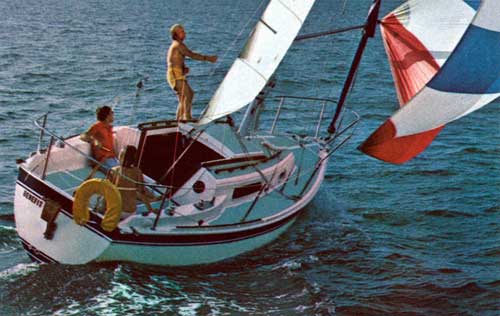 Everything your first cruiser should be. Including affordable.
Everything that helps make CAL Boats some of the best-performing sailboats in the world is right here in the new CAL 25.
The fin keel, spade rudder and clean, classic lines that Bill Lapworth is famous for.
The uncompromised quality and integral strength of a fiberglass hull layed-up entirely by hand.
The reassurance of first-rate fittings. And the extra safety of molded-in non-skid.
The peace of mind that comes from knowing this 25-footer will perform handsomely. On any sea. In any port. And the comforting knowledge that, in years to come, your CAL 25 will probably be worth more than what you paid for her.
Fitted-Out for Families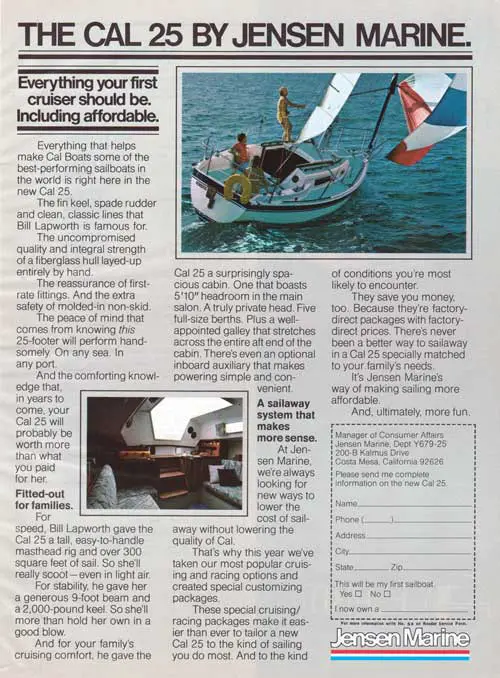 For speed, Bill Lapworth gave the CAL 25 a tall, easy-to-handle masthead rig and over 300 square feet of sail. So she'll really scoot— even in light air.
For stability, he gave her a generous 9-foot beam and a 2,000-pound keel. So she'll more than hold her own in a good blow.
And for your family's cruising comfort, he gave the CAL 25 a surprisingly spacious cabin -- one that boasts 5'10" headroom in the main salon. A truly private head.
Five full-size berths. Plus a well-appointed galley that stretches across the entire aft end of the cabin. There's even an optional inboard auxiliary that makes powering simple and convenient.
A Sailaway System That Makes More Sense
At Jensen Marine, we're always looking for new ways to lower the cost of sail-away without lowering the quality of Cal.
That's why this year we've taken our most popular cruising and racing options and created special customizing packages.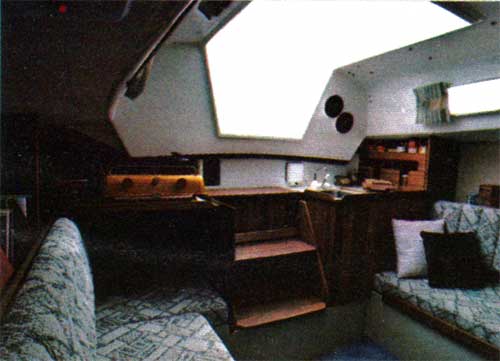 These special cruising/ racing packages make it easier than ever to tailor a new CAL 25 to the kind of sailing you do most. And to the kind of conditions you're most likely to encounter.
They save you money, too. Because they're factory-direct packages with factory-direct prices. There's never been a better way to sailaway in a CAL 25 specially matched to your family's needs.
It's Jensen Marine's way of making sailing more affordable.
And, ultimately, more fun.
Manager of Consumer Affairs Jensen Marine
Costa Mesa, California 92626
CAL Boats by Jensen Marine
A Bangor Punta Company
GG Archives REF: BPCJM-048-1979-C-AD