The New CAL 36's Racing Everywhere, Winning Everywhere! (1967)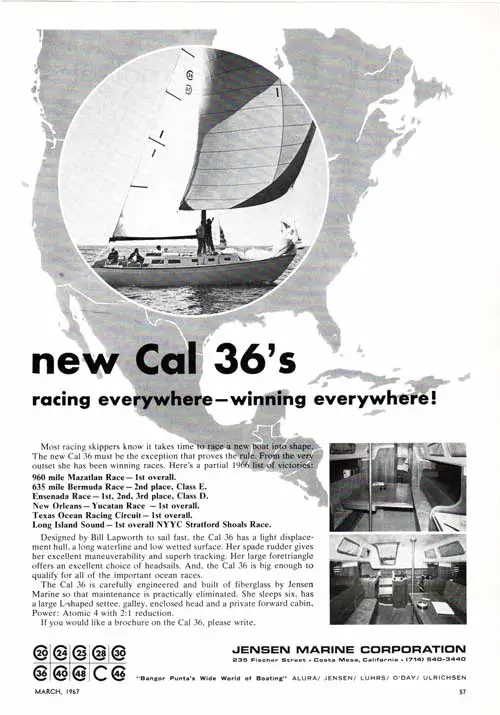 Most racing skippers know it takes time to race a new boat into shape.
The new CAL 36 Yacht must be the exception that proves the rule.
From the very outset she has been winning races. Here's a partial 1966 list of victories:
960 mile Mazatlan Race — 1st overall.
635 mile Bermuda Race — 2nd place, Class E.
Ensenada Race — 1st, 2nd, 3rd place, Class D.
New Orleans — Yucatan Race — 1st overall.
Texas Ocean Racing Circuit — 1st overall.
Long Island Sound — 1st overall NYYC Stratford Shoals Race.
Designed by Bill Lapworth to sail fast, the CAL 36 yacht has a light displacement hull, a long waterline and low wetted surface. Her spade rudder gives her excellent maneuverability and superb tracking.
Her large foretriangle offers an excellent choice of headsails. And, the CAL 36 yacht is big enough to qualify for all of the important ocean races.
The CAL 36 is carefully engineered and built of fiberglass by Jensen Marine so that maintenance is practically eliminated.
She sleeps six, has a large L-shaped settee, galley, enclosed head and a private forward cabin. Power: Atomic 4 with 2:1 reduction.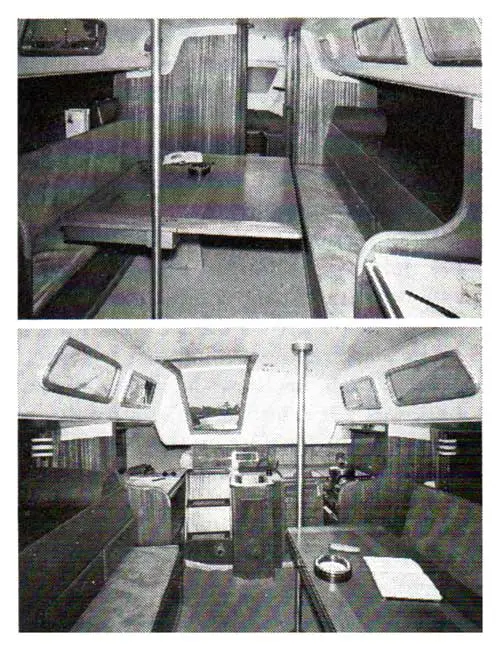 If you would like a brochure on the CAL 36 yacht , please write.
CAL BOATS BY JENSEN MARINE CORPORATION
Costa Mesa, California
"Bangor Punta's Wide World of Boating"
ALURA / JENSEN / LUHRS/ O'DAY / ULRICHSEN
A Bangor Punta Company
GG Archives REF: BPCJM-001-1967-BW-AD