The New Cal-34's Are Roomy and Fast (1967)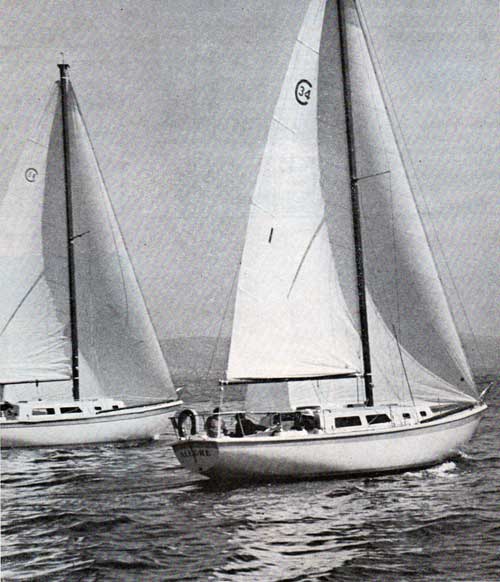 Roomy as most 40's, "Cal" fast, only $15,950
Less than two months in the water and still on shakedown, the new Cal-34's have already won their first two regattas. This remarkable performance of a brand new CAL boat proves again that when Bill Lapworth designs a boat, it's fast -- "Cal" fast!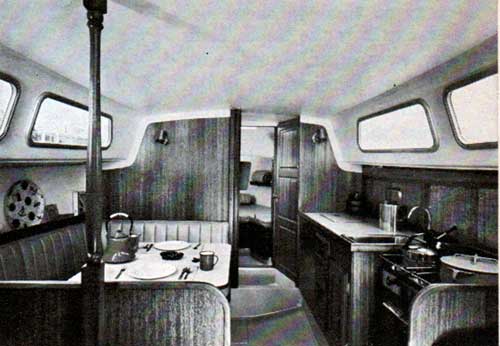 In the Cal-34 yacht, he has incorporated race-tested characteristics of other CAL boats -- long waterline, light displacement hull … hard bilges for stiffness in a blow … counter-balanced spade rudder for positive tracking and perfect control under all points of sail … powerful masthead rig with large foretriangle permitting a wide choice of headsails.
And the new Cal-34's inboard-led shrouds let you trim sheets closer for more efficient windward sailing.
On deck the word for the Cal-34 yacht is speed. Below decks the word is BIG.
Roomy as most 40's is no exaggeration. The Cal-34 has full headroom in both main and forward cabins. The airy main cabin has a complete dinette which converts into a double berth.
There are two quarter berths aft. Galley has a sink and a 50-pound icebox set into a Formica counter top and an adjacent well, large enough for a 2 or 3 burner stove with oven.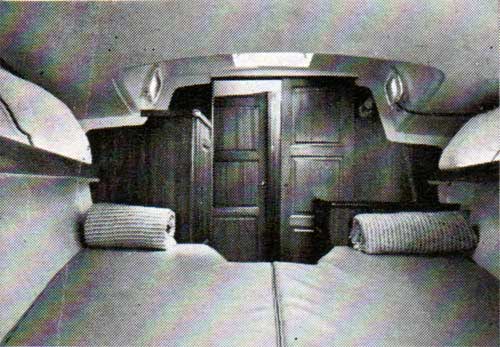 Forward cabin has a double berth, spacious hanging locker, and built-in dresser.
The head is privately separated from either cabin by two mahogany paneled doors and contains a mirrored dressing table and a generous hanging locker. There's plenty of stowage space for sails and other gear.
The Cal-34 is all fiberglass, with large self-bailing cockpit molded integrally with the cabin top for extra strength. The mast is aluminum and all rigging stainless.
This quality Jensen Marine construction virtually eliminates maintenance and, together with the Cal-34's performance, assures owners of high resale value.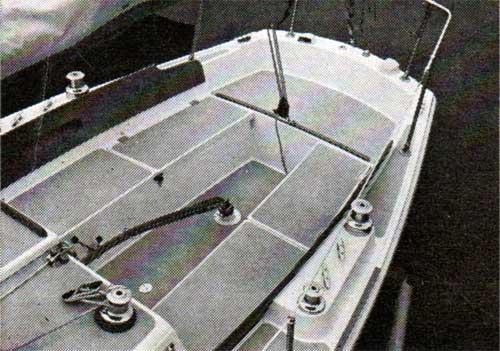 Power: Atomic Four with 2: I reduction for 7 knot speed. We have a new Cal-34 brochure, full of facts, figures, and plans. If you'd like one write to: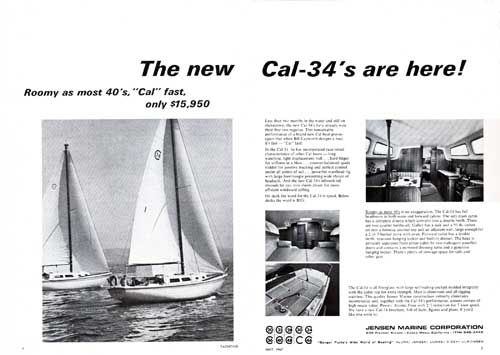 CAL BOATS BY JENSEN MARINE CORPORATION
Costa Mesa, California
CAL Yachts 20 | 25 | 28 | 30 | 34 | 36 | 40 | 48 | 2-46
"Bangor Punta's Wide World of Boating"
ALURA | JENSEN | LUHRS | O'DAY | ULRICHSEN
A Bangor Punta Company
GG Archives REF: BPCJM-002-1967-BW-AD-2