Last Year, The CAL 39 Outperformed Many Serious Competitors. (1981)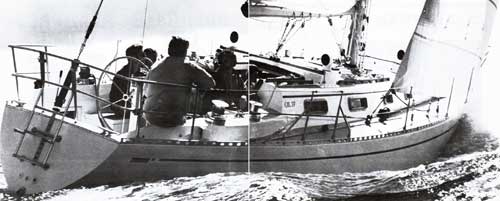 Including the Dow and Inflation.
In under four years, over 175 CAL 39 owners have combined pleasure with sound business. The average Return On Investment of a CAL 39 would embarrass a Fortune 500 company and positively overwhelm most investment houses.
Yet, we've never known an owner who purchased a CAL 39 simply for its monetary values. A fine yacht is often the just deserts of half a lifetime of effort, and as such represents a standard of achievement as well as taste.
That achievement and taste has its own rewards, and the pleasure and pride a CAL 39 can bring to its owners cannot be measured in money alone.
The CAL 39 Is Expensive, and Looks It
It is a powerful sailing weapon, and looks that as well. Yet its most significant accomplishment is the arrangement of three private cabins within an elegant performance hull.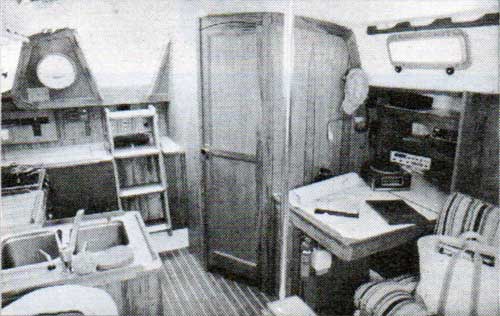 The family that would sail a CAL 39 would live aboard for extended periods and entertain as they would in their own home. Our new interior has made that easier. Neither the luxurious owner's stateroom aft nor the uncluttered guest stateroom for ward impinge on the spaciousness of the main salon.
This central living and working area harbors a generous U-shaped galley, a secluded navigator's station and entertaining room for the whole crowd without crowding. At night, it converts into a giant stateroom.
Fabrics and finishes are suitably rich. Teak prevails throughout. The leaded glass liquor locker is both a symbol of our commitment to a certain quality of life at sea and an eminently practical storage unit for vital motivational fluids.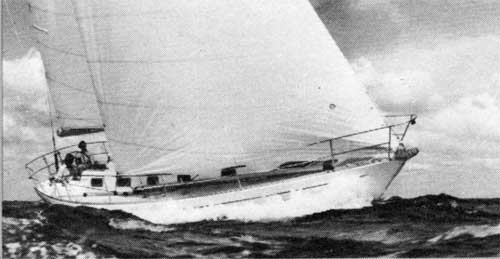 The entire CAL 39–hull, deck and interior–is the work of the master, Bill Lapworth, whose classic boats are simpy legends. And "classic" isn't a characteristic a designer applies to a boat, it's a recognition that the boat must earn.
Does all this tempt you to invest in an entire portfolio of CAL 39's? Out of respect for the time-honored financial principle of many eggs / many baske ts, we suggest a more modest position.
One CAL 39 should be sufficient for any prudent investor.
The CAL 39
We have prepared extensively detailed color brochures on the Bill Lapworth designed CAL 39, CAL 35, CAL 31, CAL 25 and for the Ron Holland designed CAL 9.2 Meter. See your CAL dealer or write us for this information.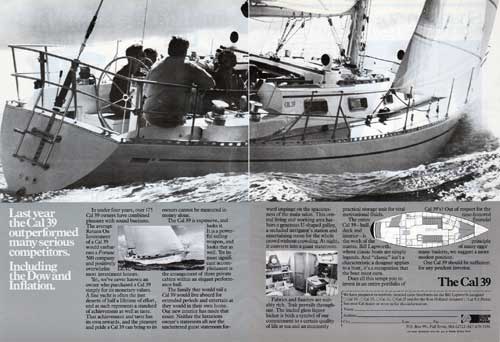 CAL Boats
A Bangor Punta Company
GG Archives REF: BPCJM-050-1981-BW-AD-2