The CAL 39 Yacht - All Luxury Inside (1978)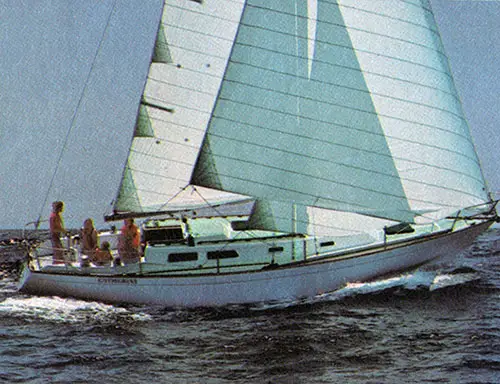 The CAL 39 makes cruising —and competing —more comfortable.
Inside she's all luxury. Outside she's all Lapworth.
Admittedly, in the past, CAL cruisers have been better known for their first-rate hulls than their first-class accommodations. But the CAL 39 changes all that. Once and for all.
It has, quite simply, the most elegantly comfortable interiors we've ever created for a CAL boat. Any CAL boat.
In fact. the CAL 39 yacht sets the pace for a whole new look in CAL interiors throughout the entire model line.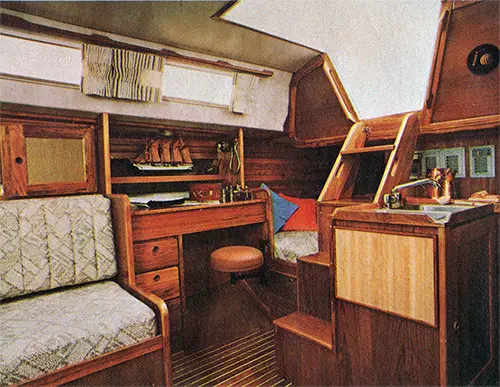 The Cal 39 Twin-Cabin's Practical Layout Features a Complete Navigator's Station and Spacious Quarter Berth
Two ways to go first cabin.
Much like a custom yacht, the CAL 39 actually offers you a choice of two distinctly attractive interiors.
The first, a twin-cabin design, is perfect for a family or perhaps two couples.
The forward cabin has a huge V-berth plus its own chest of drawers and a hanging locker. The main salon offers sleeping accommodations for up to five, including two double berths.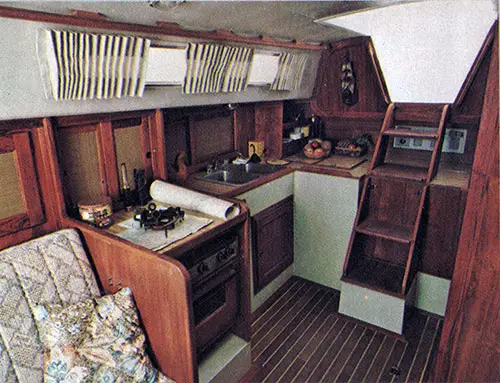 The Cal 39 tri-cabin's compact galley design saves steps as well as space.
The optional tri-cabin design provides even more privacy, if that's required. First, by creating the usual forward and main salon cabins ahead of the galley. Then. by creating a separate owner's stateroom aft — complete with its own double berth, dressing area and private, enclosed head.
Whichever plan you choose, you'll find 6'6" head-room throughout. Dining space for at least six adults.
A navigator's station. Extensive use of teak. A complete seagoing galley featuring a gimbaled stove with oven, a sink and a 7 cubic-foot icebox. Plus plenty of stowage space for all the tools, extra sails and provisions a real cruising boat must carry.
In the twin-cabin, like in a fine custom yacht, there's even a handsome built-in liquor locker with genuine leaded-glass doors.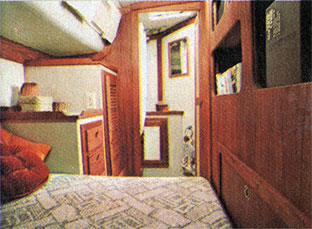 The new tri-cabin's aft stateroom boasts a double berth, dressing area and private head.
Two ways to sail our very best.
Outside, the CAL 39 yacht also lets you match the boat's hull design with the type of cruising you plan to do most.
If bluewater is where you're bound, the standard full-keel hull will perform well in any ocean. While providing you with an extra measure of stiffness and safety.
If winding rivers, enchanting inlets or reef-hopping in the Caribbean is your cup of tea, there's also a shoal-draft CAL 39. Its modest draft of just 5'6" gives you the extra freedom you need to safely explore shallower waters.
What's more, on both CAL 39 hull designs, you'll find that many so-called extra-cost "goodies" are standard equipment.
Like Barient winches. Pedestal steering. Pulpits and lifelines. Molded-in non-skid. A teak and holly cabin sole. Specially coated spars. Not to mention a powerful Perkins 4-cylinder diesel engine.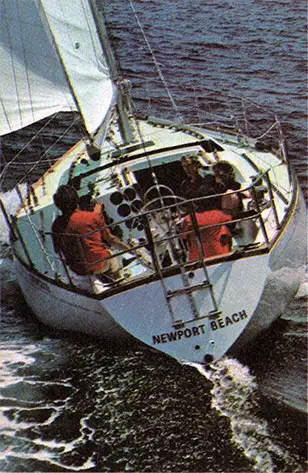 Pedestal steering and a transom-mounted swimming ladder are standard on the CAL 39.
The performance-oriented investment.
With a base-boat price of $69,500 ($72,500 for the tri-cabin), the CAL 39 yacht is by no means inexpensive. But then, what "blue chip" investment is.
You buy a blue chip for its overall performance. And that's exactly what you get every time you sail a CAL 39. She's a sleek, well-disciplined Lap-worth design all the way. Fast by anyone's measure— but well-mannered enough to be handled by a single couple.
And you can expect the same kind of superior performance when it's time to resell her. Because the CAL 39 is an investment in fun that will appreciate in years to come. (In fact, many CAL 40s are selling today for twice their original cost.)
The CAL 39 yacht by Jensen Marine. In every sense of the word, she's the flagship of our fleet.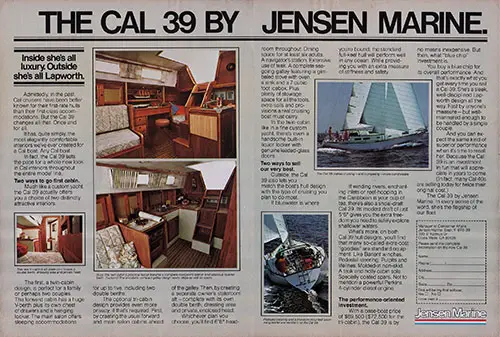 Please send me complete information on the new CAL 39.
Manager of Consumer Affairs Jensen Marine.
Costa Mesa, CA 92626
Cal Boats by Jensen Marine
A Bangor Punta Company
GG Archives REF: BPCJM-044-1978-C-AD-2