RMS Queen Mary Kosher Luncheon Menu - 3 July 1938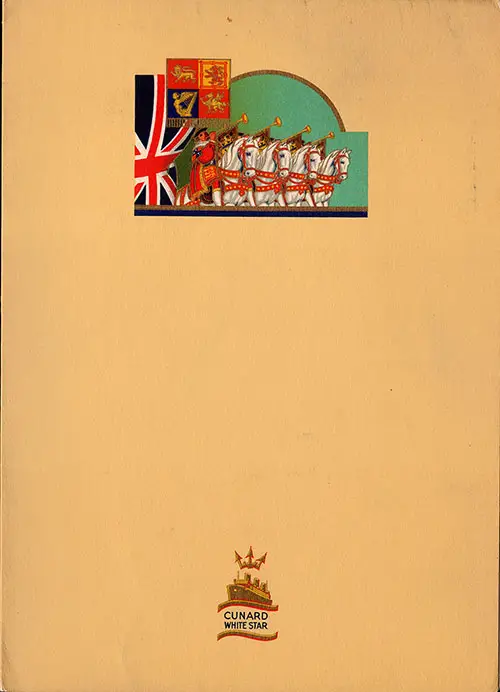 Front Cover of a Vintage Kosher Luncheon Menu From Sunday, 3 July 1938 Onboard the RMS Queen Mary of the Cunard Line Featured Baked Haddock and Lemon Persille, Steamed Vienna Sausages and Sauerkraut, and Compote of Fruit for Dessert. GGA Image ID # 1566309fca
Kashruth under the direct supervision of the Chief Rabbi and Beth Din, London, and the Kashrus Commission of England. Supervising Representative at Southampton: The Rev. M. L. Gordon.
Kosher Foods the the Role of the Shomer
Kosher foods are those that conform to the Jewish dietary regulations of kashrut (dietary law), primarily derived from Leviticus and Deuteronomy. Food that may be consumed according to halakha (law) is termed kosher. For many Jews, kosher is about more than just health or food safety. It is about reverence and adherence to religious tradition. In kosher restaurants, and ocean liner galleys, the stoves ovens and fryers are switched on by the Shomer  (Kosher Supervisor).
Menu Items
STRICTLY KOSHER MENU
R.M.S. "QUEEN MARY" Sunday, July 3, 1938
Luncheon
Iced Tomato Juice
Spanish Olives
Brislings in Oil
Bismarck Herrings
Salted Cucumbers
Spring Onions
Sardines in Oil
Russell Herrings
Radishes
Canned Salmon
Baked Haddock and Lemon Persille
To order: Omelette Portugaise
Barley Soup Brunoise
Steamed Vienna Sausages and Sauerkraut
Grilled Beef Steak and Smothered Onions
Fried Veal Sausage and Egg
Baked Beans in Tomato Sauce
Macedoine of Vegetables
Baked Jacket and French Fried Potatoes
COLD:
Roast Shoulder of Mutton
Roast Beef and Chrane
Wurst and Salami Sausage
Roast Veal
Chicken
Lyonner Wurst
Mixed Salad
Beetroot Pickles
French and Russian Dressing
Baked Apples
Compote of Fruit
Cake
Lemon Tea
Matzos B
Black Coffee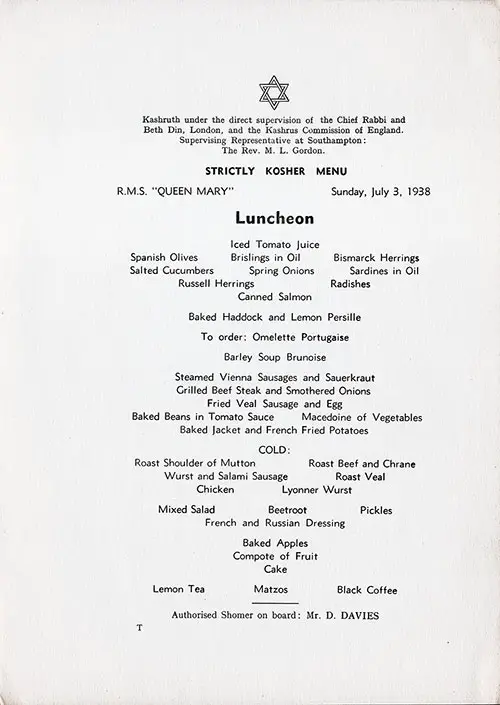 Menu Slections, Kosher Luncheon Bill of Fare on the RMS Queen Mary of the Cunard Line, Sunday, 3 July 1938. Authorized Shomer on board : Mr. D. DAVIES. GGA Image ID #