RMS Aquitania Children's Party Menu - 1 October 1924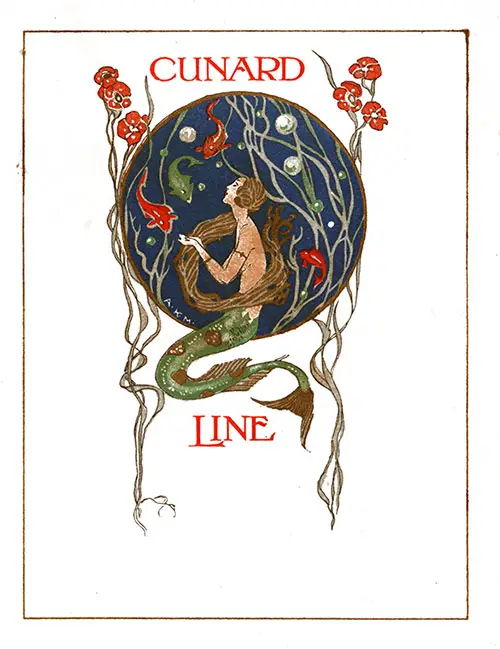 Front Cover of a Limited Children's Party Menu From Wednesday, 1 October 1924 Onboard the Steamship RMS Aquitania of the Cunard Line. Although It Didn't State the Class, We Suspect That It Was for Cabin Class Passengers. They Held This Party on the Same Day the Vessel Arrived in New York on a Westbound Voyage From Southampton to New York via Cherbourg. Featured Bill of Fare Included Assorted Cakes and Pastries. GGA Image ID # 1562b7c1b5.
CHILDREN'S PARTY
ON BOARD
RMS " Aquitania,"
Wednesday, October 1st, 1924.
Gateau Assorted (Assorted Cakes)
Fancy Pastry
Currant Cake, Plain Cake
Good Boys' Cake (Birthday Cake for Boys)
Good Girls' Cake (Birthday Cake for Girls)
Jellies
Cress Sandwiches (Cress Sandwich)
White Bread and Butter
Brown Bread and Butter
Orange Ices (Orange Ice Cream)
Tea
Milk
Lemonade
Information about Menu
Description: Cunard Line Aquitania Children's Party Menu for Wednesday, 1 October 1924
Dimensions: 10.2 x 13 cm
Number of Pages: 4 (2 were blank)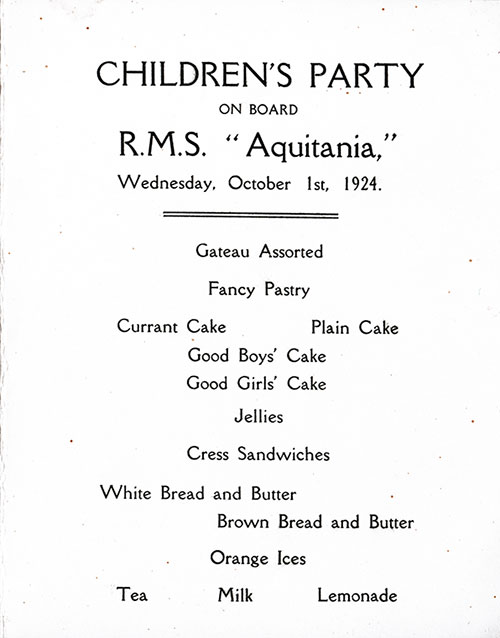 Menu Items for Children's Party Onboard the RMS Aquitania on 1 October 1924. GGA Image ID # 1562e7e131