Remarkable Achievement of the Submarine Signal Apparatus
The Submarine Signal Apparatus installed upon the Express Steamships of the North German Lloyd recently achieved a noteworthy success.  The apparatus having long since demonstrated its great value as an aid to navigation, the North German Lloyd have now also equipped their tender "Willkommen," stationed in Cherbourg, France, with the submarine bell to signal approaching vessels.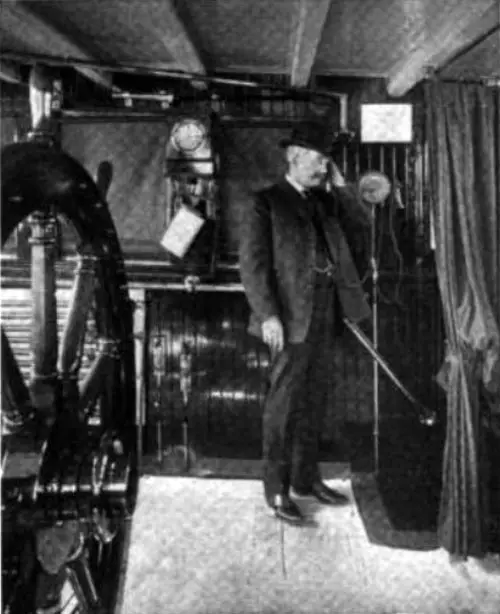 Listening For The Danger Signal - Using the Submarine Signal Apparatus
When the Express Steamship "Kaiser Wilhelm II" of the North German Lloyd was approaching the harbor of Cherbourg on July 23, 1905, she was obliged to come to a stop outside the entrance as a thick fog made it impossible to locate the channel into the harbor.  An officer stationed at the submarine signal apparatus to detect the noise and direction of the propeller of any approaching vessel, suddenly plainly heard the characteristic sound produced in the receiver of the apparatus by the submarine bell, which had been installed on the tender "Willkommen" by the North German Lloyd with a view to meeting just such emergencies as this. 
When the tones of the bell were heard on the "Kaiser Wilhelm II" the tender "Willkommen" was fifteen nautical miles away and by the aid of the signals received from the bell of the "Willkommen" the "Kaiser Wilhelm II" was in a position definitely to locate her coarse and to effect her entrance into the harbor of Cherbourg without trouble despite the thick fog, thereby saving several hours that would otherwise have been lost by her waiting outside for the fog to lift.
North German Lloyd Bulletin, Page 3, Vol XXII, No. 3, New York and Bremen, September 1906