Steamship Bell Time and Crew Watch Shifts - 1889 Ocean Liners
Transatlantic Steamships kept time using a 24 hour clock and the rang bells at specific intervals. They also had watches, primarily to avoid collision with ocean obstacles like icebergs and other ships. This article from 1899 explains the Bell Time and Crew Watch Shifts.
Bell Time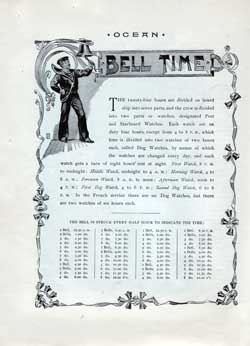 THE twenty-four hours are divided on board ship into seven parts, and the crew is divided into two parts or watches, designated Port and Starboard Watches. Each watch are on duty four hours, except from 4 to 8 P. M., which time is divided into two watches of two hours each, called Dog Watches, by means of which the watches are changed every day, and each watch gets a turn of eight hours' rest at night.
First Watch, 8 P. M. to midnight;
Middle Watch, midnight to 4 A. M.;
Morning Watch, 4 to 8 A. M.;
Forenoon Watch, 8 A. M. to noon;
Afternoon Watch, noon to 4 P. M.;
First Dog Watch, 4 to 6 P. M.;
Second Dog Watch, 6 to 8 P. M.
In the French service there are no Dog Watches, but there are two watches of six hours each.
THE BELL IS STRUCK EVERY HALF HOUR TO INDICATE THE TIME:
00:30 Hours - 12:30 A. M. : 1 Bell
01:00 Hours - 1:00 A. M. : 2 Bells
01:30 Hours - 1:30 A. M. : 3 Bells
02:00 Hours - 2:00 A. M. : 4 Bells
02:30 Hours - 2:30 A. M. : 5 Bells
03:00 Hours - 3:00 A. M. : 6 Bells
03:30 Hours - 3:30 A. M. : 7 Bells
04:00 Hours - 4:00 A. M. : 8 Bells
04:30 Hours - 4:30 A. M. : 1 Bell
05:00 Hours - 5:00 A. M. : 2 Bells
05:30 Hours - 5:30 A. M. : 3 Bells
06:00 Hours - 6:00 A. M. : 4 Bells
06:30 Hours - 6:30 A. M. : 5 Bells
07:00 Hours - 7:00 A. M. : 6 Bells
07:30 Hours - 7:30 A. M. : 7 Bells
08:00 Hours - 8:00 A. M. : 8 Bells
08:30 Hours - 8:30 A. M. : 1 Bell
09:00 Hours - 9:00 A. M. : 2 Bells
09:30 Hours - 9:30 A. M. : 3 Bells
10:00 Hours - 10:00 A. M. : 4 Bells
10:30 Hours - 10:30 A. M. : 5 Bells
11:00 Hours - 11:00 A. M. : 6 Bells
11:30 Hours - 11:30 A. M. : 7 Bells
12:00 Hours - 12:00 Noon : 8 Bells
12:30 Hours - 12:30 P. M. : 1 Bell
13:00 Hours - 1:00 P. M. : 2 Bells
13:30 Hours - 1:30 P. M. : 3 Bells
14:00 Hours - 2:00 P. M. : 4 Bells
14:30 Hours - 2:30 P. M. : 5 Bells
15:00 Hours - 3:00 P. M. : 6 Bells
15:30 Hours - 3:30 P. M. : 7 Bells
16:00 Hours - 4:00 P. M. : 8 Bells
16:30 Hours - 4:30 P. M. : 1 Bell
17:00 Hours - 5:00 P. M. : 2 Bells
17:30 Hours - 5:30 P. M. : 3 Bells
18:00 Hours - 6:00 P. M. : 4 Bells
18:30 Hours - 6:30 P M. : 5 Bells
19:00 Hours - 7:00 P. M. : 6 Bells
19:30 Hours - 7:30 P. M. : 7 Bells
20:00 Hours - 8:00 P. M. : 8 Bells
20:30 Hours - 8:30 P. M. : 1 Bell
21:00 Hours - 9:00 P. M. : 2 Bells
21:30 Hours - 9:30 P. M. : 3 Bells
22:00 Hours - 10:00 P. M. : 4 Bells
22:30 Hours - 10:30 P. M. : 5 Bells
23:00 Hours - 11:00 P. M. : 6 Bells
23:30 Hours - 11:30 P. M. : 7 Bells
00:00 Hours - 12:00 Midnight : 8 Bells