Fort Dix Basic Training Yearbook 1979 Company B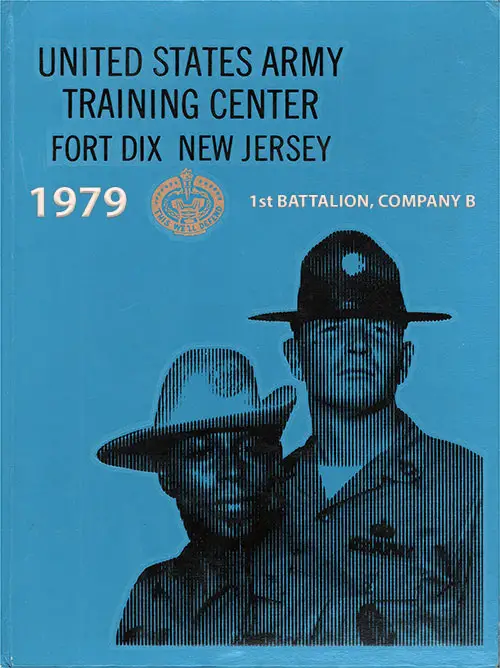 Front Cover, Fort Dix Basic Training Yearbook 1979 Company B, 1st Battalion, 3rd Training Brigade. GGA Image ID #
Roster and Photos for Recruit Company B for 1979, United States Army Basic Training, Fort Dix, New Jersey. Company Commander: 2Lt Robin Edmond. 227 Recruits Graduated on 8 August 1979.
Company B 1979 Organization and Schedule
Organization: 1st Battalion, 3rd Training Brigade
Commenced Training: Not Reported
Completed Training: 8 August 1979
Company B 1979 Leadership
Brigade Commander: Paul A. McGowan
Commanding Officer: LTC Donald L. Peters
Company Commander: 2Lt Robin Edmond
Executive Officer: MAJ John D. Latimer
Command Sergeant Major: CSM George L. Hood
Platoon Sergeant: Sfc William Blankenburg
Platoon Sergeant: Sfc Charles Daughton
Platoon Sergeant: Ssg Willie Robinson
Platoon Sergeant: Ssg Anthony Serratorre
Platoon Sergeant: Ssg Michael Snider
Platoon Sergeant: Ssg Charles Washington
Platoon Sergeant: Ssg Robert Richardson
Platoon Sergeant: Ssg Stephen Fowler\
Platoon Sergeant: Sgt Sandra Glover
Platoon Sergeant: Ssg James Wallace.
Platoon Sergeant: Ssg Joseph Nadeau
Platoon Sergeant: Ssg Vernon Mobley
Company B 1979 Recruit Roster
Acorda, Adriano
Accosada, Alan Briar
Adiutori, William
Ahrendt, Chris
Allagonez, Marlor
Allie, Lawrence
Anderson, Daniel D.
Aquino, Sebastian
Armijo, Gerald A.
Ayesh, Saleh
Bacon, Karen
Bagwell, Charles
Baligad, Terence
Barefoot, Charles
Barnes, Gary
Baqui, John
Baxter, Brad
Beaird, Kenneth
Behic, Marc
Bell, Randall
Beneventi, Judith
Bishaw, Perri
Blood, Douglas W.
Bowles, Charles
Bowman, George
Brown, Dean
Brown, Gordon
Burton, William
Carpenter, Martin
Carrasco, Jerry
Chaplin , Thomas
Chastonay, Glenn
Clair, Jay
Clark, Steven
Clobes, Lance
Cluka, John
Coker, Deena
Collins, Lonnie
Collins, Patrick
Coonce, Cindy
Cooper, Richard B.
Cooper, Sohonnie
Corker, Hayward
Correa, Jesse
Craig, Ronald
Crotzer, Allen
Davis, Richard
Devine, Harry
Dew, Dennis
Downer, David
Edwards, Lewis
Ellingson , Michael
Erickson, Jonathan
Facio, Michael
Feidt, Timothy
Ferguson, Chad
Firkus, Barney
Fisher, Robert
Fitzner, Robert
Fletcher, Ricky
Flickner, Frederick
Fogel, Eric
Fornaro, Ronald
Forshey, Joseph
Fountain, Carlus
Fowler, Derrick
Frazier, Lucine
Gallant, Patricia
Gatchel , Joseph
Ginn, Timothy
Gladd, Kevin
Goodwin, Rickey
Gordon, Chester
Gordon, Henry
Grace, Tom
Graves, Walter
Greene, Mark
Gregory, Elmer
Groce, Jorg
Groenendal, Bonny
Gunzinger, James
Halty, Percy
Hannah, A.
Hardman, Pamela
Harmon, James L.
Hayward, Freddie
Head, Yvonne
Heiress, Mark
Henrizi, Richard
Henschel , Peter G.
Hoffman, Ken
Holeva, Marty
Holmgren, Scott
Holm, Garfield
Holzapfel, John
Howore, Kurt
Hunter, Wesley
Hunt, Todd
Hurd, Charles
Jackson, James
James, Jeffrey
Jenkins, Charles
Johnson, Mark
Johnston, Harold H.
Jones, Lorenzo
Kaawa, David
Kaleiohî, Terry Lee
Kawelo, Llewelyn
Kays, Jerry
Kay, Larry D.
Kennedy, Darrell
Kills Small, Hilda
Kimble, Franklin
King, Tami
Kitchick, Terry
Koch, Robert
Lamphene, Reginald
Lane, Terry
LaPlante, Andrena
Larry, Sandra
Law, Ellery C.
Leathers, Daniel
Lee, Craig
Leitenberger, Wm.
Linton, Joseph
Liotta, Vincent
Lucas, Rita
Luebstorf, Nancy
Lund, Timothy
MacDonald, David
Manfredi, Robert
Marks, Donald
Marquez, Arthur
Martinell, Terry
Martin, Michael
Mason, Stanley
McCaffrey, Steven
McDonald, Denise
McKelvin, James
McNall, Mark
Metzgen, Marlon
Milam, David
Miller, Andrew R.
Miller, David
Miller, Raymond
Miller, Robert
Mîrana, Anthony
Moore, Connie
Morris, Dale
Moxey, Andrew
Neissa, James
Nelson. Harold E.
Newton, Thomas
Nguyen, Phuong
Norris, Shanita
O'Day, Stephen
Ohms, Steven
O'Neil, Scott
Owens, O. C. Jr.
Parison, Timothy
Peterson, Dennis
Pfeiffer, Lisa
Proof, Larry
Raines, John
Reason, Michael
Reges, Bruce
Reule, Ronald
Revelle, Nancy
Richard, William
Robinson, Charles
Robinson, Eugene
Rodriguez, Daniel
Rogers, Thomas
Rosas, Curt
Rush, Elvie
Sampson, Ross
Sanborn, Daniel
Sanders, LaQueta
Schnorrbusch, Denise
Sendner, Robert
Senesac, Larry
Shepherd, Dwayne
Smith, Dale
Snodgrass, John A.
Stammer, Clayton
Stark, H. Degg
Stivanson, Jerome
Stuteman, Michael
Sutton, Byron D.
Swanier, Dennis
Swenson, Joseph
Sunnada, Ronald
Taft, Randy W.
Tandal, Leonard C.
Thielke, Jeffrey
Thomas, Alexanoria
Thompson, Bernard
Thompson, Douglas
Thompson, Joel
Townsend, James
Tredway, James S.
Tullowa, Fea
Tull, Roger
Turnbull, Bruce
Turner, Carmen
VanWostrand, Raymond
Vargas, Anthony
Villarreal , Ramiro
Volz, Thomas
Wacker, Valorie
Walker, Robert
Warnick, Scott
Watkins, Robert
Weaver, William G.
Weber, Kimberly
Weed, Craig
Wellacher, Jerry
West, Randy
Wheeler, Mark
Wilcox, Darcy
Williams, Phillip
Wilt, Tilden
Wilkins, Mark
Wimer, Jeffrey
Winn, Carlyze
Wood, Chris
Wright, Ronald

Fort Dix Boot Camp Yearbook Photos - Company B 1979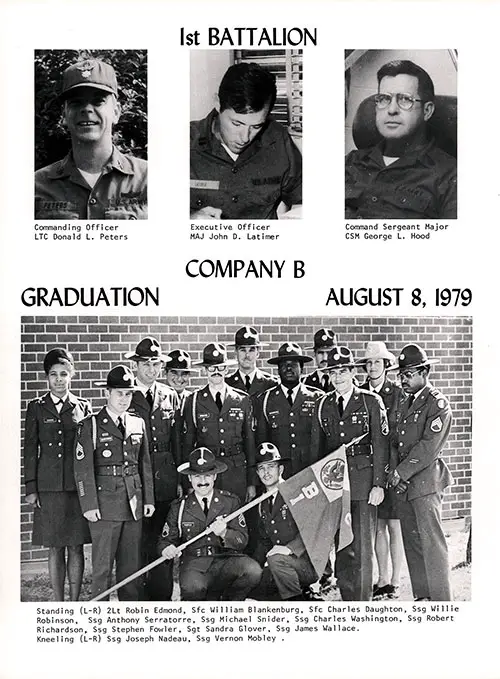 Company B 1979 Fort Dix Basic Training Leadership, Page 1. GGA Image ID # 13dadeeb7d
Caption (Bottom Photo): Standing (L-R) 2Lt Robin Edmond, Sfc William Blankenburg, Sfc Charles Daughton, Ssg Willie Robinson, Ssg Anthony Serratorre, Ssg Michael Snider, Ssg Charles Washington, Ssg Robert Richardson, Ssg Stephen Fowler, Sgt Sandra Glover, Ssg James Wallace.
Kneeling (L-R) Ssg Joseph Nadeau, Ssg Vernon Mobley.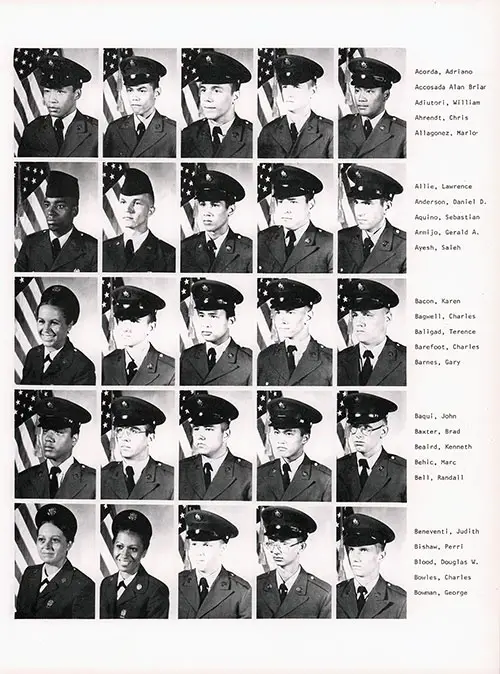 Company B 1979 Fort Dix Basic Training Recruit Photos, Page 2. GGA Image ID # 13db2792a3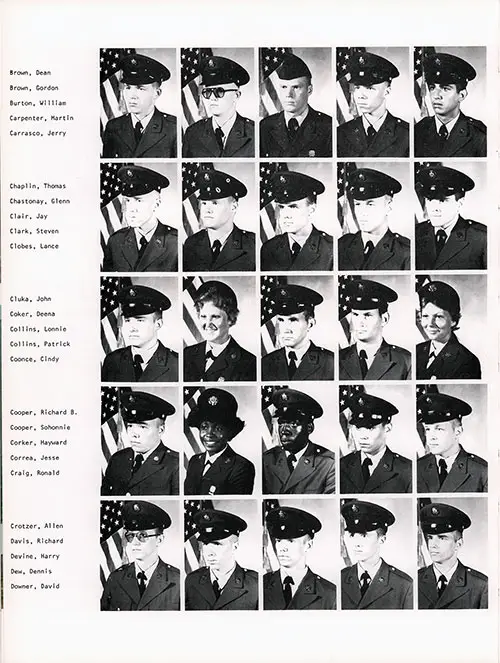 Company B 1979 Fort Dix Basic Training Recruit Photos, Page 3. GGA Image ID # 13db4197f1
Company B 1979 Fort Dix Basic Training Recruit Photos, Page 4. GGA Image ID # 13dbb00321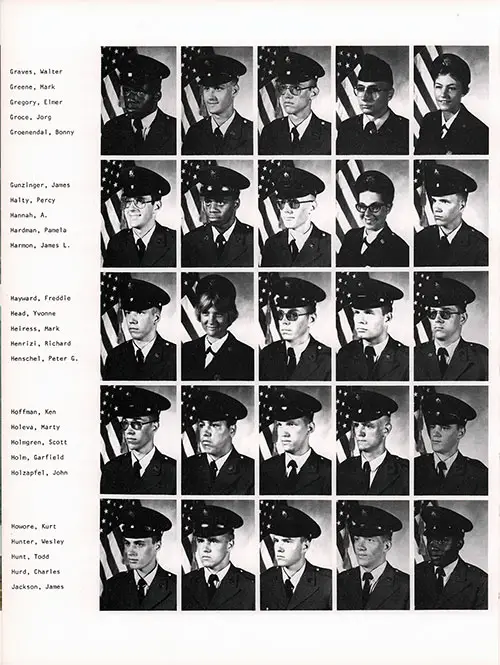 Company B 1979 Fort Dix Basic Training Recruit Photos, Page 5. GGA Image ID # 13dbc73611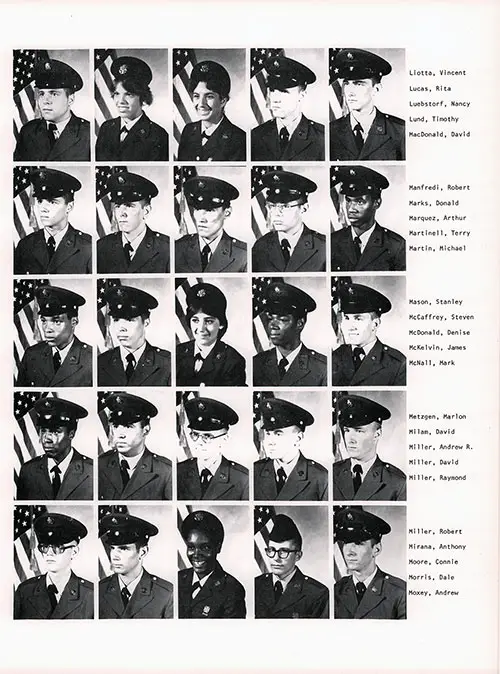 Company B 1979 Fort Dix Basic Training Recruit Photos, Page 6. GGA Image ID # 13dbd5e533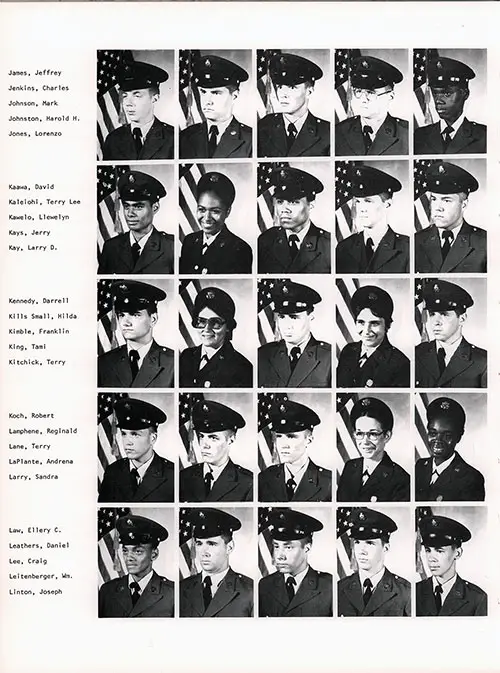 Company B 1979 Fort Dix Basic Training Recruit Photos, Page 7. GGA Image ID # 13dbe944a7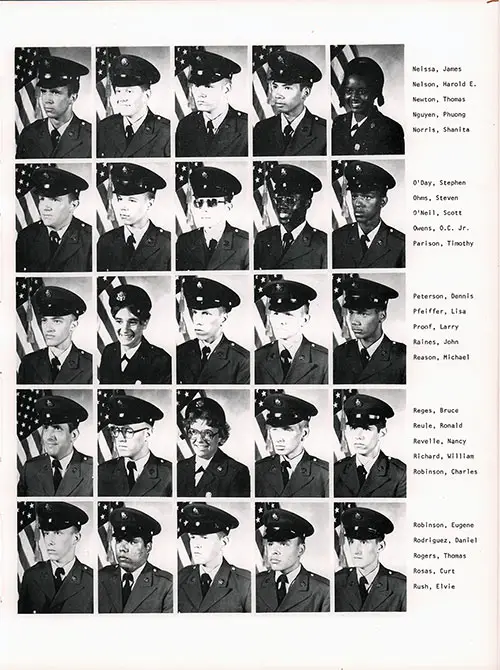 Company B 1979 Fort Dix Basic Training Recruit Photos, Page 8. GGA Image ID # 13dc5e5ad8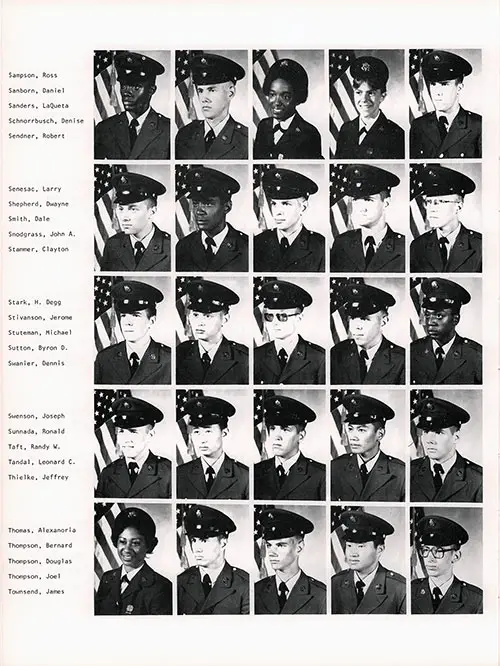 Company B 1979 Fort Dix Basic Training Recruit Photos, Page 9. GGA Image ID # 13dc668fba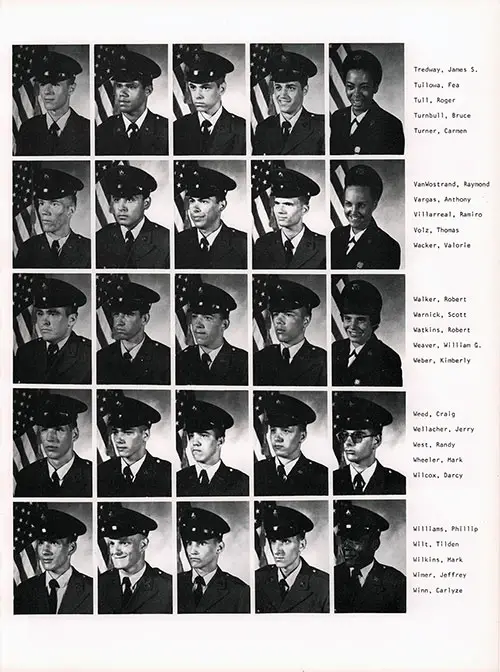 Company B 1979 Fort Dix Basic Training Recruit Photos, Page 10. GGA Image ID # 13dc9ee79f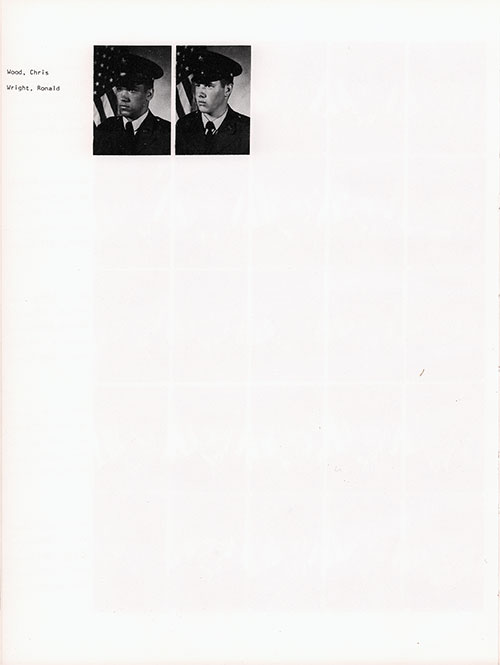 Company B 1979 Fort Dix Basic Training Recruit Photos, Page 11. GGA Image ID # 13dcb5482b