Fort Benning Basic Training Yearbook 1968 Company A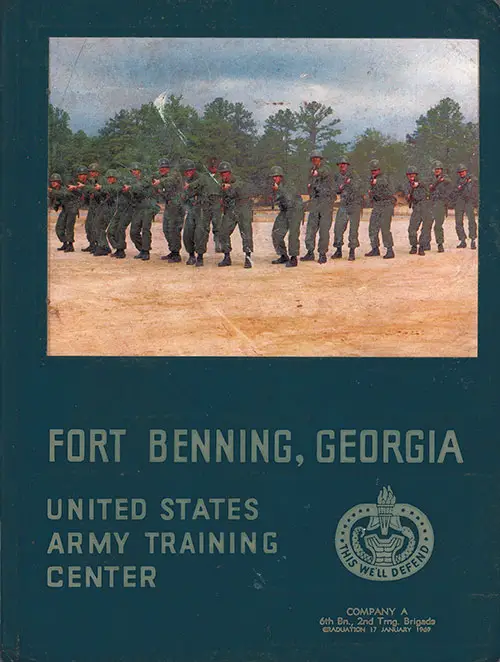 Front Cover, Fort Benning Basic Training Yearbook 1968 Company A, 6th Battalion, 2nd Training Brigade. GGA Image ID # 16f83ccc59
Roster and Photos for Recruit Company A, 6th Battalion, 2nd Training Brigade for 1968, United States Army Basic Training, Fort Benning, FtLoc. Company Commander: CPT Morvin D. Grissom. 136 Recruits Graduated on 17 January 1969.
Company A 1968 Organization and Schedule
Organization: 6th Battalion, 2nd Training Brigade
Commenced Training: Not Reported
Completed Training: 17 January 1969
Company A 1968 Leadership
Commanding Officer: Colonel Francisco J. Ramos
Executive Officer: LTC James M. Morris, Jr.
Sergeant Major: CSM Donald V. Wright
S-1: Major Richard B. Bird
S-3: CPT Joseph Crawford
S-4: Major Ernest J. Bruemmer 
Battalion Commander: LTC Edward C. Radcliff
Executive Officer: MAJ Bartolo Diaz
Sergeant Major: SGM Gaston Clark
Company Commander: CPT Morvin D. Grissom
Training Officer: 1LT Ferdinan Preuss
Training Officer: 2LT Peter Nowak
First Sergeant: SFC Waitman G. Sager
Sr. Drill Sergeant: SSG Robert Starks
Drill Sergeant: SSG William D. Futch
Drill Sergeant: SSG Lester Lamar
Drill Sergeant: SSG William Quick
Training NCO: SSG Lee Harer
Drill Sergeant: SSG James A. Brophy 
Drill Sergeant: SSG Thomas F. Jackson
Drill Sergeant: SGT Eddie McAdams
Drill Sergeant: SGT Charles Williams
Drill Sergeant: SGT David Gough
Drill Sergeant: SGT Edward Underwood
Drill Sergeant: SGT Richard T. Brown
Drill Sergeant: SGT Nathan Vereen
Supply Sergeant: SGT Bobby Stephens
Company Clerk: CPL Ronald Fuller
Company A 1968 Recruit Roster
Allen, William D.
Arntzen, Allen D
Ash, John S
Asken, Lorenza, Jr.
Bagwell, Jackie M.
Baird, Kenneth J.
Ballance, Ronald
Barnhill, Billy R. 
Barret, David M.
Baskin, Randy L.
Bauer, David W.
Beasley, Leonard B., Jr.
Berg, Thomas E.
Bigham, Thomas
Brown, Dennis
Butler, James C.
Butzow, Ronald D.
Cadle, Jerry A.
Camp, Henry
Crump, Terry D.
Culler, Leon, Jr.
Curtis, Johnson
Donio, John M.
Dozier, Billy J.
Dutton, William E.
Echo, James E.
Elder, Solomon L.
Endl, Robert W.
Ericson, John A.
Eubank, George B.
Everidge, William G.
Fall, James H. Ill
Festing, William F. Ill
Flowers, Freddy W.
Friedmann, John A.
Gary, Samuel R.
Gay, Craig W.
Gram, John A.
Hamm, David W.
Hardnett, Henry C.
Harbin, Lenny J.
Harris, William T.
Hayes, Donald E.
Haynes, Richard F.
Hohl, Roy C. Ill
Hopkins, Cecil M., Jr.
Howard, Bobby G.
Howell, Clyde E.
Huber, Michael H.
Jackson, Cecil D., Jr.
James, Marion C.
Jeter, William
Johnson, Warren H.
Kelly, Joel R.
Kerley, Steven L.
Laney, James A.
Larsh, Eddon F.
Laursen, Robert
Lemon, Henry J.
Locklar, Larry J.
Long, Lest L.
Lotz, Raymond A.
Lyons, Henry T., Jr.
Maddox, Richard D.
Magee, Ronald L.
Malarkey, William J.
Maloney, James M.
Marchant, Jack A.
Markert, John E., Jr.
McDonald, John M.
McDonald Ronald L.
McGovern, Carroll D., Jr.
McMcollough, David A.
McGuffey, Ronald P.
Miller, Ronnie H.
Moore, Michael
Morgan, Gary L.
Mosley, Raymond L.
Muench, Pete J. Ill
Murchison, Charles
Muscarella, John L.
Naylor, Nelson L., Jr.
Nichols, Willie J.
Patterson, William D., Jr.
Patton, Arthur L.
Peacock, Billy W.
Piekielniak, Chester W.
Pienta, James P.
Piluso, Anthony A.
Price, Dany R.
Purnell, Neal C.
Quinn, Samuel A.
Ratajczak, Holger P.
Rhodes, Robert E.
Richmond, Michael L.
Rock, William A.
Sams, Norman L.
Sanchez, Edward G.
Saunders, Willew J.
Salvage, Ronald J.
Shiflet, Bruce E.
Short, Ronald M.
Sloane, Paul S.
Smith, Jefrey D.
Smyth, Michael W.
Snasel, Milton
South, Jimmy L.
Stallings, Robert R.
Steck, Robert L.
Stecall, Charles R.
Stout, Jerry W.
Strickland, Dallas E.
Striggow, Monroe M.
Tallent, Walter G.
Talpalar, Leon L.
Tate, James R.
Taylor, John E. Ill
Thornton, Kenneth D.
Tillman, James W., Jr.
Vining, Lee L.
Wheless, William D.
Whitten, Melvin L.
Wiles, Dwayne G.
Willians, Franklin
Wright, Andrew
Young, James R.
Zerkle, Gerry S.
Not Pictured
Bresemeir, John A.
Buck, William H.
Gregory, Paul D.
Lizaola, Robert D.
Osterhoudt, Charles R.
Pace, Howard S.
Philpott, David W.
Stills, Bobby
Swartz, Bruce
Fort Benning Boot Camp Yearbook Photos - Company A 1968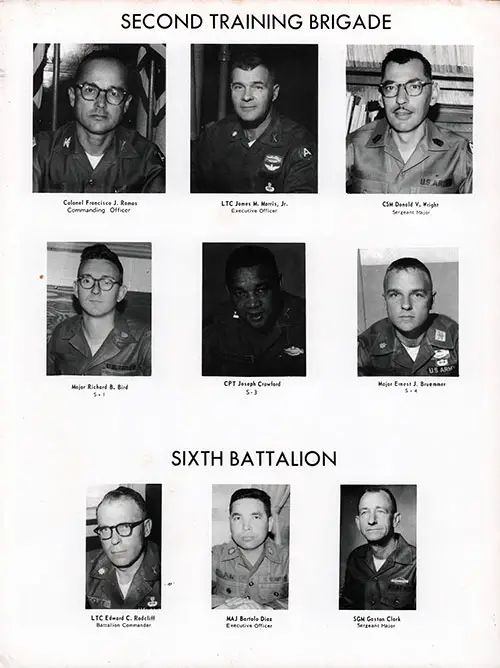 Company A 1968 Fort Benning Basic Training Leadership, Page 1. GGA Image ID # 16f86efe34
Company A 1968 Fort Benning Basic Training Leadership, Page 2. GGA Image ID # 16f88e2f51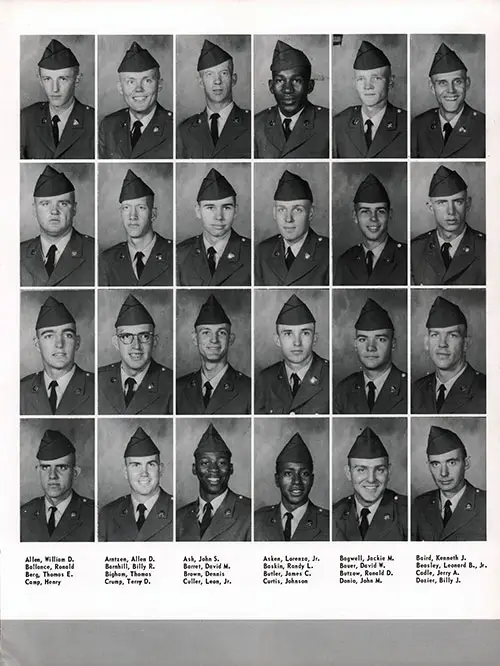 Company A 1968 Fort Benning Basic Training Recruit Photos, Page 3. GGA Image ID # 16f8a9aec9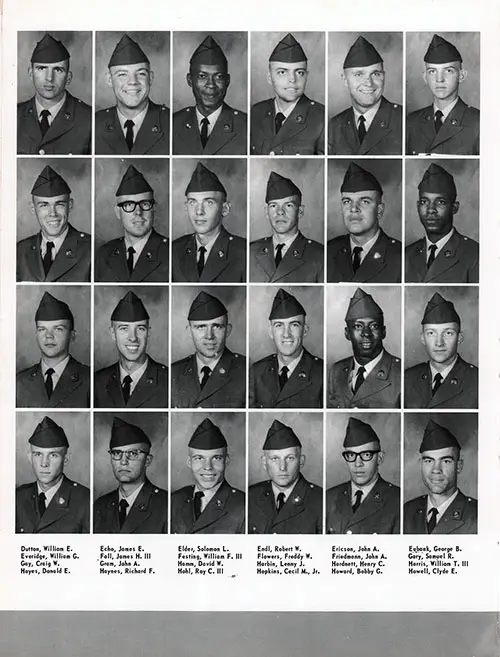 Company A 1968 Fort Benning Basic Training Recruit Photos, Page 4. GGA Image ID # 16f8d3ade0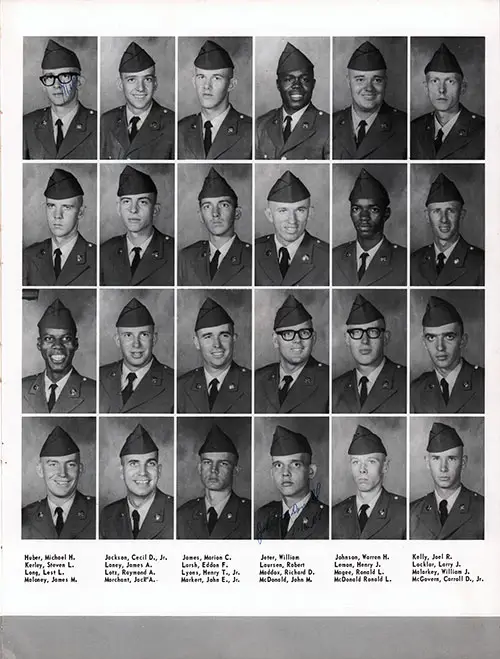 Company A 1968 Fort Benning Basic Training Recruit Photos, Page 5. GGA Image ID # 16f8ec7692
Company A 1968 Fort Benning Basic Training Recruit Photos, Page 6. GGA Image ID # 16f91bbfd9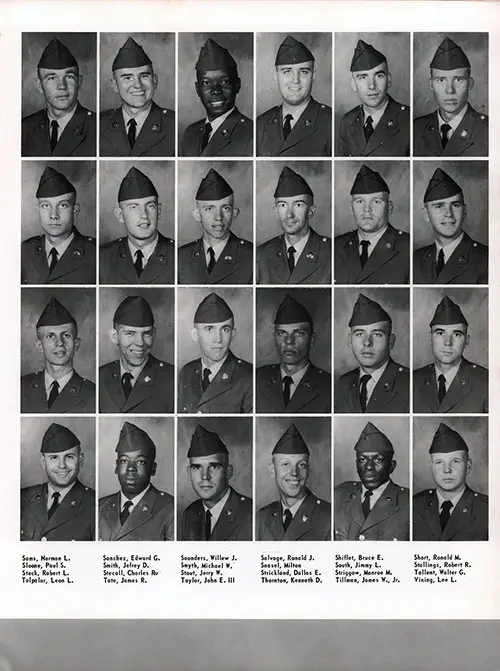 Company A 1968 Fort Benning Basic Training Recruit Photos, Page 7. GGA Image ID # 16f92540bc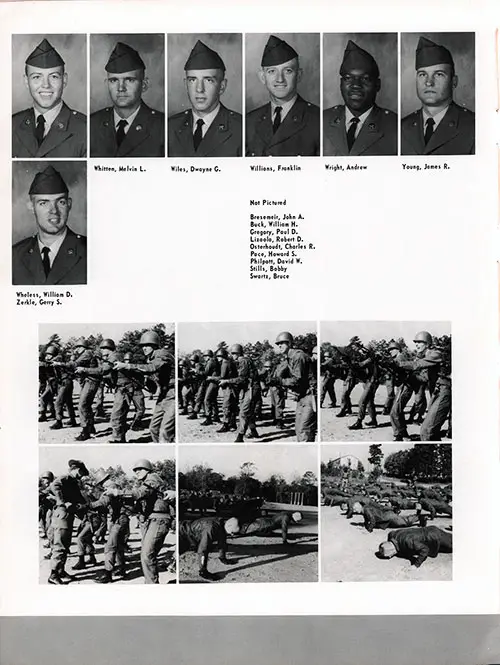 Company A 1968 Fort Benning Basic Training Recruit Photos, Page 8. GGA Image ID # 16f9259925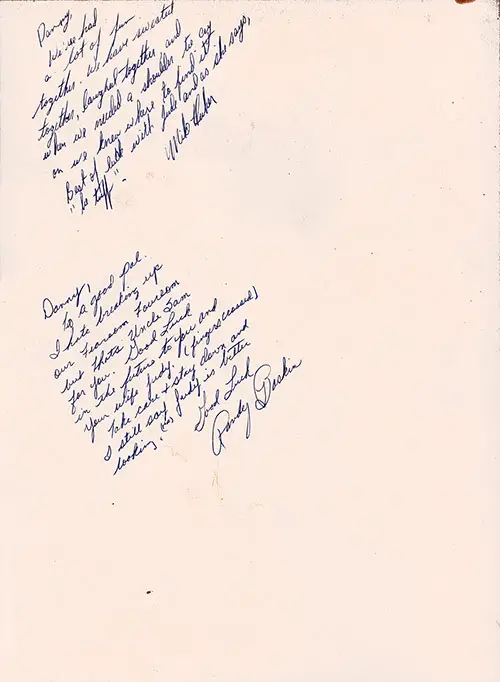 Company A 1968 Fort Benning Basic Training Recruit Autographs, Page 9. GGA Image ID # 16f928aeb2