Fort Benning Basic Training Yearbook 1967 Company A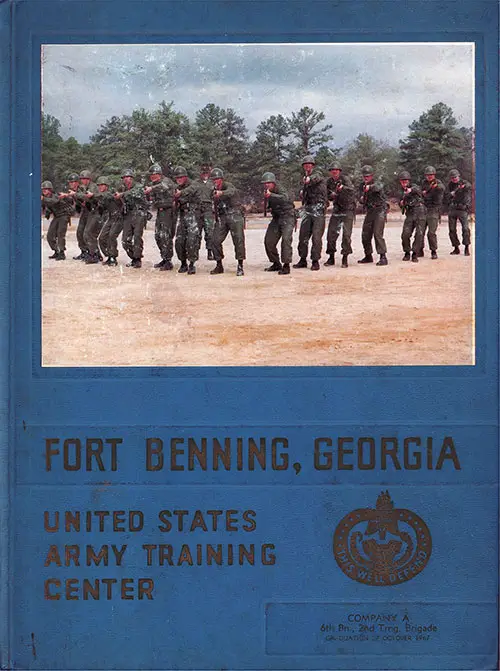 Front Cover, Fort Benning Basic Training Yearbook 1967 Company A, 6th Battalion, 2nd Training Brigade. GGA Image ID # 13e6a9ac42
Roster and Photos for Recruit Company A, 6th Battalion, 2nd Training Brigade for 1967, United States Army Basic Training, Fort Benning, Georgia. Company Commander: 1/LT. James A. Thomas, III. 211 Recruits Graduated on 22 October 1967.
Company A 1967 Organization and Schedule
Organization: 6th Battalion, 2nd Training Brigade
Commenced Training: Not Reported
Completed Training: 22 October 1967
Company A 1967 Leadership
Commanding Officer: Colonel John E. Lance, Jr.
Battalion Commander: LTC. Milton F. Uffmann
Company Commander: 1/LT. James A. Thomas, III.
Executive Officer: LTC ALEX STEWART, JR.
Executive Officer: CPT Peter J. Edmond, Jr.
Training Officer: 2/LT. Howard L. Payne
Training Officer: 2LT Stephen M. Phelps
Training Officer: 2LT Paul Fitzgibbons
Sergeant Major: SMJ. E9 William E. Hahs
Sergeant Major: SMJ. Samuel R. Jessee
S-1: CPT. Paul O. Jemison
S-3: CPT Joseph Crawford
S-3: SFC. E7 James D. Sanford
S-4: MAJOR JOHN GAGLIARDONE
First Sergeant: SFC E7 Elmer Walker
Sr. Drill Sergeant: SFC. E7 Ronald L. Tompkins
Sr. Drill Sergeant: SFC E7 Waitman G. Sager
Sr. Drill Sergeant: SFC E7 Gunther Leonhardt
Drill Sergeant: SSG. E6 James A. Taylor
Drill Sergeant: SSG. E6 Robert Cooksey
Drill Sergeant: SGT. E5 Ronald L. Fleshman
Drill Sergeant: SSG. E6 Charles M. Carter
Drill Sergeant: SSG E6 Fred L. Woodin
Mess Steward: SFC E7 Joseph B. White
Supply Sergeant: SSG. E6 Denver J. Parks
Company Clerk: SP4 E4 Melvin R. Banks
Company A 1967 Recruit Roster
Pictured in Yearbook
▓▓▓ "A" ▓▓▓
Achten, Kenneth P.
Aider, Thomas C.
Allen, Jerry W.
Allen, Thomas E.
Allison, Howard R.
Ankney, Barry R.
Ault, Bruce E.
▓▓▓ "B" ▓▓▓
Baker, Phillip G.
Barganier, Frank E., Jr.
Barnett, Ronald L.
Barton, Paul E.
Bauer, Donald W.
Boum, Robert D.
Beasley, Horace E.
Binder, Walter
Boas, Peter D.
Bolan, Daniel F.
Bourke, Harold J.
Bowling, Orville
Brinson, James
Brooks, George Jr.
Bullock, Frank E., Jr.
▓▓▓ "C" ▓▓▓
Carr, David R.
Carr, Lee R.
Carter, Frank,A., Jr.
Chanti, Julius J.
Clark, Joe B.
Coar, James A.
Coffey, Carlton E.
Cook, Robert P. II
Cooley, Thomas M.
Crawford, James D.
Crippen, David W.
Curry, Permon, Jr.
▓▓▓ "D" ▓▓▓
Dabbs, Larry D.
Daniel, Arvid L.
Daniel, Henry R.
Deale, Delmas W.
Dunlap, Claude B., Jr.
▓▓▓ "E" ▓▓▓
Ellington, Ulysses
Elliott, William T.
Evans, Marzell
▓▓▓ "F" ▓▓▓
Farr, Kenneth D.
Farris, Gerry L.
Farris, Terry J.
Ferone, James M.
Finner, Dennis R.
Fleming, William B.
Folds, Danny L.
Ford, Emmett S.
Fountain, Herman L.
Friedrich, Charles
▓▓▓ "G" ▓▓▓
Gillis, Eugene
Grabowski, William
Grunenberg, Phillip
Guffey, Clarence E.
Gunter, Robert W.
▓▓▓ "H" ▓▓▓
Hahn, Larry D.
Haley, Troy M.
Hall, James H.
Hall, Paul C.
Hall, R. V.
Hanover, Jack R.
Hardison, Charles
Harich, John L.
Heinzelman, Larry G.
Henley, Lawrence A.
Henley, Walter J.
Herrick, Gary D.
Hicks, Jimmie E.
Hill, Richard O.
Hillman, James H.
Hitt, James R.
Hogan, David W.
Holcomb, Donnie R.
Holley, William J.
Holmes, Alan G.
Houston, Fred, Jr.
▓▓▓ "J" ▓▓▓
Jackson, Eddie, Jr.
Johnson, Clyde D.
Johnson, Mark E.
▓▓▓ "K" ▓▓▓
Kayata, Philip
Kelley, Charles W.
Kennedy, David L.
Kennedy, Larry G.
Kirkland, Ronald H.
Kline, Robert H.
Konrad, Karl M.
▓▓▓ "L" ▓▓▓
Lampley, Edwards
Lawless, Frank W.
Lecory, Anthony J.
Lee, John R.
Levister, Ulysses, Jr.
Lewis, John E.
Lewis, Tommy L.
Lewis, Willie E.
Little, Jacob L., Jr.
Ludwig, Dwight L.
▓▓▓ "M" ▓▓▓
Magee, David W.
Makepeace, Steven G.
Malo, Carl J.
Mannino, Paul A.
Marlett, Paul E., Jr.
Mason, Michael E.
McCollough, Ronald F.
McCord, James W.
McFadden, George J., Jr.
McGowin, Rolland
McKee, Darrell L.
McNeal, Charles L.
Meador, William R.
Medley, Farold L.
Menner, Michael D.
Merrell, James B.
Mesman, Edward J.
Mickley, Melvin A.
Millard, Alfred J.
Miller, Dennis R.
Miller, Michael R.
Mitchell, Gary
Mitchell, Leevonne
Moore, Olden L., Jr.
Morgan, William J.
Moten, Michael E.
Motes, Gregory A.
Mullenix, Philip H.
Murphy, Charles I.
Murray, Ernest S.
Musson, William C.
Myers, William L.
▓▓▓ "N" ▓▓▓
Nannen, Michael J.
Nevills, Booker C.
Nicolay, Gary A.
Noland, Thomas N.
▓▓▓ "P" ▓▓▓
Page, Michael L.
Patrick, Rickey
Paul, Jerry L.
Peake, William M.
Pearson, Murphy
Pleasants, Edward R.
Poole, Kenneth M.
Powell, Thomas L.
Powers, Robert T.
Price, Gary L.
Pugh, William B., Jr.
▓▓▓ "R" ▓▓▓
Ramundo, Antonio
Reddick, John W.
Reeves, Roy T.
Reynolds, Mark D.
Riley, Archie
Robinson, Isaac S., Jr.
Robinson, Joseph R.
Roth, Steve C.
Rueter, Thad W.
Ryan, Lendon C.
▓▓▓ "S" ▓▓▓
Sandee, John, Jr.
Seay, James L.
Sellers, James L.
Sens, Guy E., Jr.
Shaw, Donald H.
Smith, Bobby
Smith, Calvin T.
Smith, James L.
Smith, Jerry D.
Souders, Quenton T.
Souther, Walter T.
Stembridge, Gary J.
▓▓▓ "T" ▓▓▓
Tabb, James A.
Taylor, Edward R., Jr.
Taylor, Jerry D.
Thomas, Herman W.
Thomas, James L.
Thomas, Larry
Thomason, Whalen E.
Tillman, Robert A.
Tucker, Jackie D.
▓▓▓ "U" ▓▓▓
Underwood, John D.
▓▓▓ "V" ▓▓▓
Vargo, Fredrick H.
▓▓▓ "W" ▓▓▓
Walker, Bennie E.
Wallace, Joe L.
Watkins, Joe H.
Washington, William T.
Webster, Omer D.
Whatley, James F.
Whited, James D.
Williams, Richard
Williams, Kenneth G.
Woods, Earl
▓▓▓ "Y" ▓▓▓
Young, Charlie L.
Young, Gerald O., Jr.
Young, Thomas P.
Not Pictured
Abbott, Roy E.
Anderson, Jerry C.
Anderson, Luther S.
Bunting, Ronald J.
Burns, Walker, Jr.
Buskirk, Thomas A.
Campbell, Larry D.
Chestnut, Jerel, Jr.
Goans, Alvin M.
Mandery, Larry A.
Maxwell, Steven R.
Merritt, Reuben, Jr.
Miller, Jerry
Miniard, Jerry
Owens, James
Sanchez, Gilbert R.
Sellers, Bobby L.
Sims, Rayburn
Snyder, Arthur G.
Vineyard, Charles Jr.
Fort Benning Boot Camp Yearbook Photos - Company A 1967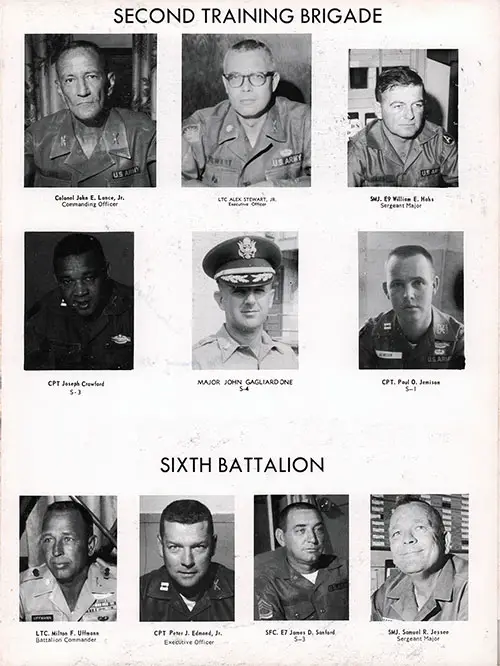 Company A 1967 Fort Benning Basic Training Leadership, Page 1. Pictured on this Page: Colonel John E. Lonco, Jr., LTC Alex Stewart, JR., SMJ. E9 William E. Hahs, CPT Joseph Crawford, Major John Gagliardone, CPT. Paul O. Jemison, LTC. Milton F. Uffmonn, CPT Peter J. Edmond, Jr., SFC. E7 James D. Sanford, and SMJ. Samuel R. Jessee. GGA Image ID # 13e70b1986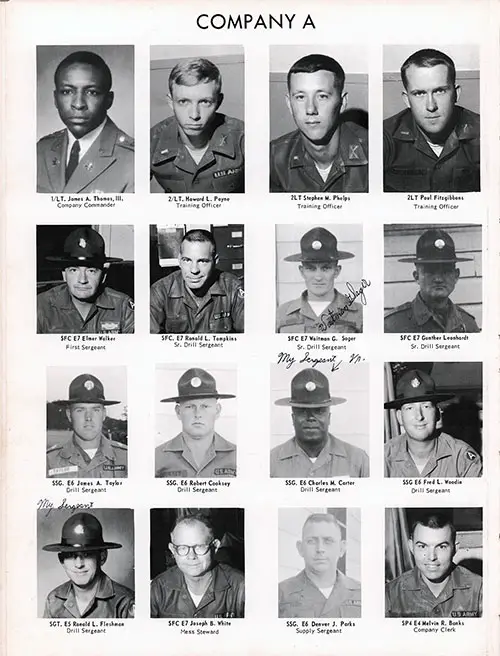 Company A 1967 Fort Benning Basic Training Leadership, Page 2. Pictured on this Page: 1/LT. Jomes A. Thomas III, 2/LT. Howard L. Payne, 2LT Stephen M. Phelps, 2LT Paul Fitzgibbons, SFC E7 Elmer Walker, SFC. E7 Ronald L. Tompkins, SFC E7 Waitman G. Sager, SFC E7 Gunther Leonhardt, SSG. E6 James A. Taylor, SSG. E6 Robert Cooksey, SSG. E6 Charles M. Carter, SSG E6 Fred L. Woodin, SGT. E5 Ronald L. Fleshman, SFC E7 Joseph B. White, SSG. E6 Denver J. Parks, and SP4 E4 Melvin R. Banks. GGA Image ID # 13e734c425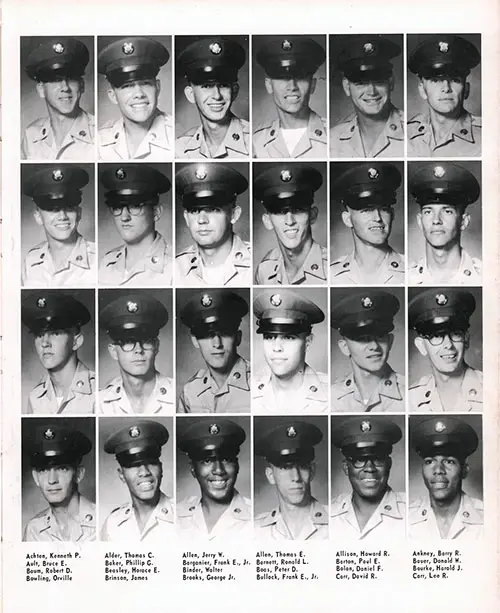 Company A 1967 Fort Benning Basic Training Recruit Photos, Page 3. Pictured on this Page: Achten, Kenneth P.; Aider, Thomas C.; Allen, Jerry W.; Allen, Thomas E.; Allison, Howard R.; Ankney, Barry R.; Ault. Bruce E.; Baker, Phillip G.; Bargainer, Frank E., Jr.; Barnett, Ronald L.; Barton, Paul E.; Bauer, Donald W.; Baum, Robert D.; Beasley, Horace E.; Binder, Walter; Boas, Peter D.; Bolan, Daniel F.; Bourke, Harold J.; Bowling, Orville; Brinson, James; Brooks, George Jr.; Bullock, Frank E., Jr.; Carr, David R.; and Carr, Lee R. GGA Image ID # 13e746f8b6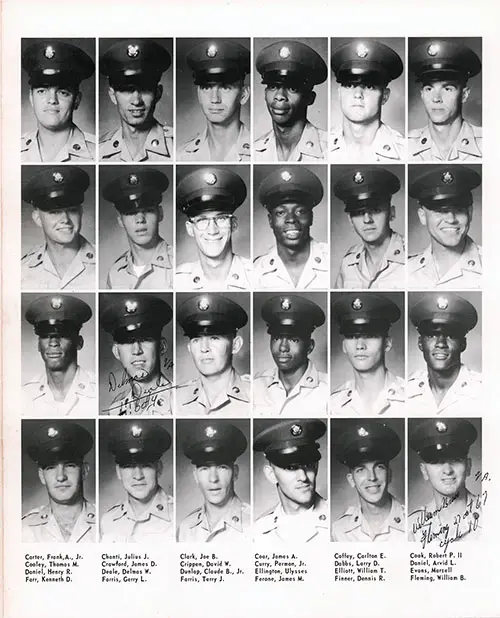 Company A 1967 Fort Benning Basic Training Recruit Photos, Page 4. Pictured on this Page: Carter. Frank, A., Jr.; Chanti. Julius J.; Clark, Joe B.; Coar, James A.; Coffey, Carlton E.; Cook, Robert P. II; Cooley, Thomas M.; Crawford, James D.; Crippen, David W.; Curry, Permon, Jr.; Dabbs, Larry D.; Daniel, Arvid; Daniel, Henry R.; Deale, Delmas W.; Dunlap, Claude B., Jr.; Ellington, Ulysses; Elliott, William T.; Evans, Marzell; Farr, Kenneth D.; Farris, Gerry L.; Farris, Terry J.; Ferone, James M.; Finner, Dennis R.; and Fleming, William B. GGA Image ID # 13e7639290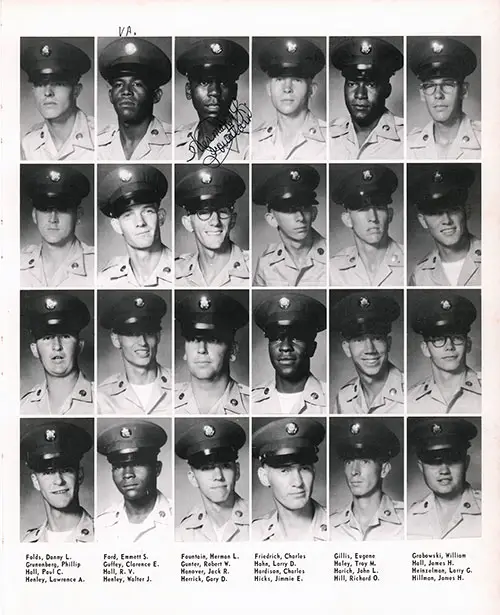 Company A 1967 Fort Benning Basic Training Recruit Photos, Page 5. Pictured on this Page: Folds, Danny L.; Ford, Emmett S.; Fountain, Herman L.; Friedrich, Charles; Gillis, Eugene; Grabowski, William; Grunenberg, Phillip; Guffey, Clarence E.; Gunter, Robert W.; Hahn, Larry D;. Haley, Troy M.; Hall, James H.; Hall, Paul C;. Hall, R. V.; Hanover, Jack R.; Hardison, Charles; Harich, John L.; Heinzelman, Larry G.; Henley, Lawrence A.; Henley, Walter J.; Herrick, Gary D.; Hicks, Jimmie E.; Hill, Richard O.; and Hillman, James H. GGA Image ID # 13e7706873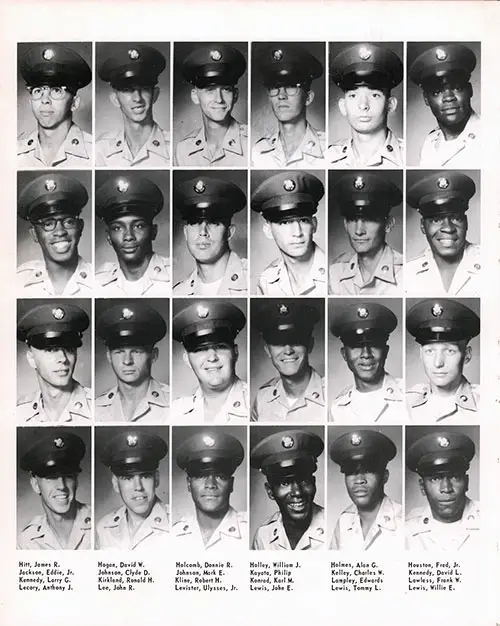 Company A 1967 Fort Benning Basic Training Recruit Photos, Page 6. Pictured on this Page: Hitt, James R.; Hogan, David W.; Holcomb, Donnie R.; Holley, William J.; Holmes, Alan G.; Houston, Fred, Jr.; Jackson, Eddie, Jr.; Johnson, Clyde D.; Johnson, Mark E.; Kayata, Philip; Kelley, Charles W.; Kennedy, David L.; Kennedy, Larry G.; Kirkland, Ronald H.; Kline, Robert H.; Konrad, Karl M.; Lampley, Edwards; Lawless, Frank W.; Lecory, Anthony J.; Lee, John R.; Levister, Ulysses, Jr.; Lewis, John E.; Lewis, Tommy L.; and Lewis, Willie E. GGA Image ID # 13e7e78e6c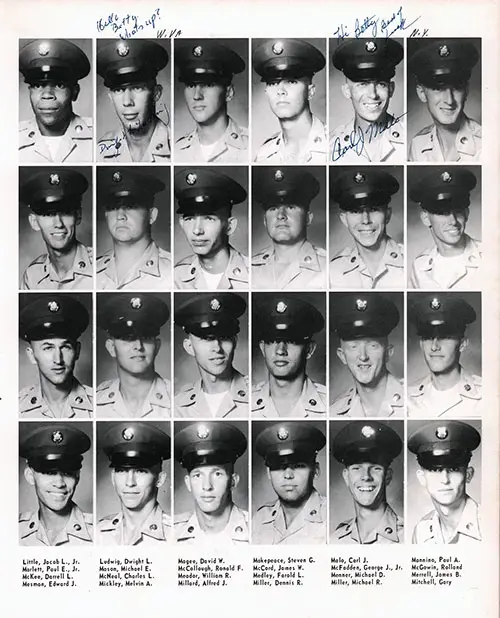 Company A 1967 Fort Benning Basic Training Recruit Photos, Page 7. Pictured on this Page: Little, Jacob L., Jr.; Ludwig, Dwight L.; Magee, David W.; Makepeace, Steven G.; Malo, Carl J.; Mannino, Paul A.; Marlett, Paul E., Jr.; Mason, Michael E.; McCollough, Ronald F.; McCord, James W.; McFadden, George J., Jr.; McGowin, Rolland; McKee, Darrell L.; McNeal, Charles L.; Meador, William R.; Medley, Farold L.; Menner, Michael D.; Merrell, James B.; Mesman, Edward J.; Mickley, Melvin A.; Millard, Alfred J.; Miller, Dennis R.; Miller, Michael R.; and Mitchell, Gary. GGA Image ID # 13e7e79b8a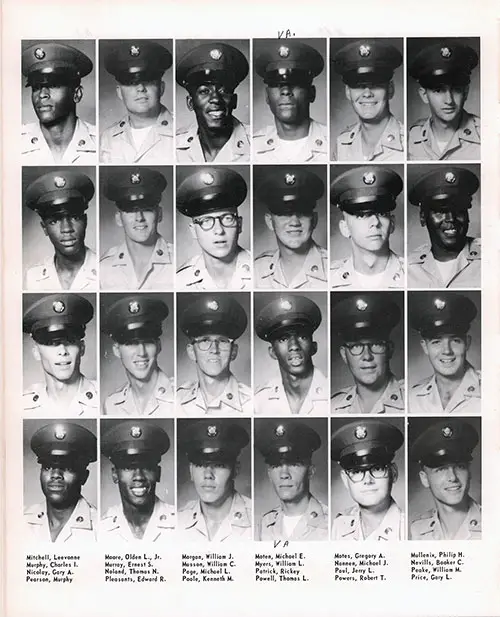 Company A 1967 Fort Benning Basic Training Recruit Photos, Page 8. Pictured on this Page: Mitchell, Leevonne; Moore, Olden L., Jr.; Morgan, William J.; Moten, Michael E.; Motes, Gregory A.; Mullenix, Philip H.; Murphy, Charles I.; Musson, William C.; Myers, William L.; Nannen, Michael J.; Nevills, Booker C.; Murray, Ernest S.; Nicolay, Gary A.; Noland, Thomas N.; Page, Michael L.; Patrick, Rickey; Paul, Jerry L.; Peake, William M.; Pearson, Murphy; Pleasants, Edward R.; Poole, Kenneth M.; Powell, Thomas L.; Powers, Robert T.; and Price, Gary L. GGA Image ID # 13e7f06d9a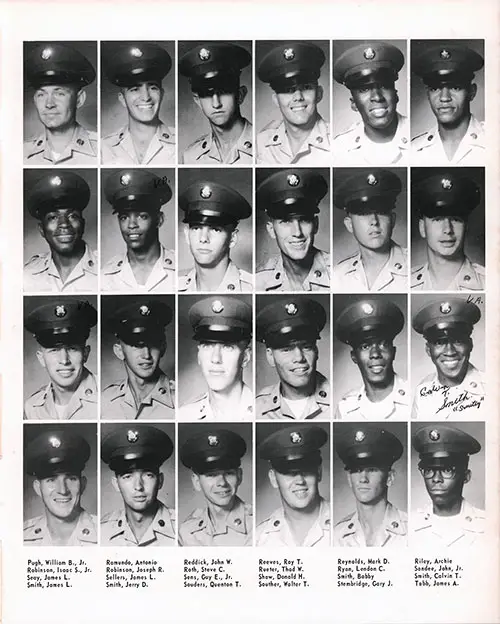 Company A 1967 Fort Benning Basic Training Recruit Photos, Page 9. Pictured on this Page: Pugh, William B., Jr.; Ramundo, Antonio; Reddick, John W.; Reeves, Roy T.; Reynolds, Mark D.; Riley, Archie; Robinson, Isaac B., Jr.; Robinson, Joseph R.; Roth, Steve C.; Rueter, Thad W.; Ryan, Lendon C.; Sandee, John, Jr.; Seay, James L.; Sellers, James L.; Sens, Guy E., Jr.; Shaw, Donald H.; Smith, Bobby; Smith, Calvin T.; Smith, James L.; Smith, Jerry D.; Souders, Quenton T.; Souther, Walter T.; Stembridge, Gary J.; and Tabb, James A. GGA Image ID # 13e7f70ae4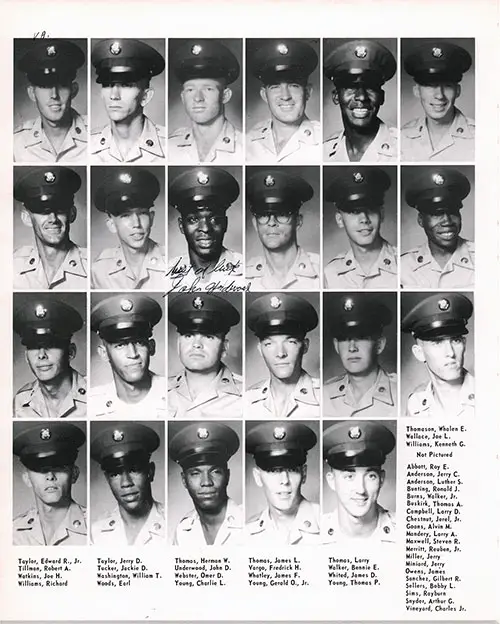 Company A 1967 Fort Benning Basic Training Recruit Photos, Page 10. Pictured on this Page: Taylor, Edward R., Jr.; Taylor, Jerry D.; Thomas, Herman W.; Thomas, James L.; Thomas, Larry; Tillman. Robert A.; Tucker, Jackie D.; Underwood, John D.; Vargo, Fredrick H.; Walker, Bennie E.; Watkins, Joe H.; Washington, William T.; Webster, Omer D.; Whatley, James F.; Whited, James D.; Williams, Richard; Woods, Earl; Young, Charlie L.; Young, Gerald O., Jr.; and Young, Thomas P. GGA Image ID # 13e7ffb374