An Immigrant Boy Who Made Grand Opera Popular - 1923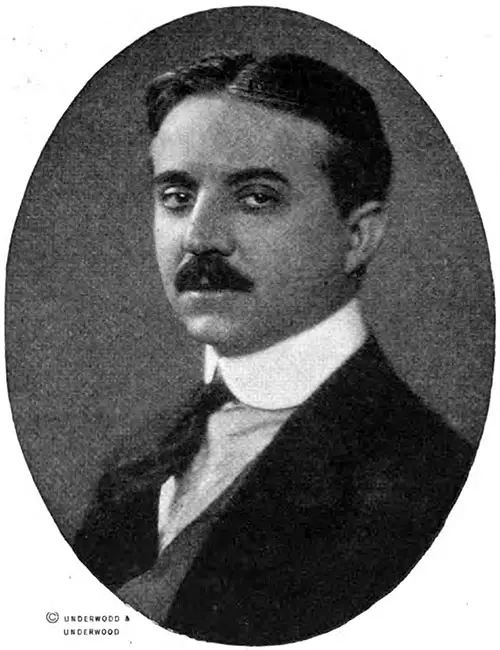 Fortune Gallo, An Immigrant Boy Who Made Grand Opera Popular. Underwood & Underwood. American Magazine, July 1923. GGA Image ID # 14bfb6b21e
Fortune Gallo has had unprecedented success as manager of the San Carlo Grand Opera Company and other operatic ventures. He began his career in this country as a clerk in an East Side bank in New York. Then Mr. Gallo organized the musicians of his neighborhood into a brass band and acquired a reputation as the country's best band manager. Having accepted an opera company that was in financial distress as a gift, he developed it into an organization that has brought grand opera to the millions at attractive prices. Today, Mr. Gallo is known as the immigrant boy who made great operas popular and financially profitable.

SOME twenty years ago, there landed at Ellis Island, an Italian boy who brought with him an almost empty purse, no knowledge of the English language, and an overwhelming ambition to attain fame and fortune in the strange country to which he had migrated. His name was Fortune Gallo.
It did not take young Gallo very long to learn either the language or the customs of his "land of hope." He studied both with the energy and avidity that have characterized his whole career. While he was still in his first pair of long trousers, he took an interest in politics. It was not long before he was having a shaping influence on the political thought of an always-increasing group of his fellow Italian-Americans. Also, he made influential friends who later were to help him live up to his name.
Gallo's first business position in New York was that of a clerk in an East Side bank. But the conservative atmosphere of the counting-house rather palled on the restless young Italian, who gathered a group of musicians from his neighborhood and organized a brass band. As their manager, he began booking a country tour for the organization. So successful were his methods that more extensive and better bands soon sought him. Before many years he was rated as the best band manager in America.
It was merely a step-in advance that brought him forth as an operatic impresario—with the burning ambition of bringing good opera to the masses of the people. On the Pacific coast during his travels, he had met the lamented Lambardi, presiding genius over many ill-fated opera companies in Central America and California. Young Gallo learned much and learned it quickly from Lambardi. Later, when he was offered as a present the ownership of an operatic company temporarily in financial distress, he grasped the opportunity, and from it built the San Carlo Grand Opera Company, today the only grand opera company in America which, based on popular prices, boasts annually of a profit instead of a deficit. Moreover, the San Carlo company competes with the big companies that rely upon fabulous subsidies and guarantee funds.
Playing a two-week engagement at the Boston Opera House, the company attracted the enthusiastic patronage of the leaders in Back Bay's most exclusive circles; in Philadelphia, during a three-week season at the Metropolitan Opera House, the "best people" of the city placed their stamp of approval on the particular brand of opera dispensed by Mr. Gallo. And so it has gone everywhere—for in America, when one thinks of success in grand opera, one must inevitably think of the name of Fortune Gallo.
The remarkable feature of Gallo's success is that grand opera has been recognized as a money-losing undertaking for years. Witness the annual deficits, amounting close to a million dollars, of the famous Chicago Opera Company and the generous subsidies that have kept the Metropolitan Opera Company in its rank as the leading operatic institution of the world. Witness the hundreds of " fly-by-night " companies and their will-o'-the-wisp careers.
And remember that grand opera has long been considered a unique form of entertainment for a particular class of persons in this country. Gallo has succeeded in bringing it to the people.
Only recently, after he had gone through the trying experience of conducting three big theatrical enterprises, namely, the San Carlo Grand Opera Company, the Gallo English Opera Company, and Anna Pavlova and her Ballet Russe—combined personnel of about four hundred and twenty-five singers, dancers, and musicians—did Mr. Gallo dignify himself with office headquarters. Until that time, he had contented himself with making his headquarters in his hotel room, wherever he happened to be. His secretary consisted of a little portable typewriter deftly operated by its owner.
Gallo's success in operatic matters has spread to every other enterprise he has undertaken. By wise investment, he has won considerable realty holdings in New York. The recent sale of the Manhattan Opera House, erected by the late Oscar Hammerstein, was accomplished only after Fortune Gallo had received a check totaling six figures release his equity.
Among Italians, the name of Gallo is a household word. It stands for good opera, and to an Italian, that means much. The Government at Rome knows about the work he has done in America and has awarded him the decoration of the Legion of Honor of the Crown of Italy, which entitles him to be known as Chevalier Fortune Gallo.
But he is much more interested in the fact that the people of his adopted country have responded to his dream of giving them good opera at popular prices.
Paul Kempf, "An Immigrant Boy Who Made Grand Opera Popular," in The American Magazine, Springfield, Ohio: The Crowell Publishing Company, Vol. XCVI, No. 1, July 1923, p. 72