How Steamship Lines Determined Rates of Fares in 1900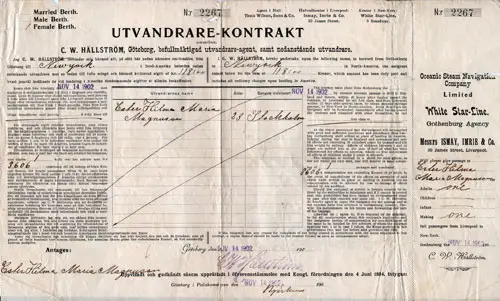 Original Steamship Contract from Gothenburg, Sweden to New York, 3rd Class Steerage. View other Steamship Contracts
Steamship Rates
Most steamship companies have three grades of prices, which are classified under the heads of winter rates, intermediate rates, and summer rates.
In each class there are rates for a single berth in a room having four berths; single berth in a room having two berths; special rates for a room of two berths, for one person and for two persons; and graded rates in all classes for different situations of state-rooms on the steamer.
In each case, having decided on the line you are to patronize, communicate with the company and ask for circulars telling of all their rates.
The following table gives the present advertised rates of the principal steamship companies running to ports near Paris, or to ports that are available and desirable, if some short trip is in mind, as good ports of arrival.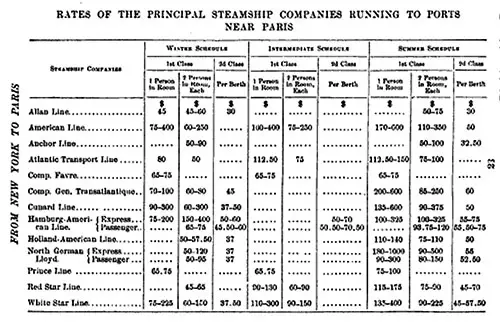 The variations of prices are caused (1) by the greater or less desirability of state-rooms or. each steam-ship, owing to situation near or far away from engine- rooms, on upper or lower decks, or with inside or outside ventilation; (2) by the varied sizes of the steamships of the same line.
In two eases the steamship line has two grades of steamers, called, respectively, "Express" and "Passenger" lines. This signifies that the large and fast steamers form the "Express" branch of the service, and the smaller and slower constitute the ordinary "passenger" branch of the line.
Where no second-class or intermediate season rates are given, the company has none. When no rate for a room for one person is given, the company has none, and requires a single traveler, i,e. go into a room with at least two berths, if travel is heavy, or gives him a room to himself without extra charge, if travel is light. All prices are subject to change without notice.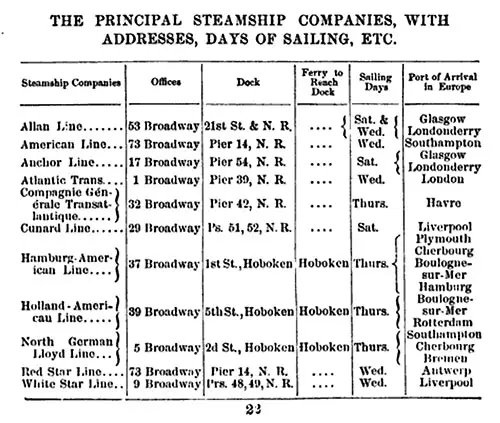 Table of The Principal Steamship Companies with Addresses, Dates of Sailing, Etc.
Steamship Companies
There are many steamship companies sailing from Atlantic cities for European ports that might be used as a means, more or less direct, for reaching the Paris Exposition. The following table gives a list of steamship companies, with their New York addresses, together with the ports of arrival in Europe, their docks, days of sailing, etc.
Sears, J. H., Harper's Guide to Paris and the Exposition of 1900: A Comprehensive Map and Guide to The City of Paris; A Complete Guide to The Exposition; French Phrases Translated; And Maps Diagrams, And Illustrations, London And New York: Harper & Brothers Publishers, 1900: 21-23