The Kiwanis Magazine, September 1936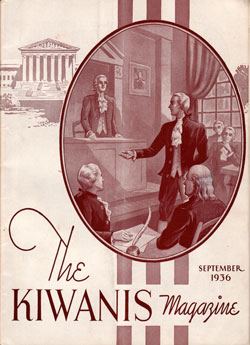 Published to Promote the Objects, Policies and Objectives of Kiwanis International, an Organization Based Upon the Principle of Service and Devoted to the Advancement of Individual, Community and National Welfare and to the Strengthening of International Goodwill.
Contents for September, 1936, Vol. 21 No. 9
OBJECTIVES AND PUBLIC AFFAIRS ACTIVITIES OF KIWANIS INTERNATIONAL
FOR 1936-1937 Frontispiece
"A MOMENTOUS WORK" C. Walter Cole 515
CONSTITUTION WEEK, SEPTEMBER 13-19 516
FOR GOOD GOVERNMENT Gunnar H. Nordbye 517
DON'T BE A PAL TO YOUR BOY -- HE DESERVES SOMETHING BETTER Lt. Col. A. M. Hitch 518
THE QUICK AND THE DEAD Dr. Dain L. Tasker 520
ADDING GENERATIONS TO TREES Orville W. Spicer 522
THE ETHICS OF SALESMANSHIP Arthur H. Brayton 523
JUVENILE DELINQUENCY, ITS CAUSES AND PREVENTION Robert C. Logan 524
A MILLION AIR PASSENGERS IN 1936 ! Frederick R. Neely 526
MY PERSONAL PAGE Roe Fulkerson 527
HANDS ACROSS THE BORDER 528
"ORGANIZERS OF VICTORY" Fred. C. W. Parker 529
EDITORIALS Roe Fulkerson 530
CANADIANS MEASURED BY A KIWANIS YARDSTICK Rev. Archibald Young, M.A., D.D. 532
BANKING IN THE UNITED STATES FROM ANOTHER VIEWPOINT H. L. Pringle 533
ACHIEVEMENT REPORTS FOR 1935- I. AMARILLO, TEXAS, WINNER IN GOLD DIVISION 534
A MESSAGE FROM RUPERT HUGHES Jon Edward Warfel 536
MICHIGAN DISTRICT DEDICATES KIWANIS FOREST MONUMENT Ben G. Wright 537
CREATIVE EDUCATION AND THE KIWANIS CLUB Prof. L. S. Neeb 538
OHIO KIWANIANS VISIT ONTARIO 539
WHY I LIKE TO READ MY BIBLE 0. W. Coursey 540
INTERNATIONAL COMMITTEE SUGGESTIONS 541
BIRD STUDY AS A HOBBY Detlof B. Nelson 542
DISTRICT ACTIVITIES 543
CLUB ACTIVITIES 546
KIWANIS BREVITIES 559
PERSONALS ABOUT KIWANIANS 560
THE QUESTION BOX George W. Kimball 561
OFFICERS OF KIWANIS INTERNATIONAL
President, A. COPELAND CALLEN, Urbana, Illinois;
Immediate Past President, HARPER GATTON, Madisonville, Kentucky;
Vice-President, JAMES M. LYNCH, Florence, South Carolina;
Vice-President, F. TRAFFORD TAYLOR, K.C., Winnipeg, Manitoba;
Treasurer, H. G. HATFIELD, Oklahoma City, Oklahoma;
Secretary, FRED. C. W. PARKER, Chicago, Illinois.
INTERNATIONAL TRUSTEES
FABER A. BOLLINGER, Atlanta, Ga.;
SAMUEL F. CLABAUGH, Birmingham, Ala.;
CHARLES S. DONLEY, Pittsburgh, Pa.;
JAMES P. GALLAGHER, Newton, Mass.;
C. HAROLD HIPPLER, Eustis, Fla.;
Vic H. HOUSHOLDER, Phoenix, Ariz.;
BENNETT 0. KNUDSON, Albert Lea, Minn.;
HARRY D. MACDONALD, Colorado Springs, Colo.;
FRED G. MCALISTER, London, Ont.;
GEORGE E. SNELL, Billings, Mont.;
ALFRED H. SYVERSON, Spokane, Wash.;
W. EUGENE WOLCOTT, M.D., Des Moines, Iowa.

Official Programs for Kiwanis Clubs in 1936. Approved by the International Board of Trustees:
Constitution Week: September 13-19
About the Front Cover
The cover of the September issue of The Kiwanis Magazine honors United States Constitution Week which occurs September 13 to 19. The design in the oval was suggested to artist Lee by a restored painting by an obscure artist, which painting is in the galleries of the Chicago Historical Society. George Washington is presiding at a meeting of Constitution framers, Benjamin Franklin being at the lower right and James Madison at the lower left. Alexander Hamilton is speaking.
Publication Information
THE KIWANIS MAGAZINE is published monthly by Kiwanis International, a nonprofit corporation organized under the laws of the State of Illinois, representing all Kiwanis clubs in more than 1899 cities in the United States and Canada. Entered as second-class matter September 3, 1926, at the Post Office at Chicago, Illinois, under the Act of March 3, 1879.
As the official publication of Kiwanis International this magazine carries authorized notices and articles regarding the activities and interests of the organization. Responsibility is not assumed for the opinions expressed by authors of other articles. Publication office at International Headquarters.
Editor: FRED. C. W. PARKER
Managing Editor and Advertising Manager: MERTON S. HEISS
Editorial Writer: ROE FULKERSON
International Headquarters: 520 N. Michigan Avenue, Chicago, Illinois. Telephone: Whitehall 7478
Eastern Advertising Representatives: Hevey & Durkee, 10 East 43rd St., New York, N. Y.
Western Advertising Representative: Dwight H. Early, 100 N. La Salle St., Chicago, Ill.
Advertising rates will be furnished on application.
Copyright, September, 1936, United States and Canada by Kiwanis International.
15 Cents a Copy $1.50 a Year