Passenger Comforts and Accommodations 1882
Ocean Steamships Article by S. G. W. Benjamin - Part 5
She made on her first passage the fastest run yet achieved between China and England, running in 29 days and 22 hours 11,250 miles, including stops for coal, or an average of 375 per day. This indicates a higher average of speed, for it includes three stoppages and the slow passage through the Suez Canal.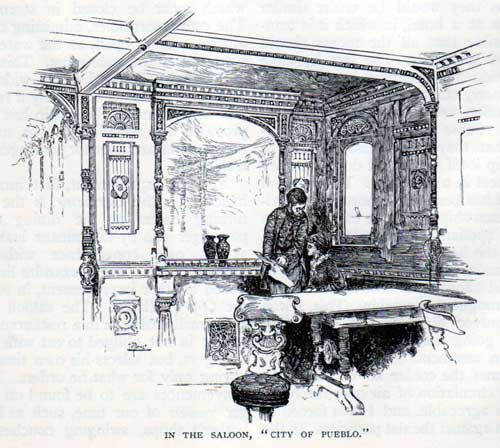 In the Saloon, City of Pueblo
In the fisheries the steamer is also fast gaining recognition. At first this change undoubtedly works hardship, as must always be the case when an innovation on established methods is introduced. The great seal fisheries of Newfoundland are now largely followed by screw steamers. Even the whale fisheries are yielding to the impulse in favor of steam.
For many years whaling has been so unremunerative that only old ships could be employed in it, which were purchased at a low cost and refitted; often they have been old packet ships, strong, but antiquated. Already several American steam-whalers are employed in the business and a number are being constructed at San Francisco.
The first cost is much larger than for a sailing vessel, but it is found that with an auxiliary screw more whales can be reached within a given time. Steam tenders are also coming into use to tow the whale-boats within easy distance of the whale and tow it back to the ship after it is captured.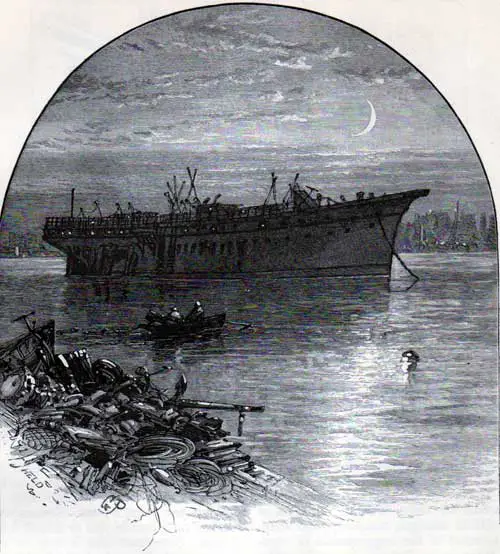 In the Last Harbor
Canvas, however, is too powerful an ally to be ignored, especially in long voyages when the winds are steady; and for freight traffic this combination of wind and steam is too admirable to be much longer neglected. A ship of this sort is now in process of construction at Bath, Me., of 1000 tons, for the Pacific trade. She is to be a full-rigged ship, with auxiliary screw.
The immense coasting trade of the United States, which has been so efficiently carried on in stanch three-masted schooners, is also on the point of passing into this phase of navigation. Several three-masted schooners have been provided with small auxiliary screws, the engine being placed near the stern.
The Barnard Sumner has the mizzen mast made as a tube of iron. When she is under steam this is used as a funnel, and, when under sail, the hoops of the spanker slide over it as in any ordinary schooner. The wide employment of sailing vessels with auxiliary steam power appears to be the most interesting feature of the near future of steam navigation.
As regards the continued use of metal we think there can be no question that it will for a long period be the chief material in the construction of ships, whether for sail or steam. Of its strength, durability, and adaptation to most of the requirements of commerce there is no longer any doubt.
The Great Britain was at last accounts still running between England and Australia, although she was launched in 1845 and lay on the beach in Dundrum Bay for a whole year. Good material, honest construction, and a thorough system of compartments, will make an iron steamship durable to an indefinite period. The weak point in the screw steamship is the shaft. As the breaking of the shaft occurs oftener in some lines than others, it would seem that this is a matter within human control. There should no longer be any excuse for the breaking of a shaft.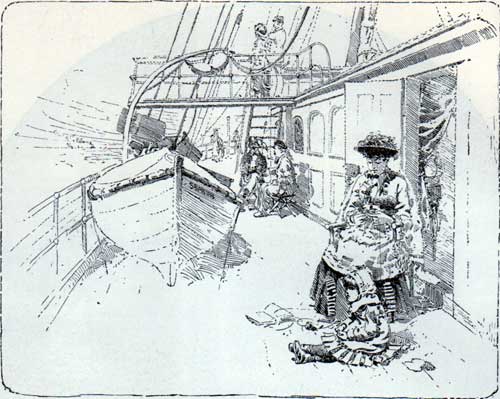 In Fair Weather, A Mother and Child Relax on Deck
When the old steamer has fought her career with the surges, what becomes of her? Where does she go to hide her battered frame ? Sometimes the iceberg or the stealthy and deadly collision with a sister ship in the fog gives her a death-blow. Sometimes she is wrecked on a hostile reef or founders in sight of port.
Sometimes she is sold to another company, rebuilt, and; dubbed with a fresh name and register, tries in her new finery to pass for a new ship, until she disappears mysteriously with all on board. A few tears are shed in solitary homes for those who went down with her; but the verdict is, " no one to blame." Sometimes she is turned into a store-ship, a powder-boat, or a floating hospital, and, moored in a remote part of the harbor, sees the fleets of new ships go by in the distance.