The Plight of the Proud Professor and the Pretty Stowaway - 1926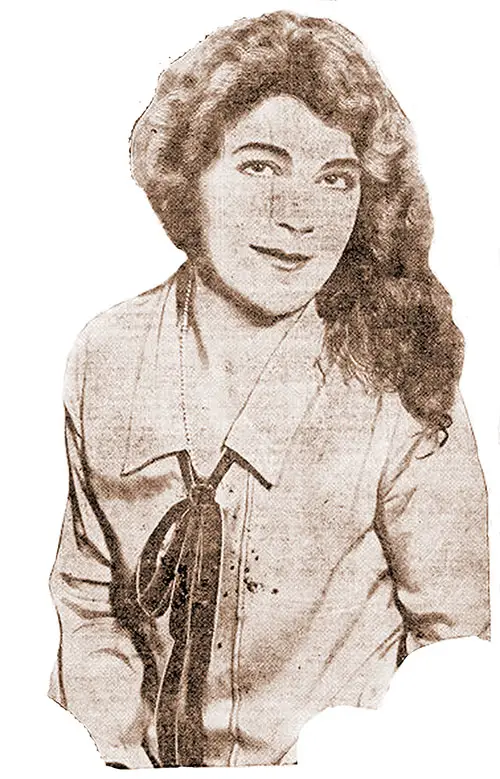 Miss Helena Desu, a Beautiful Romanian Stowaway Girl Whose Love fo Her Philadelphia Sweetheart, Professor J. St. Mark Longaker, Brought Her to America as a Stowaway on an Italian Liner and Sent Her Back Again. Her Sweetheart Following Her to Europe on Another Ship Proclaimed Their Ulitimate Marriage as Resting with the Gods--Venus and Minerva. Standard-Speaker, 25 August 1926. GGA Image ID # 19f7fa28ba
As we say at the University, our marriage is in the Ultimate—not in the specific." Such was the prudent answer of the very cautious Professor Longaker when asked his intentions regarding Helen Dasu, the beautiful girl who had recklessly stowed away and come to America because of her love for him.
However, according to Helen Dasu herself, there was a time when Professor Longaker was not so philosophically indefinite, or at least not regarding herself. Under dreamy Italian skies, drifting on the Mediterranean, angling for— gay-colored fish and still gayer-tinted hearts, he had caught the romantic spirit of the land. Love had flared high, and they had sworn vows for all eternity.
But that was all in the past. J. St. Mark Longaker had returned to his own country. And once hack in Philadelphia, caught up in the conventions of the academic world, she had changed the gay-hearted lover of Italy into the prim and proper teacher demanded by faculty tradition.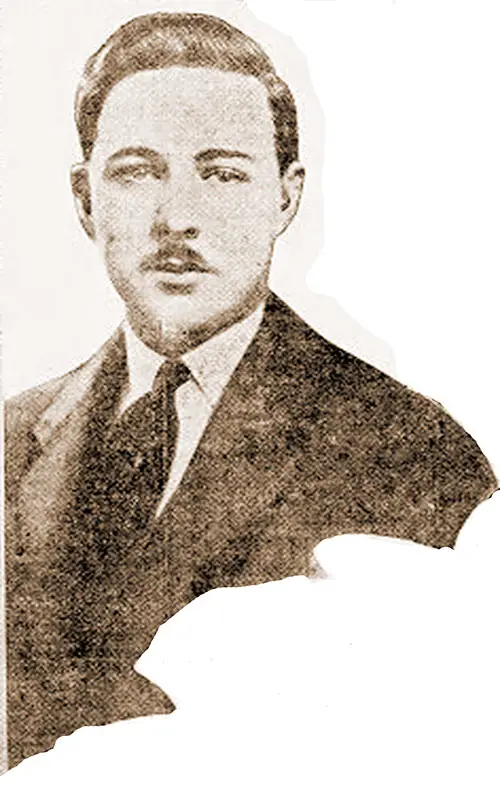 Professor J. St. Mark Longaker, Ph.D. of the University of Pennsylvania on Whose Account Beautiful Helen Dasu Stowed Away to America, Ony to be Deported. Standard-Speaker, 25 August 1926. GGA Image ID # 19f8ba212b
Months went by. Back in sunny Italy, pretty Helen Dasu grew impatient. When she was threatened with Ellis Island for having no passport, she did not worry. She believed her sweetheart would get her admitted to America somehow, perhaps as his wife. So, on the spur of the moment, she stowed away on the S. S. Conte Biancamano.
But Professor Longaker did not marry the beautiful stowaway. Instead, she was deported on the same steamer she had arrived on. And instead of seeing her off on her return voyage, he merely sent his excuses and promised that he would follow her to Italy on another steamer. It was a matter of the ultimate rather than the specific.
For J. St. Mark Longaker comes from one of the most exclusive and socially prominent families that ever married out of the Virginia aristocracy into Philadelphia wealth. He has been carefully taught to do the right thing in the conventional fashion all his life. It was considered quite natural when he had completed his university course to continue with his literary studies and eventually take up the sheltered life of teaching at the University of Pennsylvania in Philadelphia.
Research work in Italian literature led him to sunny Italy on vacation, and their adventure and a pretty unacademic love affair caught him.
He visited some English friends on their yacht when Helen Dasu first met him. She was a true lady of romance, educated in England, strikingly beautiful, of Rumanian origin, seemingly with all the leisure and tastes that indicate wealth.
According to their mutual friends, it was a case of desperate love at first sight. During the rest of the yachting trip on the Mediterranean, the two were constantly together. Long, sunny days of lovemaking were followed by the languorous moonlit nights of the South. Whether fishing from the sides of the yacht, dancing after dinner, or swimming in the warm waters of some hay, the beautiful girl and the young college professor were inseparable companions.
Afterward, the girl took up her residence on the Island of Capri. The professor also went to Capri. The cloistered routine of the university faculty club was far away and forgotten. According to Helen Dasu, the romantic Italians looked upon them with apparent favor. They lived in an atmosphere suggesting that all the world was drawing its happiness from their own deep and ardent love for each other.
But lovely days could not last forever. September came and with it the approach of Professor Longaker's classes. He must leave Italy and return to America. His pay as a teacher was his only source of income. If he and Helen Dasu ever expected to live an idyllic life in Italy, the money must come from his family. They must be convinced that it would be a wise move on his part to marry the beautiful girl and continue his research work in Homan literature.
So, the love-struck young professor returned to his own country and the arms of his very proper family. They did not discourage him when he proclaimed his love for the beautiful Helen Dasu and his plans to marry her and live abroad. They merely asked him to wait for the finish of the academic year and then make his decision. So, pouring out his heart and his hopes to his far-away sweetheart, promising to write daily and asking her to wait but a short eight months, Professor Longaker took up the old round of his daily life at the University.
But while Italian literature may be romantic, the atmosphere of teaching it to a class of sophomores who would far rather be enjoying the beauties of nature on the football field is the very reverse. The academic life has a charm, the charm of security, but it has no place for passion or adventure. Also, the calm aloofness of the scholarly world, the white-whiskered decorum of the faculty circles lent no encouragement to a love-sick young professor.
It was, therefore, natural for young Professor Longaker to drift more and more out of touch with the golden days of Capri. Exaltation gave way to primness, and by mid-year exams, the onetime adventurous lover had become once more the academic model. His letters to Helen Dasu, According to her statement, became more stilted, their wording more cautious, and plans for the future increasingly vague.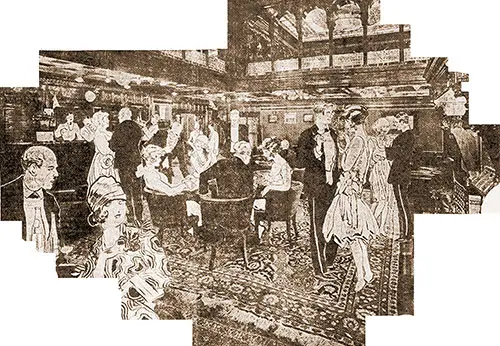 It Was Not Until the S. S. Conti Biancamano Was Far Out to Sea That Anyone Questioned Helena Dasu's Presence in the Gay Party of Her Friends Who Were Bound for New York.
Back in Italy, Helen Dasu perhaps felt the change. At any rate, one night, while seeing f Hen da off to America, a sudden idea struck her. She would cross the Atlantic and visit her sweetheart. Once decided, she became the life of the farewell party—to such an extent that no one questioned her presence until the S. S. Conti Biancamano was far out to sea.
There are many ways of treating stowaways. But what could Captain G. Turchi do with such a beautiful girl who confessed to him that she had stowed away because of an aching heart? Not manacles, certainly. The honor of Italy and the Lloyd Sabaudo Line was at stake. So, a comfortable second-class cabin was assigned to Helen Dasu, and she was allowed the entire run of the ship.
The newspapers notified Longaker that the most beautiful stowaway who had ever entered New York had come out of love for him. He hastened to New York to see her.
But no romantic marriage followed. Professor Longaker maintained his dignity to the last. Beautiful Helen Dasu was deported and said that, after all. she would "rather be married in her homeland than at New York City Hall, like a gypsy."
However, Professor Longaker sailed for Europe a few days after the S. S. Conte Biancamano sailed with his sweetheart.
When asked his destination just before he bailed, he said he would immediately rush to Italy and his beautiful friend once in Europe. There- along the shores of the Mediterranean, he could once more renew his love for adventure and his adventurous love. Asked if wedding bells would at once ring, he said:
"That is in the hands of the gods."
And when pressed as to which particular gods, he admitted the marriage Question rested with Minerva and Venus, the goddess of wisdom and discretion on the one hand and the goddess of love and adventure on the other.
They were married in Rome, Italy on 6 August 1927. The Professor was 26 years old and Helen was 33 years of age.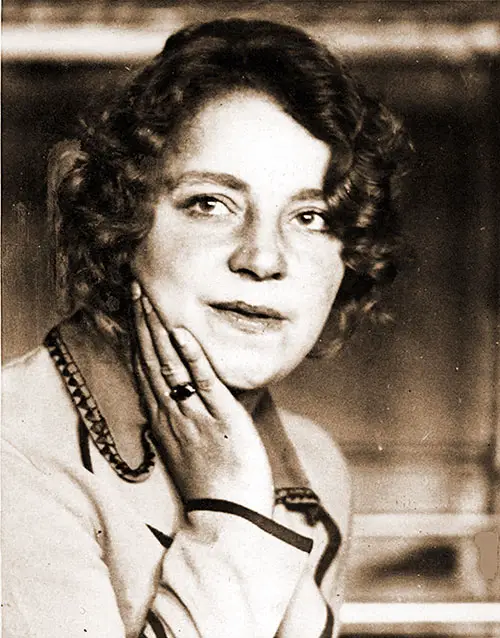 Photograph of Helena Dasu circa 1927. GGA Image ID # 19f90edc66
The Rest of the Story
Plaintiff, John Mark Longaker, is a native-born American, a full professor of English literature at the University of Pennsylvania. Defendant, Helena Dasu Longaker, was born in Germany of White Russian ancestry. At the time of the hearing in 1954, he was 53 years of age, and she was 60 years of age. The parties were married in Rome, Italy, on August 6, 1927. No children were born of this marriage, but she had a son by a prior marriage.
The parties lived in Philadelphia until 1939 and then moved to a house at 201 Rhyl Lane, Cynwyd, Pennsylvania, purchased by the plaintiff and his father. The property was conveyed to the parties as tenants by the entireties on July 6, 1945.
It was sold in 1954, after the institution of this action, and the proceeds were divided equally between plaintiff and defendant, her share being approximately $9,000.00 in cash.
The parties got along reasonably well until about 1945, although on Thanksgiving Day evening, 1930, she struck the plaintiff on the head with a mirror. From 1945 on, the parties had considerable trouble, which had become increasingly worse until the final break on October 10, 1953, when the plaintiff moved to the Normandie Hotel in Philadelphia.
Plaintiff substantiated a considerable portion of his testimony by a police officer and their neighbors, Leopold Mamolen, Esq., Dr. William A. Shannon, and James F. Warren. Defendant produced no witnesses at all to corroborate her testimony, notwithstanding her son, by a former marriage, a grown man now, lived with the parties for many years.
He was present at some hearings, but he did not testify for his mother. The main difficulty arose because of her quick temper and her growing addiction to alcohol. She became bored because her husband, on account of his duties at the university, could not take her out enough.
She admitted, however, that he provided the funds, from his moderate salary as a university professor, to send her to the mountains of Mexico for four months in the summer and to Florida for the winter for the last eight years before the separation.
When she was home during the spring and fall, she admitted that she started to drink because he did not take her out to have some distraction. She said: ". . . he works so hard at the University. But he can't expect me to hibernate all winter, I mean, between trips. So that is the reason I drank."
She admitted placing herself in St. Luke's Hospital a half dozen times, when there was nothing wrong with her, to escape boredom, even though this extra expense placed a heavy financial burden on him. She purposely did this to hurt him, and when she did not get her way, she would say: ". . . get out your checkbook, I go back to St. Luke's Hospital."
Defendant admitted clawing him with her fingernails innumerable times, knowing it would embarrass him because he had to appear before groups of people and students; handing him a razor blade and saying "Go ahead"; throwing pictures (or anything she could grab) at him; hitting him over the head with a flashlight in the spring of 1951 in Florida, which put him in the hospital for five days (and this was done when she had not had a drop to drink); throwing bric-a-brac through the windows of their home; that policemen brought her home and on one occasion in 1945 in Cuernavaco, Mexico, being locked up all night in the police station because she had too much to drink; going to Mr. Mamolen's home at 5:00 or 5:30 a.m. and borrowing or stealing whiskey or wine; taking a bottle of whiskey from the Liversidge home; going into the homes of three neighbors and getting whiskey; hearing bad language at the state hospital and getting a delight out of "throwing them in his case"; running out of the house at times, screaming and yelling vile language; slapping and scratching Dr. Shannon because he said she was drunk; calling her husband's parents Lutheran swine (plaintiff's father was a retired Lutheran minister); that Mr. Mamolen found her husband bleeding (after she had struck him in the head with a lamp on August 26, 1945) and took him to Dr. Shannon; that her husband drank less than she did during the latter period of time they were together. He testified that for the last six years, he drank virtually nothing. She admitted that she was declared normal by the staff at Norristown State Hospital.
In 1947 she signed and issued checks in her name drawn on First National Bank of Philadelphia, where she had no account. In September 1950, she laid a picture of the plaintiff's father at the plaintiff's place at the breakfast table on which she had written: "He lived and died with lies! lies and sin! and so will you." In May 1953, she hurled and ruined an alarm clock. She brandished scissors and a razor blade at the plaintiff and called the plaintiff an "f- son of a bitch" and a "university stinker."
Defendant made herself thoroughly obnoxious in the vicinity of her residence. Neighbors had to lock their doors to keep her out. On occasions when she lost her temper, she threatened to set fire to the house, called the plaintiff vile names, and told him she would "do him in."
She was an annoyance to the Lower Merion police and the police in other towns where she vacationed. One could amplify the above, but it would unduly prolong this opinion. Although she subjected her husband to many indignities and acts of cruelty, she says he should not have a divorce because he loved her. She admitted that they never had any real reason to quarrel.
We are convinced that the plaintiff loved the defendant and did everything possible to make her happy and give her all of the luxuries and comforts his moderate salary would permit. She admitted he tried to stop her from drinking. Did her course of conduct cause him to suffer? Did it cause him humiliation?
We believe that it did. During the summer of 1953, when she was in Mexico, and he was in Philadelphia teaching in summer school to earn money to pay the bills, he wrote her letters expressing his love for her. But finally, he wrote her: "Darling Nush: Please sober up. Otherwise, I have no choice — I must get out. Lovingly, M." She replied on the same paper: "Hah-Hi, you louse. Go to hell."
We are in accord with what the court below said in this connection: "We believe that the plaintiff was stating the fact when he stated that he formerly stayed with her as long as he did because he hoped against hope there might be some change' for the better.
Instead, in September 1953, she had hardly returned from Mexico when she assaulted him with a razor, threw a framed photograph at him, and she began getting drunk again and annoying neighbors and police. Her taunting of the plaintiff when she was brought home on October 8, 1953, turned out to be the last straw.
Some incident is bound to be the final straw… Plaintiff loved the defendant intensely, and, for years, he glossed over the indignities to which he was subjected. The fact that he was more loving, more patient, and longer-suffering than many, or perhaps most, men of his position and stature will not bar him from obtaining relief."
Excerpt from Longaker v. Longaker, 184 Pa. Super. 652, 656 (Pa. Super. Ct. 1957)