2,392 Stowaways Reached U.S. Ports
Number of Deserting Seamen during Period Was 13, 543. Nautical Gazette Representative Visits Stowaway Detention Room at Ellis Island.
AS motley a crowd as one could well imagine revealed itself to a representative of THE NAUTICAL GAZETTE when he was admitted into the stowaway room at Ellis Island. There were about a hundred of them, some playing games, some reading, but the majority chatting in little groups. They were clad in the most varied garbs and one wore a blanket over his shoulders.
Practically none could speak English, although several claimed to be able to do so. Most of them were waiting resignedly to be sent back to their respective countries, but some were hoping against hope that appeals made to Washington for admission into the country would prove availing.
A young fellow of intelligent appearance was brought forward as one of those who could speak English, and he could. Asked his nationality he said he was a Turkish subject, but he would never have provoked comment on Broadway or Piccadilly.
"I got on board at Havre," he said, "and hid for three days under the boilers. Then it got too hot for me and I came out. I took some food with me."
Another young fellow said he got on board at Danzig and was' discovered the first day out.
"They made me work hard," he said. He had been on Ellis Island for five months, having appealed to Washington for admission. However, he didn't expect to be allowed to enter.
The group contained many nationalities. In the group were two or three Negroes from the West Indies and one lone Chinaman.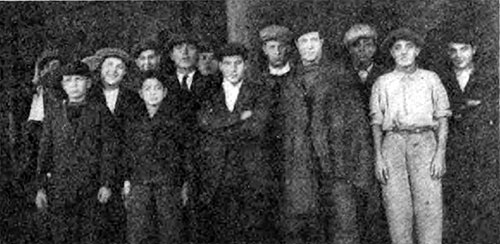 A Group of Stowaways being detained at Ellis Island. GGA Image ID # 14333644c4
In Desperate Mood
The previous day, it was stated, a couple of the stowaways had, by breaking doors and windows, contrived to get their freedom. It was believed they had in some' way reached the mainland.
So no chances were taken when the group photographed for this article were led out into the large exercising ground with big wired windows overlooking the Bay to face the camera. They were carefully counted out and counted in again -- thirteen stowaways.
In the make-up of the average stowaway there is, of course, a big dash of the adventurous, frequently of the irresponsible and sometimes of the criminal. It is a mistake, however, to assume that all stowaways are criminals.
The stowaways have stout champions as well as detractors. Among the latter is at least one Ellis Island official, who described stowaways as "non-moral irresponsibles who would cut your throat for fifty cents."
Some of the stowaways now reaching American ports in large numbers are youths of humble origin desperately anxious to leave their war-stricken homelands. Several have jumped overboard in New York Bay.
One stowaway lay for three or four hours concealed beneath a pier while a search for him was in progress. Finally he was fished out half drowned.
Knowledge that they will be punished if sent back to the home authorities prompts these heroic attempts to land.
Put Out at Palermo
Sometimes stowaways do not escape a watery grave in their zeal to reach shore. This happened to one of two stowaways who not long ago jumped from the Presidente Wilson as she came up the Bay from Trieste. The story as told by Commissioner Wallis is a most remarkable one.
While one of the two stowaways was caught in the tide and carried out to sea, the other was washed up on Staten Island. He was a fine-looking boy, but when closely questioned refused for a long time to furnish any real information.
Finally, however, he told the whole story. It appeared that when the vessel left Trieste she had eighteen stowaways in her. At Palermo they were all put oft', but at Naples fourteen more got aboard and reached New York.
On landing here none of the ship's officers nor crew, nor any of the police or detectives, were anxious to go into the holds to search for the stowaways. When finally rounded up and confronted with the boy who had swum ashore the other stowaways threatened him and said: "Wait till we get you in Naples. We'll cut your heart out." Commissioner Wallis said that in the circumstances the boy would probably be kept on this side of the ocean.
In a recent address Commissioner Wallis emphasized the great increase in the number of stowaways arriving at American ports. That week, he said, two steamers had brought eighteen stowaways each, another had brought 23, another 24 and one had come with no less than 44 aboard her.
Investigation had revealed, said the Commissioner, a regular organization stretching from Trieste to Liverpool, for the assistance of stowaways. From thirty to forty dollars was the recognized charge for permitting a stowaway to get on board and supplying him with food during the voyage. The crew stood in with the stowaways and in some cases the ship's officers connived at the traffic.
Simultaneously with the increase in the number of stowaways has grown the number of seamen arriving on vessels coming from Europe. A large number of these seamen ship for the sole purpose of getting into the United States. Ten Transatlantic liners arriving at New York from Dec. 13 to Dec. 22, brought 9,764 seamen and about one hundred stowaways.
If seamen continue to arrive at the rate maintained during recent months from 600,000 to 700,000 will reach here in a year's time.
Seventy-three Seamen Deserted
The Immigration authorities are now examining the passports of seamen before the ship docks, a departure which en- tails a vast amount of work and incommodes to no little extent the first and second-class passengers. Before the change was made, seamen got off, the ship before the passengers and sometimes left her before she was made fast, the companies finding it impossible to keep them back. From the Turkish ship Gul-Dj-mal, formerly the Germanic, of the White Star Line, 73 seamen were missing after her arrival here.
Termed Nuisance of the Sea
"The stowaway is the nuisance of the sea," said a prominent steamship man to a representative of THE NAUTICAL GAZETE. "Just now they are arriving in large numbers, which makes people forget that we have always had the stowaway with us.
Why, when the Cunard Company began to run ships from here to the Mediterranean about 1905, their first ship came back here with over twenty stowaways on her. At the present time Transatlantic liners from the Mediterranean are averaging from five to twelve stowaways each trip.
"Deserting seamen are a very difficult problem to deal with. Any sailor under the Seamen's Act can claim his accrued wages four days after being in port and what's to prevent him walking off? Sailors are in many respects a privileged class and many of them are irresponsible youngsters.
They receive a seamen's passport from the country to which they owe allegiance, or from the country they ship from after presenting credentials.
"No seaman can land in any country now without a passport. On arrival at the United States the Immigration Officer boards the vessel and examines the passport of each seaman.
He puts his visa on the passport and after that the seaman is at liberty to go ashore. Suppose he deserts? Who's to know? Perhaps he will ship on another vessel because he didn't like the master of the ship that brought him.
Perhaps he takes a notion to stay a little while in America, and finally, perhaps, decides not to go to sea again. If he does this his proper course is to apply to Ellis Island for registration of his entry into the country."
Table Shows Large Increase
A glance at the accompanying table will show the enormous increase in the number of stowaways and deserting seamen during the year ending June 30, 1920, the first complete year since the war for which there are figures available.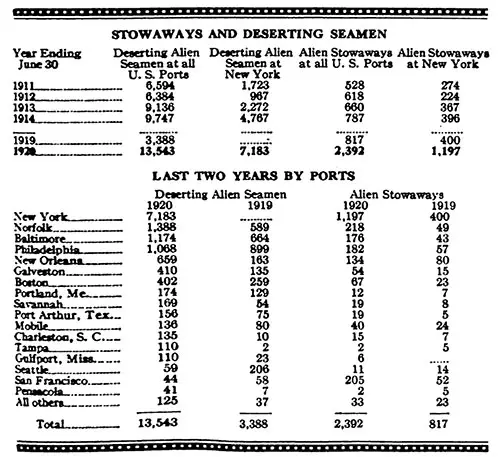 Table Showing Number of Stowaways and Deserting Seamen during Fiscal Year 1920. GGA Image ID # 14335e83a8
LAST TWO YEARS BY PORTS
For the year indicated no less than 18,543 seamen deserted at American ports, while the number of stowaways arriving was 2,392. In the last year before the war the respective totals were 9,747 and 787.
The annual report of the United States Department of Immigration for the year ending June 30, 1920, has much of interest to say about stowaways. Many of them gained admission, though the majority were returned to the ports whence they came ..
At New York, during the year no less than 302 were admitted, though generally they are spoken of as "an undesirable class, extremely troublesome while in detention." Many come on small ships of lines with infrequent sailings, which accounted for many of the prolonged delays in repatriating them.
"Their obstreperous actions and numerous attempts to escape have added greatly to the usual difficulties. . . . It seems that the companies concerned do not take adequate precautions to see to it that unauthorized persons are prevented from getting aboard their vessels abroad," says the Ellis Island report.
Philadelphia admitted 45 and sixteen others escaped. The majority of the stowaways in the Delaware district arrived on tramp steamers. Baltimore admitted 34 stowaways. Besides these 16 American stowaways arrived at the port. The Baltimore Commissioner says with regard to stowaway arrivals:
"The last few months have seen a peat increase in arrivals of this class, the principal contributing causes for which are quite apparent. These are, briefly, the distressing economic conditions in some parts of Europe and in the West Indies; the consular vie requirements, which many aliens cannot comply with or measure up to; the help afforded by a sympathetic members of crews in assisting and facilitating the hiding on board of destitute aliens, many of whom are or have been of the seafaring class; and laxity in searching vessels prior to sailing for this country. There is every reason to believe that the influx of stowaways, for these reasons, will be even greater in the coming year.
Seattle Didn't Search Ships
Norfolk admitted 41 stowaways, Jacksonville 23, and Boston 14. At New Orleans 40 were admitted, chiefly young negroes. Galveston admitted 31. A sharp watch had to be kept, says the Galveston report, for draft evaders from Mexico or deserters from the American Army in France.
San Francisco admitted thirteen stowaways, but debarred 24, including fourteen Japanese and one Chinaman. Seattle made no attempt to. search ships for stowaways.
"Owing to the fact," says its report, "that we have a limited number of officers in this district no attempt has been made during the year to search incoming vessels for stowaways. But 13 stowaways were discovered during the year, all of them being Japanese. Eleven of these Japanese stowaways were deported, the remaining 2 being admitted. A much larger number of stowaways has undoubtedly gained admission to the United States through this district in this manner.
Under the present manner of handling seamen, however, it is such an easy matter for them to gain admission to this country after being granted identity cards that there is little incentive for aliens who desire to gain unlawful admission to come as stowaways."
"2392 Stowaways Reached US Ports During Last Fiscal Year," in The Nautical Gazette: An International Weekly Chronicle of Shipping, New York: The Nautical Gazette, Inc., Vol 100, No. 2, Whole No. 2578, Saturday, 8 January 1921, p. 37-38.