A Great Concert Performace at Sea - Kaiser Wilhelm der Grosse
Passengers on Kaiser Wilhelm der Grosse Enjoy Finest Concert Ever Given at Sea
The most remarkable concert ever heard on the sea was enjoyed by the passengers on the Kaiser Wilhelm der Grosse, which made harbor yesterday from Bremen, Southampton and Cherbourg.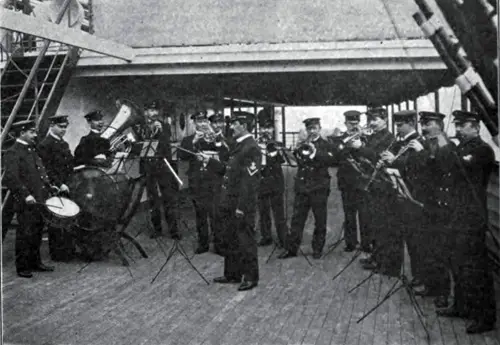 The Ship's Band Playing On Deck During A Performance At Sea
In the talent and renown of the conductors, accompanists, singers, instrumentalists, in conjunction with the Atlantic steamship's orchestra, composed of second-cabin stewards, the program and the success with which it was carried through to a triumphal finish under such unusual circumstances were a marvel.
Imagine Herr Dr. Karl Muck, first conductor of the German Imperial Opera, and one of the world's most famous leader to has come to succeed Gericke as conductor of the Boston Symphony Orchestra; the great Maestro Ruggero Leoncavallo, of "Pagliacci," "Zaza" and "Chatterton;" Arturo Vigna, conductor of Italian and French operas at the Metropolitan Opera House; Sam Franko, conductor of chamber music and violinist; Yvette Guilbert, Elisabeth Parkin, Melba's Protégé, and Richard Hageman and soprano Mme. Rosina Hagemen-Van Dyk, of Amsterdam, all appearing in the same program!
"I would have staked $10,000 for one night's performance of such an aggregation," exclaimed Rudolph Aronson, when he was told of the concert in aid of American and German seamen, widows and orphans.
But the most marvelous thing was that an orchestra of ship's stewards should have been able to interpret the music.  When the concert was first suggested, Sam Franko, and Capt. Cueppers, working enthusiastically for it; Oscar Kirchner, director of the Kaiser Wilhelm de Grosse orchestra, acknowledged that his men -- if they did wrestle between daily concerts with plates and mattresses -- could play anything that was ever written on a staff from "Mother, Mother, Mother, Pin a Rose on me," to Wagner.
"My men never fear!" said Leader Kirchner to Conductor Vigna, "Why mine Herr, they are all educated musicians, the most of them have been enlisted men in the German bands, and as such have played in half the theatres around Germany."  Conductor Kirchner 's band, when the musicians are not waiting on passengers, play three times a day, they did not rehearse the music they were to be called on to play.  Some of them had never seen it before.
The concert was held on Sunday evening.  The first Saloon dining room had every chair occupied and the aisles between the long tables were filled with "standees."
With German placidity, Herr Kirchner's orchestra rendered whatever was placed on their racks.  The numbers were encored twice, thrice and four times.  The applause was hearty.  All the performers entered with the greatest good will into the spirit of the concert.
Dr. Muck, who leads the best orchestra the world can furnish, arose to lead and Herr Kirchner politely surrendered his baton, his dark, smooth, musician face with its prominent, pointed chin, speaking as plainly as words: "I wish I had a better orchestra."
As the stewards responded to his verve and moods, playing with as much coolness as if standing on the promenade deck of a summer afternoon, Dr. Muck lost his doubting look and entered as heartily into the music as if leading his own orchestra in the Imperial Opera.
"What was the difference between Dr. Muck and Conductor Vigna?" was asked of Leader Kirchner, who had sat in the audience where he could see both.
"Oh, Dr. Muck was cool and steady.  He never lost his nerve," said Kirchner.  "Vigna is passionate.  He gets excited.  My men? Ah, they kept cool. They're all learned musicians and the best orchestra, not only in the North German Lloyd fleet, but on any sea."
When Vigna arose to take the stick, he was just himself, without a sign of any sort to show he was not waving his baton above his own Metropolitan Opera House orchestra.
Although only between $500 and $600 was raised for charity, such a concert ashore would have cost more than $2,500.  The figures annexed to the participants' names are the very lowest estimates of the value of the services:
Orchestra: $150
Richard Hageman: $150
Yvette Guilbert: $100
Dr. Karl Muck: $1,000
Mme.  Hageman-Van Dyk (Rosina Van Dyk  - soprano): $100
Sam Franko: $100
Arturo Vigna: $200
Ruggero Leoncavallo: $700
It will be a long while before those who go down to the sea in ships will listen to another such concert.  Herr Girchner was happy yesterday. Dr. Muck, Vigna, and Leoncavallo all gave him signed certificates that his ship's band was the only one ever heard that was worth listening to.
New York World, October 3, 1906
Reprinted in the North German Lloyd Bulletin, Page 5, Vol. XXII, No. 3, September 1906, New York and Bremen
Note: The correct name for this ship was believed to be the Kaiser Wilhelm der Grosse that arrived in New York on 2 October 1906. (Source Citation: Year: 1906; Microfilm Serial: T715; Microfilm Roll: T715-774)