Germany's July 14th, 1939 Tourist Promotional Ad in the London Times
Just six weeks from Germany's invasion of Poland, Germany ran this advertisement in the London Times promoting Tourism in Germany - Land of Hospitality. Offers everything you could wish for your holiday this year. Nearly 2,000 miles of unique Autobahn motor roads, fast planes or modern rail coaches provide swift, comfortable travel from the North Sea to the Alps, from the Rhine to Austria. Germany's art and creative spirit are to be seen at their best in the numereous exhibition and festivals.
Special deals for Heidelberg, Bayreuth, Saltzburg, Munich. Use Travel Marks to reduce your daily expenses in Germany by 40-50%. Berlin, The Capital of the Reich. Sense of Humor or arrogance?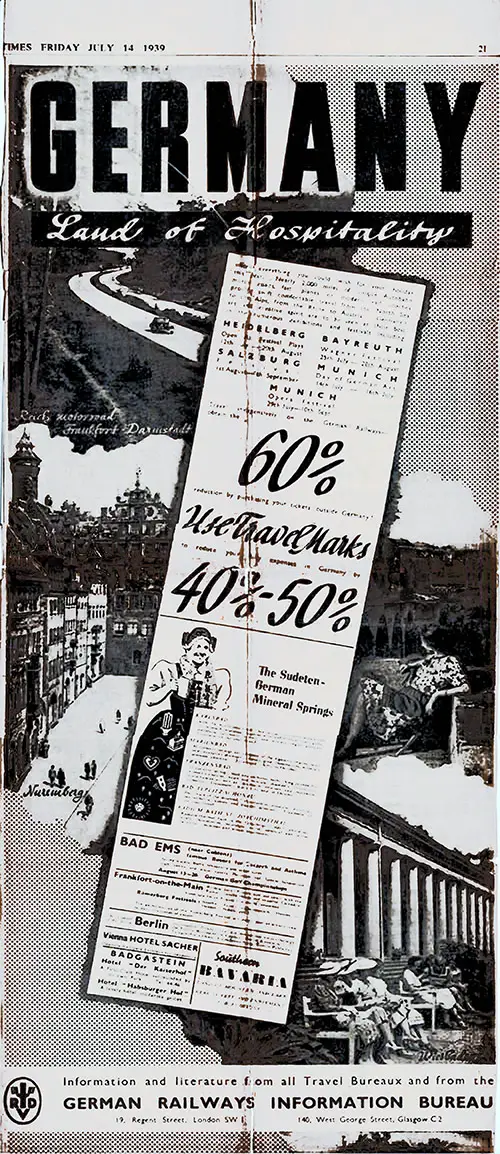 Newspaper: London Times, July 14, 1939 - From the Gjenvick-Gjønvik Archives