Veterans' Day / Armistice Day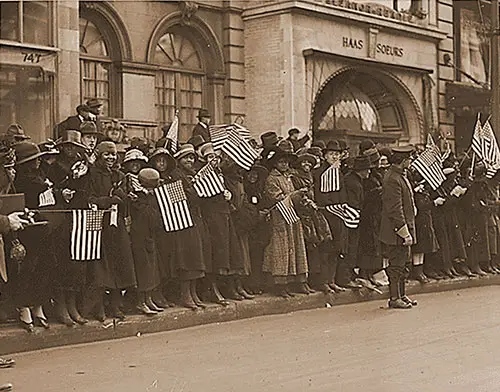 Crowds waiting for the parade of the famous 369th [African American] Infantry, formerly 15th New York regulars, New York City, nd circa 1919. National Archives & Records Administration ARC ID # 533517. GGA Image ID # 18050c563c
Veterans' Day. Also known as "Armistice Day." It is the anniversary of the armistice with Germany on 11 November 1918. It was recognized by President Wilson in a proclamation of 11 November 1919, in which he said," ... To us in America the reflections of Armistice Day will be filled with solemn pride in the heroism of those who died in the country's service and with gratitude for the victory. . .
"Veterans' Day" was first proclaimed, in place of "Armistice Day." by President Eisenhower in 1954, when he stated that the day should be set aside to honor the servicemen of the nation, living and dead, and the victories which they have won in all our wars. It is customary that, on this day, two minutes of silence be observed by all citizens, beginning at 11.00 AM. in memory of our war dead.
In 1921, an American soldier—his name "known but to God"—was buried on a Virginia hillside overlooking the Potomac River and the city of Washington. The Arlington National Cemetery burial site of this unknown World War I soldier became the personification of dignity and reverence for America's veterans.
Similar ceremonies occurred earlier in England and France, where an "unknown soldier" was buried in each nation's highest place of honor (in England, Westminster Abbey; in France, the Arc de Triomphe).
These memorial gestures all took place on November 11, giving universal recognition to the celebrated ending of World War I hostilities at 11 a.m., November 11, 1918 (the 11th hour of the 11th day of the 11th month). The day became known as "Armistice Day."
Armistice Day officially received its name in America in 1926 through a Congressional resolution. It became a national holiday 12 years later by similar Congressional action.
If the idealistic hope had been realized that World War I was "The War to end all wars," November 11 might still be called Armistice Day. But shortly after the holiday was proclaimed, World War II broke out in Europe and shattered the dream. Sixteen and one-half million Americans took part. Four hundred and six thousand died. The families and friends of these dead longed for a way to honor their memory.
"To Honor Veterans of All Wars"
An answer to the dilemma of how to pay tribute to those who had served in this latest, great war came in a proposal made by Representative Edwin K. Rees of Kansas: Change Armistice Day to Veterans Day, and make this an occasion to honor those who have served America in all wars.
President Eisenhower, in 1954, signed the bill proclaiming November 11 as Veterans Day, and he called for Americans everywhere to rededicate themselves to the cause of peace.
On May 30, 1958, two more unidentified American war dead were brought to Arlington Cemetery from overseas and interred in the plaza beside their Comrade of World War I. One was killed in World War II, the other in Korea. A law passed in 1973 provided for the interment of an unknown American who lost his life in Southeast Asia during the Vietnam era.
For several years no qualifying remains were discovered so a memorial plaque was placed in the Amphitheater's Memorial Display Room. On Memorial Day 1984, however, the Unknown Serviceman from that conflict was placed "In Honored Glory" alongside his fellow countrymen.
To honor these men, symbolic of all Americans who gave their lives in all wars, an Army honor guard, The 3d United States Infantry (The Old Guard), keeps day and night vigil.
"Date Too Significant to Change"
A law passed in 1968 changed the national commemoration of Veterans Day to the fourth Monday in October. It soon became apparent, however, that November 11 was a matter of historic and patriotic significance to a great number of our citizens. Congress, therefore, enacted legislation (Public Law 94-97) which returned the observance of this special day to its traditional date beginning in 1978.
"Once Belonged to Robert E. Lee"
Focal point for ceremonies conducted by the Veterans Day National Committee continues to be the Arlington Memorial Amphitheater built around the Tomb of the Unknowns at Arlington National Cemetery. The site, established in 1864 and now operated by the Department of Defense, lies on property that once belonged to General Robert E. Lee.
At 11 a.m. on Veterans Day a combined color guard representing all military services honors the Unknowns by executing "Present Arms" at the Tomb. The Nation's tribute to its war dead is symbolized by the laying of a Presidential wreath. The bugler sounds "Taps." The balance of the ceremony, which includes a brief address, takes place at the Amphitheater.
Veterans Day ceremonies at Arlington and elsewhere in the Nation are coordinated by the Presidents' Veterans Day National Committee. Chaired by the Secretary, Department of Veterans Affairs, the group has an executive committee which includes representatives of eighteen national veterans organizations chartered by Congress. The remaining members represent other national veterans service associations.
The Governor of each State and the U.S. Territories appoints a Veterans Day chairperson who, in cooperation with the National Committee, plans, arranges and promotes appropriate ceremonies within his or her jurisdiction.