Selective Service System - Notice of Identification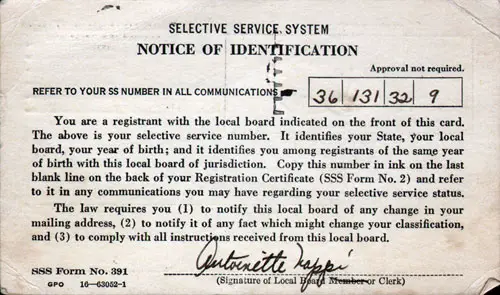 SELECTIVE SERVICE SYSTEM
NOTICE OF IDENtIFICATION
Approval not required.
REFER TO YOUR SS NUMBER IN ALL COMMUNICATIOS ==> 36 131 32 9
You are a registrant with the local board indicated on the front of this card. The above is your selective service number. It identifies your State, your local board, your year of birth; and it identifies you among registrants of the same year of birth with this local board of jurisdiction. Copy this number in ink on the last blank line on the back of your Registration Certificate (SSS Form No. 2) and refer to it in any communications you may have regarding your selective service status.
The law requires you
to notify this local board of any change in your mailing address,
to notify it of any fact which might change your classification, and
to comply with all instructions received from this local board.
MSS Form No. 391 (Signature of Local Board Clerk)
GPO 16-63052-1
This form was sent to John Thomas Marsella of Philadelphia on 19 March 1953.