GGA Gift Shop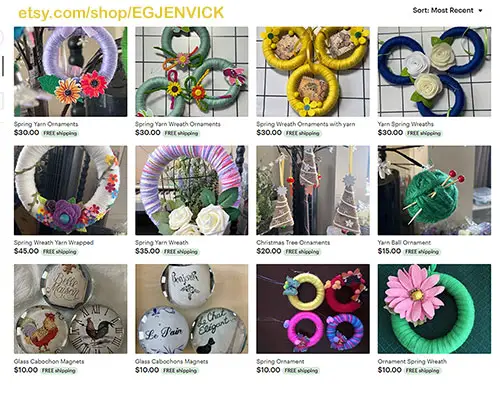 EGJENVICK Gift Shop on Etsy, February 2022. GGA Image ID # 1a9463c0e3
EGJENVICK Decorative Ornaments for All Seasons. Made in Anderson, South Carolina.
Seasonable Creations in Decor, Ornaments, and Wreaths made with twine and yarn wrapped and decorated with seasonal embellishments. All are uniquely and beautifully created; some are more intricate than others. The size of wreaths varies from Ornament (2" to 4") to Door Wreath (6" to 14").
Visit our Shop at https://www.etsy.com/shop/EGJENVICK
Peace for Ukraine Yarn Wreath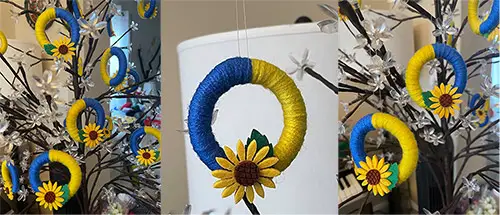 Ukrainian Flag Yarn Wreath, exclusively made by hand with Blue and Yellow Yarn wrapped around a wooden or Styrofoam wreath and embellished with bright Sunflowers (symbol of Peace).
I Stand with Ukraine. Don't hesitate to contact Seller for better pricing/shipping on large orders for your parties, fundraising events, civic organizations, etc. All proceeds will go to support the people affected by this war.
These wreaths are a perfect show of support for the people of Ukraine. The wreaths come in four sizes: 3", 5", 10", and 16". Thank you for your consideration and assistance.