Scandinavian Painted Decor - 0847812359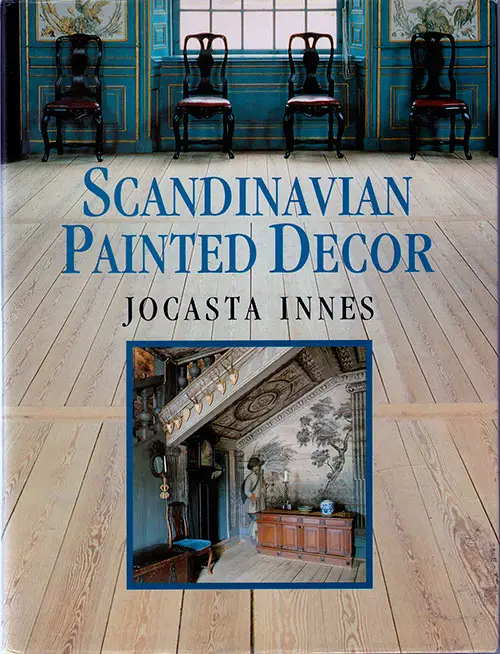 Jocasta Innes, Scandinavian Painted Decor, Photography by David George, © 1990 Rizzoli, New York, Hardcover, 256 Pages, 0847812359, 729.4'0948--dc20.
Subjects:
Mural painting and decoration -- Scandinavia
Painted woodwork -- Scandinavia
Decoration and ornament -- Scandinavia -- Themes, motives
Mural painting and decoration -- Baltic States
Painted woodwork -- Baltic States
Decoration and ornament -- Baltic States -- Themes, motives
From the Publisher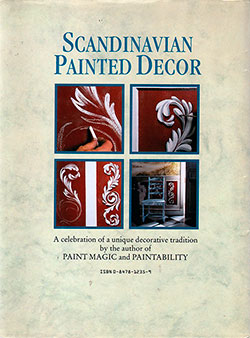 With the help of internationally renowned artisan Jocasta Innes, anyone can create the beautiful and diverse decorative styles found throughout Scandinavia. Stunning full-color photographs enable you to explore the delights of Scandinavian interiors and painted wood architecture, from the cheerful charm of rural farmhouses and country manors to the rich splendor of palaces and churches. Use traditional painting techniques, including splatter painting, marbling, and stenciling, to transform walls, floors, ceilings, furniture, and other home accessories.
From the Inside Flap
Jocasta Innes, internationally known for her writings on painted decoration, explores the rich Scandinavian heritage of painted wood decor. From the wooden stave churches of Norway and the vigorous and colourful folk art of isolated rural communities to the splendour of eighteenth-century Swedish palaces, Scandinavians showed a distinctive and extraordinary sense of colour in all things from a ballroom to a biscuit box.
This sense of colour is a world away from the modernist cool greys and blondes of contemporary Scandinavian decorative styles, yet the author shows conclusively that the motifs, hues, patterns and techniques of the past open up a wealth of possibilities for today's decorators. With stunning specially commissioned photographs the book shows interiors from churches, rural farmhouses and country manors, castles and great houses, devoting special sections to traditional techniques such as spatter-painting, marbling, stencilling and furniture painting. A final gallery section shows a selection of-examples that, in the author's view, exhibit the unique qualities of authentic Scandinavian painted decoration.
Beautifully designed and produced, Scandinavian Painted Decor is a fascinating blend of informative, decorative ideas and practical demonstrations that will help every reader to appreciate the subtleties of a classic decorative style.

Library of Congress Catalog Listing
LC Control Number:
90031550
Type of Material:
Book (Print, Microform, Electronic, etc.)
Personal Name:
Innes, Jocasta.
Main Title:
Scandinavian painted decor / Jocasta Innes; photography by David George.
Published/Created:
New York : Rizzoli, 1990.
Description:
256 p. : col. ill.; 29 cm.
ISBN:
0847812359
Notes:
Includes bibliographical references (p. 249) and index.
Subjects:
Mural painting and decoration--Scandinavia.
Painted woodwork--Scandinavia.
Decoration and ornament--Scandinavia--Themes, motives.
Mural painting and decoration--Baltic States.
Painted woodwork--Baltic States.
Decoration and ornament--Baltic States--Themes, motives.
LC Classification:
ND2770 .I55 1990
Dewey Class No.:
729/.4/0948 20
Geog. Area Code:
ev----- eb-----
CALL NUMBER:
ND2770 .I55 1990