Norse Myths: Classical Myths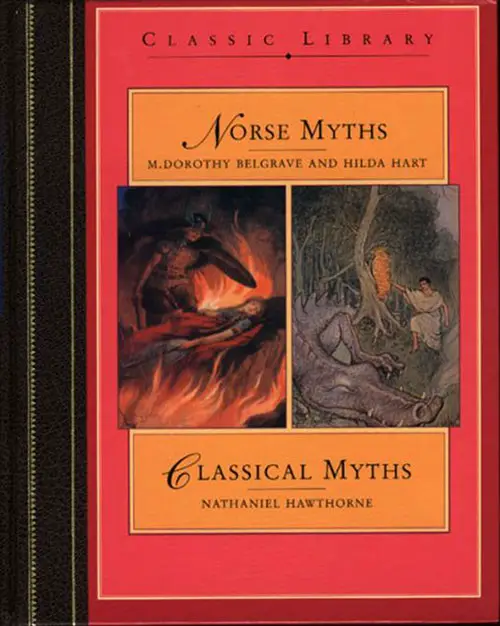 Nathaniel Hawthorne, M. Dorothy Belgrave and Hilda Hart, Norse Myths: Classical Myths, © 1996 Anness Publishing Ltd., London, Hardcover, 303 Pages, 0-7651-9978-5, 293.13. Also see alternative publisher: Format: Hardcover, 244pp. ISBN: 0765199785, Publisher: Smithmark Publishers, Incorporated, Pub. Date: August  1996.
Part of the Classic Library series, this hardbound book includes both Norse Myths (by Belgrave and Hart) and Classical Myths (by Hawthorne).
Read about the lovely Freya, Norse goddess of love and beauty, the thunder god Thor and the shape-shifting trickster Loki. Classical Greek myths are then told, including the story of Perseus in the labyrinth of Minotaur, and the clever wooden horse that brought down the great city of Troy.
Norse Myths By M. Dorothy Belgrave and Hilda Hart, Illustrated by Harry G. Theaker
Contents:
Asgard and its King
Frey and Gerda, or the Van and the Giantess
Freyja's Necklace
Thor Among the Giants
The Apples of Iduna
Baldur the Beloved
The Doom of Loki and His Children
Brynhild Ragnar's Death and the Vengeance of Ivar
Wayland the Smith
Undine
Classical Myths By Nathaniel Hawthorne and Blanche Winder, Illustrated by Milo Winter
Contents:
Introductory
The Minotaur
The Pygmies
The Dragon's Teeth
Circe's Palace
The Pomegranate Seeds
The Golden Fleece
The Loving Nymph
The Enchanted Palace
The Prince with the Golden Hair
Psyche as Serving Maid
The People of the Woodlands
King Midas
The Bravest Swimmer
The Princess and the Sea Monster
The Strong Man
The Secret of the Casket
Some Old, Old Travellers' Tales
The Mysterious Wooden Horse
The Arrows of Troy
The Wise Old Man of the Sea
The Lost King of Ithaca