Far North: Vanishing Cultures (1992)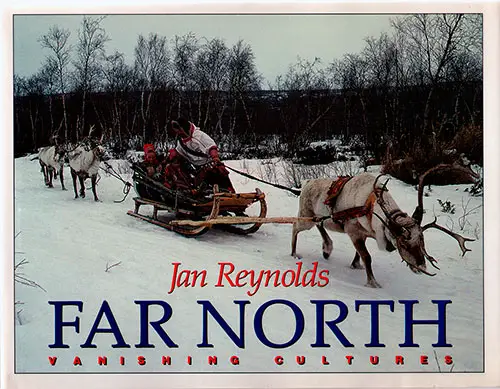 Reynolds, Jan, Far North: Vanishing Cultures, Harcourt Brace Jovanovich: New York (1992), 32 pages (unpaginated).
In a world struggling to find a balance between humans and the environment, perhaps it is time to look at older cultures living in harmony with nature, inseparable from the land, before these cultures vanish forever. — Jan Reynolds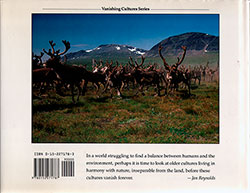 For centuries the Samis have lived above the arctic circle in a place known as Finmark, or Lapland —the land of the midnight sun. They survive in a land of extremes, where during the summer the sun sometimes never sets, and during the winter it sometimes never rises. The Samis have adapted to the natural rhythm of the land and its seasons, as they follow their herds of reindeer from the high mountains to the low tundra plains.
The Samis live in harmony with the land and are as much a part of the far north as the reindeer. Beautiful photographs and a simple narrative invite readers to share the daily lives of these fascinating people.
Internationally known photographer Jan Reynolds traveled to Finmark and lived with a Sami family. Because of outside influences and damage to the fragile arctic environment, their ancient way of life is rapidly disappearing. Ms. Reynolds set out to record this unique northern culture before it vanishes forever.
"Culture is perhaps the most basic and original form of human creativity. It is the art of life itself."
-J.R.
Harcourt Brace Jovanovich, Publishers
1250 Sixth Avenue, San Diego, CA 92101 111 Fifth Avenue, New York, NY 10003
Library of Congress Catalog Listing
Personal name
Reynolds, Jan, 1956-
Main title
Far north : vanishing cultures / Jan Reynolds.
Edition
1st ed.
Published/Created
San Diego : Harcourt Brace Jovanovich, c1992.
Description
1 v. (unpaged) : col. ill., map; 23 x 29 cm.
ISBN

0152271783

0152271791 (pbk.)

LC classification (full)
DL42.L36 R49 1992
LC classification (partial)
DL42.L36
Summary
Describes, in text and photographs, the vanishing culture of the Samis, the reindeer herders of Lapland.
Subjects

Sami (European people)--Juvenile literature.
Sami (European people)
Lapland--Social life and customs.

Series
Vanishing cultures series
LCCN
91011673
Dewey class no.

948.97/7

Geographic area code

ev----- e-no---

Type of material
Book